6 Key Questions to Ask When Starting a Travel Agency from Home in 2021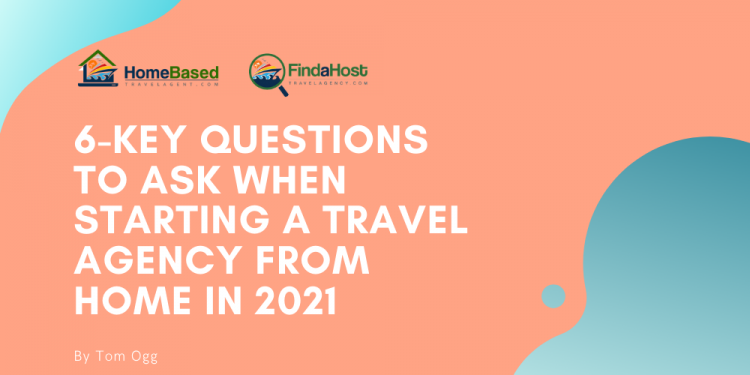 Ask Yourself These 6 Questions to Ensure your Success as a Home Based Travel Professional in 2021!
Written By: Tom Ogg, C0-Owner – FindaHostTravelAgency.com
If you are considering  starting a travel agency from your home, there are several questions that you should have well thought out answers to long before you actually commence  your business. Launching without solid answers to these questions is kind of like taking a long road trip with a broken gas gauge and no destination in mind. You may, or may not get where you want to go and will certainly have problems along the way.
Not knowing where you are going and why you are going there is not the way to a successful conclusion, so investing the time and effort into answering these 6-questions will help you immensely and will eliminate any wasted time and resources in starting your new home-based travel business.
The very best way to answer these questions is to use a 3-ringed notebook and a pencil with an erasure. Sure this sounds overly simplified, but at this stage of forming answers your best bet is to do your research and jot down the answers as they come to you. Each question will undoubtedly change multiple times over the process, but when you are done you can then move the content into a more professional digital environment to start working on a marketing plan. Your discovery process will be well documented as you progress through the questions.
6-Key Questions to Ask When Starting a Travel Agency from Home in 2021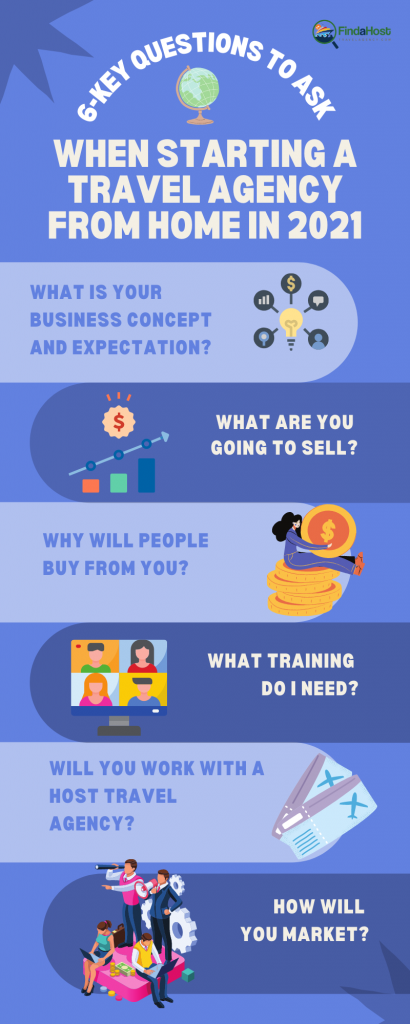 What is Your Business Concept and Expectation?
Obviously your are thinking about starting a home-based travel business, but what is your business concept for doing so? Are you thinking about just starting a part-time generalist home based travel agency to make some extra money or starting a serious focused business to create a full-time career? What are your expectations from starting one? Many people can define their expectations in terms of income, travel, tax benefits or some other combination of elements. Exactly what is your income and other benefit goals? Without having a focus on your exact expectation, you are more than likely going to miss the target and have your business fail. The more definition that you can put on your business concept and expectations, then more likely your are to be successful. Here is a video tutorial on how you can develop your business concept.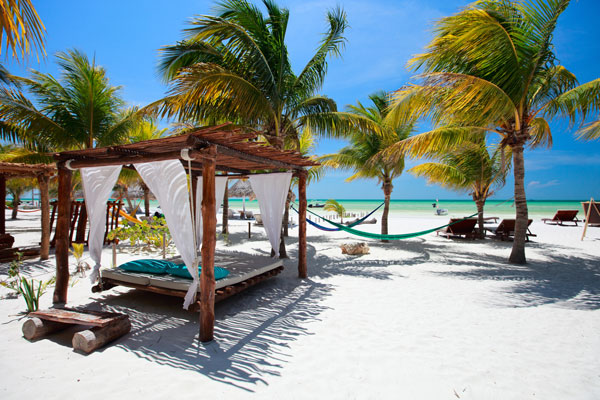 What Are You Going to Sell?
Now that you have a solid business concept, you need to clearly define what you are going to sell. Today's successful home-based travel agency specializes in a very specific travel niche. You should pick a niche that you are both passionate and also knowledgable about. The more complex the niche that you pick, the higher the potential yields and profitability will be because of it. Here are the 5-benefits of specializing in a complex niche.
1. Become the Expert
Specializing in a complex niche you will gain the necessary knowledge to brand yourself as the expert. This accomplishes a number of benefits in terms of getting clients to book with you. Being the expert implies total potential satisfaction to the client
2. Large Internal Yields and Low Operating Costs
Complex leisure travel tends to generate both high internal yields and low operating costs simply because of the efficiencies gained by specializing in a narrow niche. Doing similar transactions over and over again create the opportunity for maximum profitability.
3. Strong Supplier Relationships
By focusing your marketing efforts in a small niche you will build stronger relationships with your suppliers serving that niche. In fact, your productivity will make the supplier aware of your business and you may be rewarded with override commissions, cooperative advertising and promotional funds and other direct support from the supplier.
4. Growth Potential
By focusing on your niche, you open the opportunity for growth through the acquisition of other ICs interested in the same niche. You can also engage other agents selling into the niche by commissioning them for their participation. All of this promotes a strong growth pattern which suppliers will take notice of.
5. Scalable Growth Management
Once you have established your marketing and operating costs and average yields (gross profit) you may well be in a position to grown your business profitably through the acquisition of other agents and distribution channels.
You can easily see the benefits of having a well defined niche. Here is a video tutorial that shares how you can zero in on your specific niche.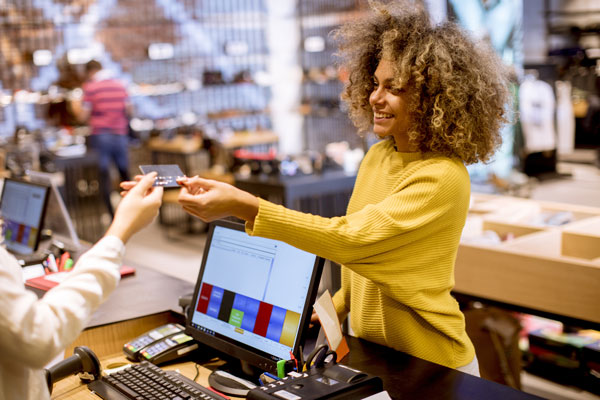 Why Will People Buy From You?
This is one of the most difficult questions to answer when trying to focus your business. But, you should be able to answer the question in one simple sentence. Known as a "Unique Value Proposition" or UVP, you should be able to state it clearly and concisely. Is it your expertise, reputation, knowledge, geographic location, demographic profile or some other reason that folks will choose you over your competition? 
The answer to the question is best found in the client's question of "What's in it for me?" The client is looking for benefits that make it easy to define why they are booking with you, instead of your competition. Many times your clients can give you the answer of what your UVP is. 
You can discover your UVP by using your client's feedback and also jotting down the benefits that you are offering you think are both a benefit for your client and are unique to you alone. When you are done creating a list of benefits start refining the list by asking these questions.
1. What things on your list are unique to you specifically?
2. Which of these UVPs is most important to your clients?
3. Which of these would be difficult for others in your industry to duplicate?
4. Which of these can be easily communicated to potential clients?
Here is a video tutorial explaining exactly how to create your UVP.
Once you have established your UVP, it is time to create your Elevator Speech. An elevator speech is used convey your UVP in an engaging short speech that takes no longer than an elevator ride. Elevator speeches convey your UVP in a way that will powerfully explain the benefits that your client receives when booking their travel with you. It is short, sweet and also very compelling.
Here is a video tutorial on exactly how to create your elevator speech.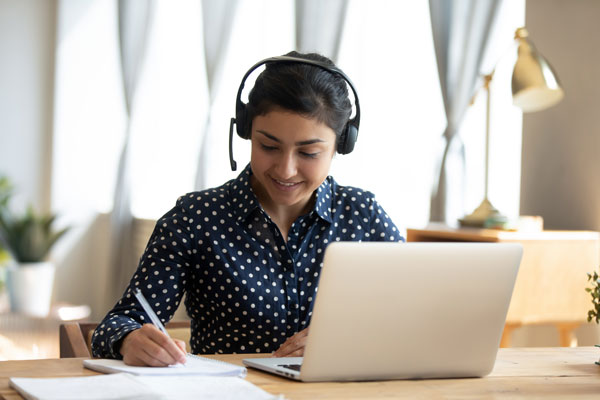 What Training Do I Need?
Now that you have defined your concept, niche and UVP you need to schedule the training that you will need to be able to operate your new business. Here are 5-training venues and what you will need if you do not already have the knowledge.
1. The Travel Institute
This organization is responsible for training travel professionals and issue several designations such as the CTA, CTC, CTIE and Destination Specialists. If you need orientation on the travel industry itself, this is the place to go.
2. Travel Suppliers
Suppliers offer training on their products and services and this is an excellent way to learn about how to sell a particular cruise line, tour operator, all-inclusive resort or other supplier type. Completing a suppliers certification program will reward you with a relationship with the supplier that can be built on.
3. Host Agencies
Virtually every host agency has training of some sort that will help you in your business. Many host agencies that work with new agents also have robust mentoring programs that make organizing and starting your business much simpler.
4. Personal Travel Experience
When you have chosen your niche, you may need to visit the various elements within your niche to build your knowledge and confidence in selling it. Many times, a niche is chosen because of the intimate knowledge an agent may already have within the niche.
5. City Colleges
While most city colleges have a travel curriculum, the key elements of operating a business require that you have at least a minimum understanding of accounting and business law. If you have not had formal training in either, you should at the very least, take Accounting 101 and 102, as well as Business Law 101 and 102.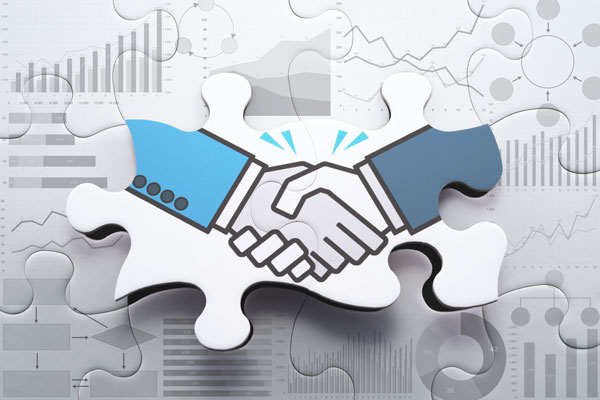 Will You Work With a Host Travel Agency?
Virtually all new travel agencies will choose to work with a host travel agency while they get their business underway. There are several reasons for this including the ease and low cost of entry. Host agencies offer a wealth of knowledge and expertise at running a home-based travel agency and may even offer mentoring and business coaches to get you going. Host agencies enjoy excellent supplier relationships and may offer excellent commissions and overrides. They all offer sophisticated back room accounting support, so if you lack accounting knowledge, this could be a determining factor in your consideration. 
Most host agencies also offer lots of technology that you can use in your business such as a CRM, website and social media marketing programs. Many host agencies may operate a group department that will allow you to sell very competitive pricing to your individual clients, which is a major benefit of working with a host agency. Some even provide sales leads to their agents. Since host agencies aggregate huge amounts of revenue for their preferred suppliers, look for ongoing perks from the host agency if you are selling that supplier.
Here are some video tutorials that will help you with your decision to work with a host travel agency, or not.

How Will You Market?
Now that you have a concept, niche, UVP, training and a host agency, it is time to delve into your marketing plans. Without marketing, it is unlikely that clients will be able to find you. While all of the elements so far are important to your overall business plan, you should start working on a marketing plan at this point. The objective is to create your marketing statement, or a clear and concise description of your marketing plan that can be applied to every circumstance in your marketing campaigns. If the venue is not consistent with your marketing statement, then you should not consider the channel as viable. Here are 5-questions your should ask to further define your marketing plan.
1. Who Will You Market To?
You should be able to define your target prospective client with great definition. Knowing who your prospective clients are will make it much easier to focus your marketing to have maximum effectiveness.
2. What Are You Going to Market?
Having a precise definition of what you are going to market will make it much easier to focus your marketing on results, rather than activity.
3. Where Are You Going to Market?
Having a well thought out plan of marketing venues and opportunities will help you be able to start measuring results. There is everything from social media, print ads, PPC, online blogs, content marketing and many other marketing opportunities. Focusing your marketing on venues that reach your target audience with the lowest cost and highest conversions is the way to go.
4. When Are You Going to Market?
Establishing a timeline for your marketing expenditures will maximize your overall marketing program. Each campaign should focus on a specific market venue and have measurable results so that you can really narrow your marketing down to the most effective media.
5. Why Are You Going to Market?
Your marketing campaigns should measure actual results and not activity like how many "Likes", "Clicks", "Unique Visitors" or "Page Views" you got. It is hard to put Facebook "Likes" into the bank and even harder to pay your rent with them.
Creating your marketing plan isn't rocket science and you should do it in pencil simply because it will change month after month as you find your way through the maze of opportunity and focus on the marketing venues with the highest ROI. Here is a video tutorial that shares exactly how to create your first marketing plan.