Event – The Power of CoNexion 2021 – Nexion Travel Group Conference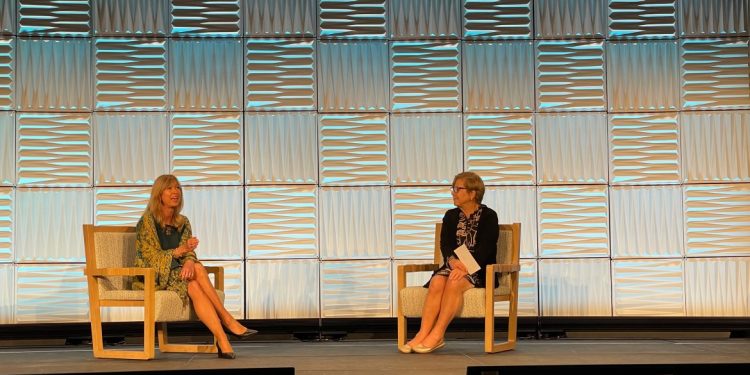 Together Again and a Synergy of Getting Travel Back with Nexion Travel Group's 2021 In-Person Conference!
Attended By: Joanie Ogg, CTC, MCC Co-Founder – TravelProfessionalNEWS.com
The joy of traveling is ever-present! On September 26th, I excitedly boarded my non-stop flight to Orlando, Florida to attend the 2021 Co-Nexion International Conference. Having attended the 2019 event, I was anxious to again experience the positivity and enthusiasm that radiates from the Nexion Conferences. 2020's event was virtual and the pent up desire to see fellow colleagues was top of mind. More then 500 attendees rallied in Orlando at the Loews Sapphire Falls Resort September 27th to September 30th. Join me as I take you on a personal tour of Co-Nexion 2021.
While nothing is quite as it used to be in our new world, the changes and protocols to ensure the health, safety and comfort of all attendees was top of mind. All attendees were required to wear masks and to have had their Covid vaccination. At registration we had the option of choosing either red, yellow or green lanyards for our name badges. I thought this was brilliant. Red was for those who would prefer no physical contact with others in attendance, such as handshakes or hugs, yellow was the choice for those who would prefer some caution and green was for those like myself that would welcome hugs and handshakes. This allowed everyone to feel comfortable about their own personal choices.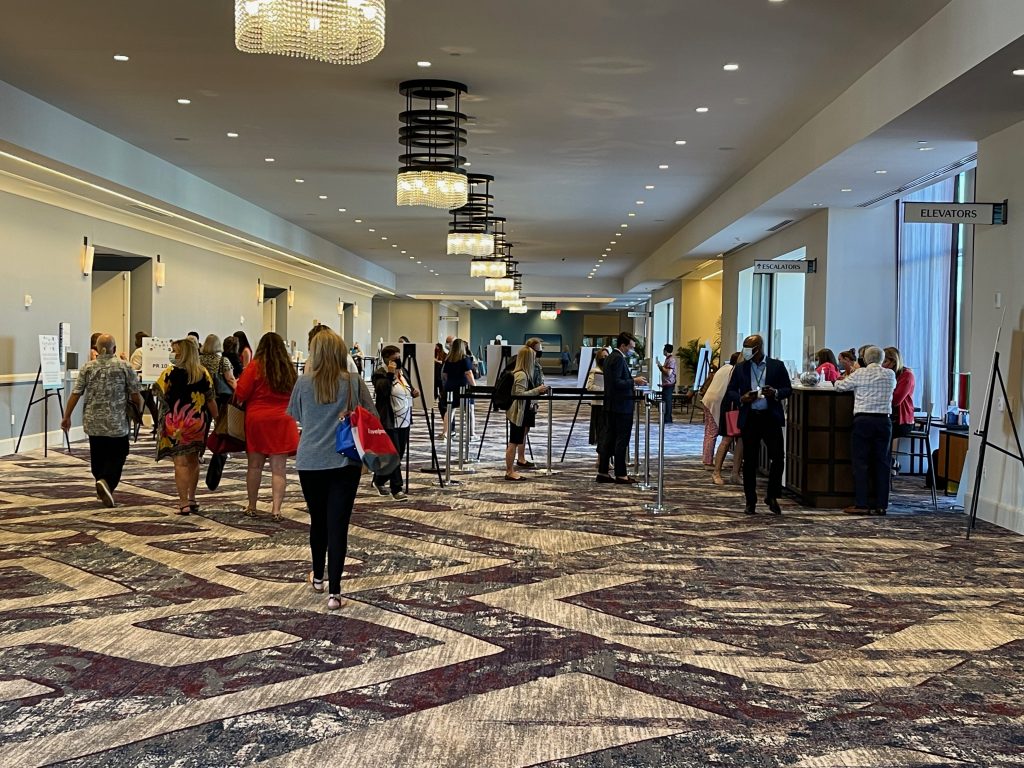 The first general session began early on Monday morning with a sumptuous breakfast and the energy in the room was electric. Jackie Friedman, President of Nexion opened the session wearing pajamas and mimicking that she thought she was on a Zoom event. The audience loved it and it was certainly a fun start to the day. She challenged the attendees to make at least 10 new connections with other suppliers and attendees. As always, Jackie shared inspirational thoughts and ideas on how the agents could make the most out of their next 4 days together.
I have known Jackie for many, many years and I love to see her up there sharing herself with her members. She is so admired and loved by her team, the members, suppliers and friends like myself. I am so proud of her accomplishments and all that she has achieved during her career. It truly is an honor to call her my friend and colleague.
Robbi Hamida, Senior Vice President of Agency Operations joined her on stage touting his signature style of a wild and flashy suit along with a matching mask. His energy and enthusiasm is always contagious and loved by all. Robbi awarded, with great enthusiasm, two Nexion Rising Star Awards to Amy Butcher, owner of Pineapple Vacations in the United States and Gillian Boucher in Canada. Later in the conference I had the chance to interview Amy about her business, so be sure to check that out.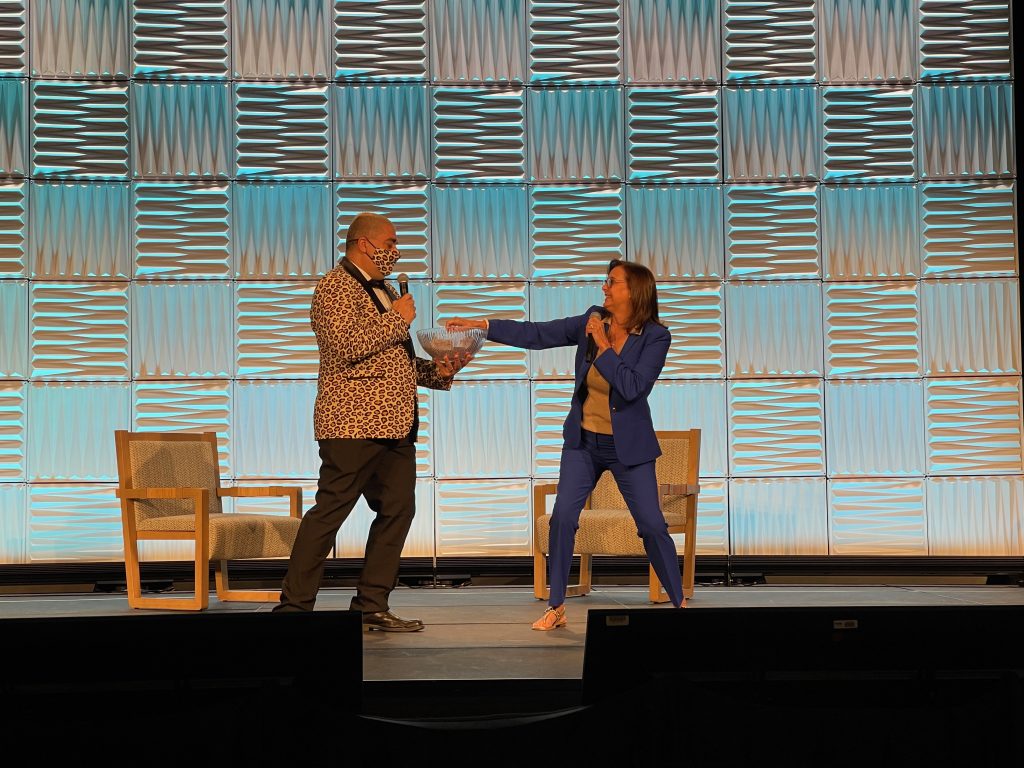 Up on stage next was a representative from American Airlines and AA Vacations who shared that 30% of the travel agents say their business is steadily growing well over their 2020 sales. Carnival Cruise Line was well represented on stage by the every engaging Alicia Steaurt their Business Development Director. She shared with me that she always loves to try something new and fun when she enters the stage and today she came out wearing a pelican pool float to bring some fun to the stage. She talked about the newest ship "The Mardi Gras" which will be sailing roundtrip from Port Canaveral and will boast the first ever roller-coaster at sea.
Next up was a Nexion agent, Lisa McGregor with Passport Pleasures Luxury Travel, who spoke about her business strategies and what she has found to be successful in growing her business. Her message talked about how important it is to "Be the Why…Why They Are Choosing You" as their trusted travel planner.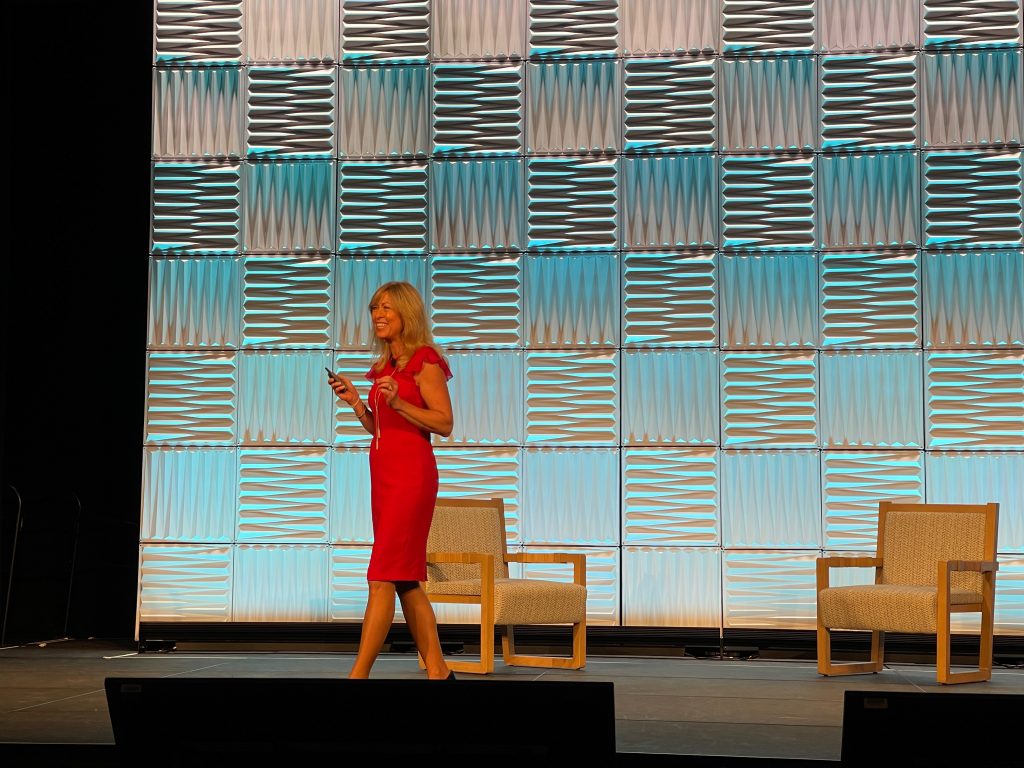 The session continued with Jackie Friedman, Nexion President, speaking about the Family Bonds Foundation which was founded in 2015 to support suppliers and or agents in need. To date over 150 grants have been awarded to those who are in need after events such as hurricanes, floods, financial hardships and medical challenges. She welcomed Natalee Fox, an advisor who shared her story with everyone about her struggles with health issues when she contracted typhoid fever a few years ago. She was a recipient of one of the grants and her story was simply amazing and her appreciation for being awarded the grant was so sincere and heartfelt. I was so inspired by her story and the goals of the Family Bonds Foundation, that I went right to my hotel room during the next break and donated $100 on behalf of Travel Professional NEWS.
A few more suppliers joined the stage to share their messages with the agents. Michelle Fitzgerald with Palace Resorts and La Blanc and following her was followed by Eric Marshall, Vice President of Sales at Universal Parks & Resorts, the key sponsor for CoNexion 2021. Eric talked about how he feels we have all come through this past tumultuous time period stronger than ever. Perseverence, adaptability, expertise and empathy are cornerstones in our growth. This ended the first General Session and the agents were then off to participate in a variety of workshops which included How to Financially Structure Your Business, PR101 and other supplier focused workshops.
Everyone reconvened for the lunch and second General Session. The ever energetic and great friend of travel agents Vicki Freed, Senior Vice President of Sales, Trade Support and Service with Royal Caribbean, shared her thoughts and ideas on how agents can help consumers with what once was their to-do travel list and what has now become the to-do travel list. As always, Vicki never disappoints but instead offers tremendous ideas and insightful suggestions for sales and marketing plans that bring results.
Nexion agency owner, Kira Gartner was next on stage sharing her success about creating a business focus around something she is passionate about. She wanted to focus on groups and decided to take that direction and combine it with her love of knitting. She has successfully created a business focused on this niche and is having great success. She shared her tips with her fellow colleagues and ended her presentation by suggesting agents not be afraid to ask for what they really want and to step out of their comfort zone to find new successes.
Virgin Voyages was represented next by Lauren Harris, Sales Manager and she talked all about the Scarlet Lady which is setting sail this week. It sounds like a great cruise experience for adults and will certainly be a new welcome option to the cruising choices out there. I am anxious check it out. Lauren was followed by a dynamite speaker from United Airlines who had everyone laughing and enjoying her wit and humor. More speakers on stage included representatives from ALG Vacations and Norwegian Cruise Line. The newest Norwegian Prima will be coming out soon and looks to be a gorgeous ship.
Nexion advisor Don Johnson with Walking Path Travel came on stage and shared his success story about putting together a wine inspired cruise group where he chartered an AmaWaterways river cruise. His suggestions on what it takes to charter a ship were very interesting and I am sure they inspired others in the audience to give it a try,
Next up was Kristin Karst, Owner and Executive Vice President of AmaWaterways. Kristin is a dear friend and colleague and I always enjoy her refreshing and positive spirit when she speaks. She talked honestly about the period when river cruising was on hold and how that time was used at AmaWaterways to revamp the culinary experience for all their ships. She talked about the new AmaDahlia that had its inaugural on September 6th, 2021 and is sailing in Egypt. It looks to be an amazing itinerary and experience and is definitely a bucket-list cruise to take.
It was a very enlightening day at CoNexion and the day ended with a fun evening for all attendees at Universal's Wizarding World of Harry Potter. We were treated to a private event at Diagon Alley and enjoyed rides, dinner, drinks and of course some Butter Beer. The event was a private affair only for the CoNexion attendees and was enjoyed by all.
Agent Interview During CoNexion 2021
Interviewing: Amy Butcher, Owner – Pineapple Destinations
Can you share how long you've been working with our friends at Nexion Travel Group?
I joined Nexion Travel Group in April for 2020 a month after COVID hit, so it has been over a year now. I know my timing was not the best, but I knew I could take the time and prepare myself to fully launch my business when the world was back to traveling. I was totally fine with taking that time to better prepare myself to be the best agent I could be.
I was a stay at home Mom of my four kids for 14 years. My husband is a police officer and I want him to be able to retire as soon as he is able to. That is in 8 years so I asked him what can I do to be sure you can retire and we will be financially in a good place. With his retirement we will need an additional 50% of income to live as we hope to, so that is my goal. I want him to be able to retire and this is how I can help make that happen sooner rather than later. We have a dream and a plan!
I love traveling and I started to do my research about what kind of money can be made and how this career would work for our future. I did all of my education while the kids were at school and at night. The kids are excited for me and anxious to travel as a family.
How did you come up with the Pineapple Vacations for your business?
I love tropical destinations and beaches and that is where we love to travel to when we can. I decided I wanted to not only sell something I loved myself, but also wanted to name my company after what I sell. Pineapple Vacations seemed the perfect choice. It says tropical and that is what I sell.
What made you choose Nexion as your host agency?
I did my research and found Nexion by doing a good deal of searching and reviews. I saw that they had a program for veterans. I am a veteran myself and was in the Utah National Guard. The fact that they recognized veterans in this way really spoke to me. That is truly the number one reason why I choose Nexion Travel Group to be my host.
Have you attended a previous Nexion Travel Group conference or event? If so, what do you feel is the most valuable take-a-way from them?
This is my first Nexion live event and I cannot wait to attend more! I did a good deal of their online courses such as Nexion Essentials. Martin at Nexion has been amazing as a mentor to help me get my business underway.
We all know that 2020 was a year we won't forget, how has Nexion stood by you and your Travel Business?
I took the education at Nexion very serious. I had a checklist to be sure I had done all the things I needed to do before I could launch in January of 2021. My end goal is serious and very near and dear to my heart. I want to get my husband off the streets as a police officer in 8 years and I have to do everything I can to make that happen for us.
What tool(s) offered by Nexion Travel Group do you find most helpful in your business?
Most definitely the coaching is my number one. Martin has almost been like a bulldog behind me pushing me along to ready me to serve clients in my new business. The support of his entire team is amazing. I am so excited about the new program they are launching for mentoring. I am going to sign up as soon as I can! It is the perfect next step in education for me.
I am also enrolled in the CTA program with The Travel Institute. I was able to get a scholarship and am looking forward to getting started with that program.
If someone was considering partnering with Nexion Travel Group as a Host Travel Agency, what advice or insight would you offer them?
Take your education seriously. It can be overwhelming at times but after each day when you learn something new, spend the time to really review what you have learned. Set educational goals for yourself every week.
Day 2
Tuesday morning's General Session began at 7:45 with a sumptuous breakfast and a round of terrific speakers and presentations. Several awards were presented and we heard from a variety of Nexion agents who shared their success stories and offered their thoughts on business strategies to build one's travel business. Throughout the entire Nexion conference NexTalks were given by travel agents and these were not only inspirational, but also very thought provoking. I think that these short presentations by the agents is one of my favorite parts of the CoNexion event. I love hearing their success stories and am inspired by their enthusiasm and their delight being a part of this great industry.
We heard from Chuck Imhof, Vice President of Sales for Delta Airlines and he was followed by other industry suppliers. My friend Dondra Ritzenthaler, SVP of Sales for Celebrity Cruises came out dancing and had the entire audience up and dancing with her. She gave a fantastic presentation and her energy and passion was infectious as always.
Chuck Imhof with Delta Airlines then joined Robbi Hamida on stage for a Fireside Chat discussing how Delta Airlines has and is handling the new normal and where the airline is headed in terms of future growth. Then we heard from Albert Herriera, Executive Vice President of Supplier Relations at Internova Travel Group. It was his first CoNexion event and it was easy to see he felt the enthusiasm of this event. Next up was Steven McGillvrary, Chief Marketing Office and Communications Officer, with Internova Travel Group and Mai Da Pra, Director of Industry Relations with Nexion Travel Group. They shared great news on all the added programs and marketing features that are available to the Nexion advisors to help grow their respective agencies.
The morning session concluded and the advisors broke for their respective workshop rotations. Some of the workshops included, Discover a World of Travel with Disney Destinations, Idea Exchange – Creating New Business, Leaders Edge Part 2 and several other great options.
We reconvened after the workshops to the luncheon and General Session.  The first presenter was Lori Derauf, owner of Luxury Success Stores who shared with her colleagues how she has found success charging professional fees. She calls it a planning/management fee. She also charges change and cancellation fees and has found this to be extremely helpful during these difficult times. Start small and continue to adjust fees as you move through the process of charging for your services was her message to her colleagues.
Shemaine Grasso, Senior Director of National Accounts with Regent Seven Seas Cruises came on stage and talked about Regents return to sailing. One ship rejoins sailing every month and by February all 5 ships will be sailing again. The newest ship will be the Seven Seas Grandeur.
Jackie Friedman, President of Nexion and Kristin Karst, Owner and Executive Vice President with AmaWaterways joined the stage for a Fireside Chat to talk about cruising now and international travel in general. Kristin talked about how the cruise managers on the AmaWaterways ships are prepared and ready to help the passengers through the maze of travel during and after the pandemic. They also discussed groups and Kristin shared her suggestions on focusing on group sales around your own unique interests.
Michelle Sutter, Vice President of Sales for Holland America Line joined the conference stage to share her words of wisdom and encouragement moving forward post-COVID. Out of adversity comes opportunity was the theme she shared. Key points in her uplifting presentation were the principles behind CARE which are compassion, authenticity, reconnection and engagement. Her message was great and her presentation skills are always so on-point and thought provoking.
Jackie Friedman, Nexion President then  presented a new award that Nexion created entitled the Light of Positivity Award. For those of you who followed Richard Fain, Chairman and CEO of Royal Caribbean International's many uplifting and informational videos on social media, you know well why he was awarded this new Light of Positivity Award. He kept us all informed and focused on coming out of the pandemic together as a stronger and more vibrant industry than ever.
Leah Iudice, owner of Luxury Success Stories came on stage to talk about her sales success with Nexion in just two years. She has done 700K of sales since 2021. Her key words shared were Passion, Participation, Talk to People, Consult Your Colleagues, and Stay True to Your Brand. Several other suppliers were part of this General Session which included Princes Cruises and Cunard.
The Lady of the Show, Jackie Friedman came to the stage and shared her very inspirational and heartfelt words with all in attendance. Jackie is truly one of the best of the best. Her passion and commitment to this industry is simply put amazing. She encouraged everyone to stay on the course and rise up to take our industry back. She talked about how our industry is made up of amazing survivors and that it is important to work together to get our industry back up and thriving again. She also shared how important it is to continue to keep focused on the positives. Some lessons she believes we all learned during this past 18 months included the following:
We are resilient
We are flexible
We are committed
We are passionate
We are positive
She closed with Jackie's 6 Steps to Success
Have a positive outlook
Have a Plan
Connect
Articulate Your Value
Stay Informed
Engage
Needless to say her presentation and uplifting words were the perfect ending to the General Session for Tuesday and put everyone in the perfect frame of mind to head off to the Trade Show that followed from 3:30pm to 6:00pm. The Trade Show was huge and the agents were all so engaged and anxious to have the one on one time with their supplier partners. Lots of hugs, fist bumping and love was enjoyed by all.
Agent Interview During CoNexion 2021
Interviewing: Diane Frisch, CTA, Owner – Diane Frisch Destinations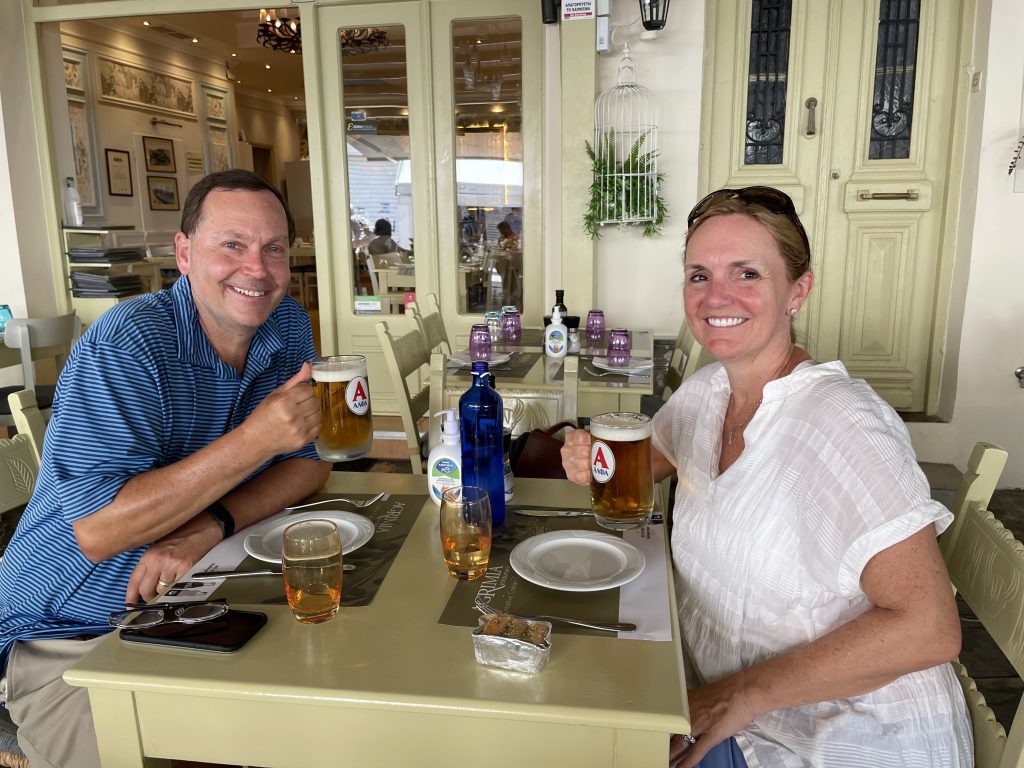 Can you share how long you've been working with our friends at Nexion Travel Group?
I am in my 6th year with Nexion. I was a CPA which has been helpful in many ways. I was able to stay home with kids, but was ready to get back to work when the time was right. I have always loved to travel and my travel agent who is a friend recommended Nexion to me. Once I looked into it, I immediately signed up and began my journey to learn everything I could about selling travel. My first conference was Cruise 360 and I was so excited to be in a joyful happy business. I used to audit people and now I get to plan their dream trips. What a difference it is from bing a CPA!
I started out selling whatever people wanted and then I found my way into my niche which is selling luxury FIT bookings to Europe. Both my husband and I work from home and he has an office downstairs and mine is up above his on our second story. Whenever I get a new booking I literally skip up the stairs to my office. My husband then texts me and says "You are skipping…sounds like you have another great sale".
I try to enable my clients to have a unique and very specialized trip. I try to add as many wow experiences to their vacation as they can manage to enjoy. I love traveling to Europe so I love selling it to others. I admit that during COVID I did try some other options since traveling to Europe was not possible. I was successful selling Alaska which really did help during that period. I tried my Alaska selling formula to sell Antarctica, but it did not work. I suspect my heart and passion was not there.
Have you attended a previous Nexion Travel Group conference or event? If so, what do you feel is the most valuable take-a-way from them?
I have attended just about any Nexion event I have been able to and I love the Nexion events. I work alone and I never thought I would have the strong relationships I have developed through Nexion. I have amazing friends and colleagues and we connect all of the time. During COVID a group of 4 or 5 of us spoke almost everyday. We kept each other sane and helped one another through some of the challenges we were all dealing with. Nexion is such a supportive group of professionals. We celebrate each other's victories.
We all know that 2020 was a year we won't forget, how has Nexion stood by you and your Travel Business?
They did lots of zoom classes, zoom meetings. The entire team at Nexion was always there if we needed them. They were totally approachable and available to our needs. They kept us busy with continued educational opportunities to get more knowledge.
Have you been seeing an increase in demand now that we are finally getting back to travel?
My commissions this year are great. I have more this year in 2021 then I have had in all my 5 plus years of selling travel. Things have been a little slower this last month of September which is probably due to the uncertainty of the Delta variant. However, I have lots of request and firm bookings for 2022 and am confident those will travel.
You mentioned that you recently traveled to Europe in August. How was the overall travel experience and what did you learn that you can share with your clients?
Yes, my husband and I went and had a great trip. I am cautious by nature, so we decided we would just do one country on this trip. It was amazing. We had no issues at all, but I will say we were very prepared as well. We even had testing set up before heading home that was done in our hotel room. I have since learned that there are test you can buy and administer yourself and the results are accepted for returning to the United States. It is much more economical and easy to do. I have since shared this with many of my Nexion colleagues so that we all have more information to share with our customers.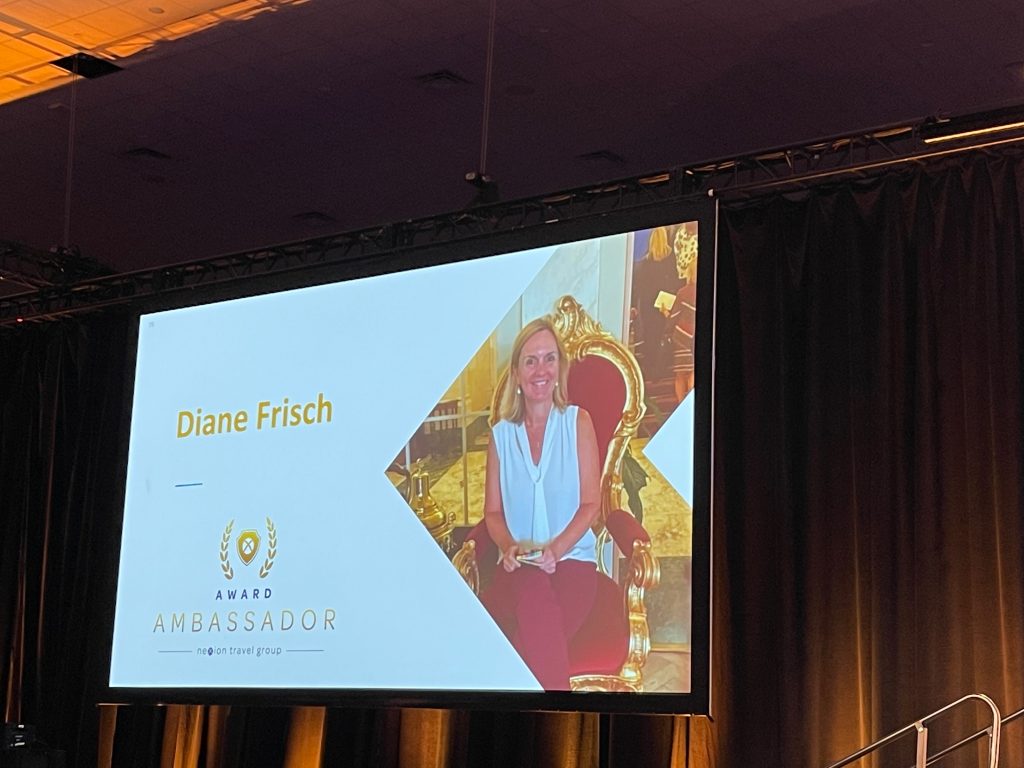 What one thing did Nexion do to help you through the pandemic?
Besides the training and support they also did a number of new programs that we could work on. I spent a good deal updating my Agent Profiler with Nexion. They offered a great deal of support and education during that time.
What tool(s) offered by Nexion Travel Group do you find most helpful in your business?
Agent Profiler
Nexion Website
Email Marketing
The Marketing Symposium
Leaders Edge
Mentors
Supplier Connections
If someone was considering partnering with Nexion Travel Group as a Host Travel Agency, what advice or insight would you offer them?
Do the training! Their agent essential training is a must-do. The opportunity to gain knowledge is all available, you just have to take advantage of it. Take the time to get to know Jackie Friedman, Robbi Hamida and all of the great leaders that are available to you to help you grow your business.
Day 3
The breakfast and General Session on our last day at CoNexion was again a great event and more terrific information and insight was shared by speakers from MSC Cruises, Marriott International and Silversea Cruises. We also heard rom John Rose, Chief Risk and Security Officer with ALTOUR. More agents shared their success stories and we heard from Nexion's very own Heather Kindred, Senior Director of Business Development & Education and Martin Mussey, Business Development & Education Manager as they shared new and very exiting news. Heather shared all the new educational events that will take place next year and Martin unveiled Nexion's all new program Business Success Journeys. This new opportunity will provide Nexion agents who choose to participate with amazing business development strategies, one on one coaching sessions and so much more. This new program is sure to be a tremendous success and a great program for the advisors to take part in.
Agents broke for Workshop Rotations again and everyone re-grouped for the Lunch and General Session and the final event of the conference. The afternoon began with a keynote shared by Robbi Hamida, Senior Vice President of Agency Operations. This was an emotional and very sincere but uplifting presentation. Robbi told us about his surprising diagnosis of stage 4 colon cancer just a 6 months ago. He shared that he had a dream where in the dream his deceased Mother told him he had colon cancer. Robbi in only in his mid-forties so he had to get forceful to get a doctor to check him out. He was shocked when he found out his diagnosis and he did everything he could to beat it. His emotion and heartfelt message took us all on a journey of his recent life changes and helped us all realize how precious our health is. He suggested that everyone take the time to breathe and find balance, reduce stress, pay attention to your body and choose to always be different.  Believe in yourself, think about the now, remove negativity, learn and never stop and find others who inspire you. Talk about the future and try to stay positive. Shift left… If you change the way you look at things, the things you look at change. It is important to have gratitude and love. We need to re-learn to talk to each other. He ended the presentation with the wonderful news that he is doing great and is now tumor free. Best of news that we could all hear. I have to admit that I was very moved by his story and will put Robbi in my prayer list to hope for his continued good health.
Robbi Hamida and Jackie Friedman closed the final session with their words of praise for the members and words of encouragement and pride for all of the members of Nexion. Prizes were drawn for some incredible cruises and other fabulous travel experiences and there were some very delighted winners.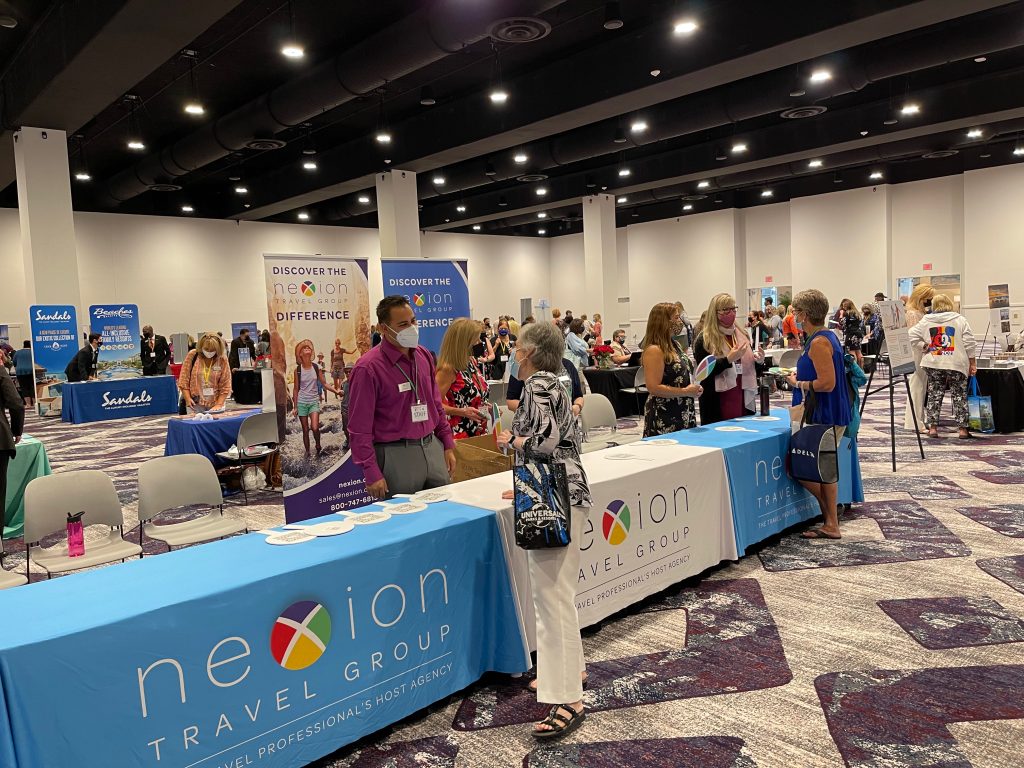 What a testament to the success of the Nexion this event was  and congratulations to the amazing events team. Having arranged events in our industry several times over my years in this business, I can honestly say this was truly one of the most impressive and well-orchestrated conferences I have attended. The feeling of camaraderie and the networking vibe that permeated this group was inspiring. I cannot wait till CoNexion in 2022 taking place September 20 – 22 at The Disneyland Resort in Anaheim, California as they celebrate their successes together. I sincerely hope to see many of you there!