How Do I Find Clients as a Travel Agent (2019)?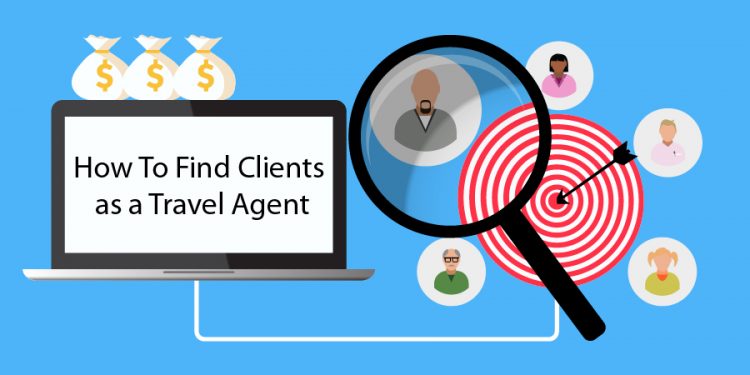 Finding Clients can be a Challenge, Here's Some Tips to Find Clients as a Travel Agent in 2019
One of the most frequently asked questions by new travel agents is "How Do I Find Clients as a Travel Agent." And, while there are volumes written on marketing for travel agents, this basic question seeks an equally basic answer.
But, before we go into how to find new clients for your travel agency, we have to explore how you are going to manage them once you have found them. Since the travel agent / client interaction is generally based on a long term relationship, you should start your exploration for new clients by acquiring, learning and using a robust CRM tool. CRM stands for Customer, or Client Relationship Marketing.
A powerful CRM tool will help you capture information on each one of your clients that will enable you to serve their needs, wants and desires. Capturing data on their past travel, future travel considerations, family members, birthdays, anniversaries, brands they love and brands to never recommend and a wealth of other information that you can search using keywords is an invaluable tool that you should implement before you start collecting potential new clients.
One of the first challenges you face with your CRM is defining how you will use it and how you will set up searchable content. This will depend on your business model and specific niche. Let's say you will specialize on selling river cruises. You will certainly want to be able to search your database by itineraries, river cruise lines and a client's cruise history. While you can always add, delete and otherwise modify the search criteria of your database, you should start with as much definition as possible.
How Do I Find Clients as a Travel Agent? 
So let's take a look at where to start compiling your client list. In every case you will want to capture as much information on each client as possible to start building a complete profile of your clients. Here is where  you should start.
Family
The number one source of quality names for your CRM is your immediate family and their relatives. Your parents, grandparents, sons, daughters, aunts, uncles, cousins, nephews, nieces, in-laws and their best friends should be included on your list. Even if you know they don't personally travel, your constant bombardment of email, newsletters, mini-newsletters, flyers and other communications will be passed from your family member to their friends and acquaintances. In all probability, your relatives will endorse and support your services and refer their friends to you.
Friends 
Your friends are also an obvious inclusion on your client list. They already know and like you and will endorse your services to their friends and acquaintances. Don't forget friends from your past, as well. Using a list of your high school or college classmates is an excellent way to generate new business. If you think about it, wouldn't you respond to someone from your past contacting you to offer a service that you are currently receiving from someone with whom you may have no personal relationship?
Neighbors
The people with whom you already have existing relationships should be on your client list, but so should those located near your home that might be interested in your service. Having a location close to these prospective clients and being available after hours is a real advantage over the competition. Direct mail, targeted social media and targeted PPC advertising are great ways to let your neighborhood know of your business and services.
Business Associates
Present and past business associates should be added to your list, especially if they are business travelers. Individuals you know who have moved on to other organizations or colleagues you have worked with in the past are logical for inclusion.
Club Members 
If you belong to a private, social, business or other type of club, your fellow members should be included.  Often, it is a good idea to join clubs that share your interests to access their membership mailing list. Just make sure to check the policies of the group, however, as some group lists specifically prohibit solicitations. Seniors are a key population target in the travel market and many are members of clubs that travel consistently. There are many clubs of various ethnicities, interests and profiles; seek out those that appeal and offer an advantageous prospective client base.
Organizations
Include members of your church, particularly if you know that they travel. In your local community, there are probably several business associations, such as the Chamber of Commerce, Downtown Business Association or similar organizations with whom you may become involved. These associations are always an excellent opportunity to meet new people and expand your client list.
Referrals 
Some of the best names for your client list will come from the referrals of your existing clients, family, friends, neighbors and other contacts.
Yellow Pages
The yellow pages can help you develop a quality client list. Use them to jog your memory regarding past contacts you may have otherwise neglected on your mailing list. You may have met and established a rapport with people with whom you conducted personal business; that would serve as the entree for a reciprocal business relationship. Examples would be your accountant, attorney, automobile dealer, banker, broker, butcher, doctor, dentist, hair stylist, manicurist, plumber and so on. Simply start with the letter A in the Yellow Pages and work toward the letter Z, making notes along the way. You will be surprised how many people you know that are obvious prospects for your mailing list.
Geographically Desirable Individuals
People who reside within close proximity to your geographic location are logical potential clients and should be included on your list. There are numerous local groups on social media such as Facebook. Just search (Your City) Groups or even consider starting  a travel group for your city. There are also numerous stand alone social discussion and Meetup groups that one can join in their community. Visit NextDoor.comto see what groups are operating in your area and join them. Again, Direct mail, targeted social media and targeted PPC advertising are great ways to let geographically desirable individuals know of your business and services.
Demographically Desirable Individuals
Another approach for adding quality names to your client list is to qualify prospects by their income or some other measure of purchasing power. There are many databases available that have recorded information from the state tax roles for real property owners. By using these databases, you may find attractive prospects by qualifying them by zip code, home size or another desirable measure of the existence of discretionary income. "DataQuick" offers a real estate tax base you can access from your personal computer. Publications, like Contacts Influential or reverse and industrial directories can be found in your local library and offer a wealth of leads on people who meet this criterion. By using the various filters on zillow.com, trulia.com, realtor.com and others you can easily find homes in your area that might be demographically desirable individuals.
Your Local Newspaper
A great way to add potential new clients to your mailing list is by reading your local newspaper (local, business, society, wedding, and other sections). When you find an article about someone who fits your future client profile clip it out and save it or copy and save it in a digital format. Then send them a personal note of congratulations or other appropriate  message, mentioning you are going to include them in future communications. If the client is high profile in your community, you might include an incentive as part of your acknowledgment.
A week or two later you can follow-up with a second contact, personally confirming the incentive and opening the line of communication between you and the client. This works, even if you are a one-person operation. The client appreciates the stroke and also appreciates the hands-on personal nature of the burgeoning relationship.
Social Media Friends, Followers and Fans
If you are active on Facebook, your friends are quite likely to want to be on your client list. Be sure to ask them if they would, but don't automatically add them to your list just because they have friended you. The same is true for Twitter, SnapChat, Instagram and Linkedin. Remember that Social Media is just that, social. There is a fine line on how you manage that medium for optimal results. Of course, if you have a Facebook business page, every one of your followers should be in your CRM so that you can create an important relationship with them.
Managing Your Client
List 
for Relationship Marketing
Now that you have your CRM chock full of customer information, using this information to create strong relationships with your clients is the marketing effort that you will undertake. Relationship marketing is just a marketing term for evolving important and bonding personal relationships with your client and it is the key to your success as a travel agent.
It is very important to see that your client list is kept up to date and with correct and up-to-date information. Every communication with your client will result in more information being added to their profile and this information will drive your ongoing relationship building activities. Only add strong potential clients and when someone does not want your communications delete them from your active client database. So here is how you can turn your client list into strong and lasting relationships.
Be Personable
Your CRM should allow you to personalize communications to the people in your client base. Use client's names, their children's names and other content in your database to make every communication appear to be a personal message, rather than a mass-produced message. Make your messages personable like you are communicating with a friend, rather than a customer. Birthdays and anniversaries offer the opportunity to communicate your personal best wishes, which is a very effective way to develop relationships. However, avoid sending preprinted cards in favor of sending a unique communication that is highly personalized and hand written.
Honesty and transparency in your communications, whether social, email, website, SMS, newsletter, blog post or by telephone is extremely important. Always be personable, honest and transparent no matter what comes your way.
Focus Your Communication
When communicating with your client list make sure that your correspondence is focused on their wants and desires. As an example, don't send  cruise promotions to a client that will clearly never take a cruise for whatever reason. Do send ski vacation specials to your clients that have indicated they are interested in taking a ski vacation. By having a robust keyword search in your CRM you can tailor communications to your clients based on what they are interested in receiving rather than just sending content that may be irrelevant to them.
Involve Your Clients 
Getting feedback from your clients is an excellent way to fine tune your relationship marketing efforts. As an example, why not do a survey on what river cruise line is their most favorite line? Use SurveyMonkey online or Questions on Facebook to conduct surveys. Also, make sure that you are active on review sites such as Yelp, TripAdvisor, CruiseCritic and others to respond to reviews that are either positive or negative.   Make it easy for your clients to give you feedback and the opportunity to make suggestions and comments.