How to Tell if You NEED a Host Travel Agency Partner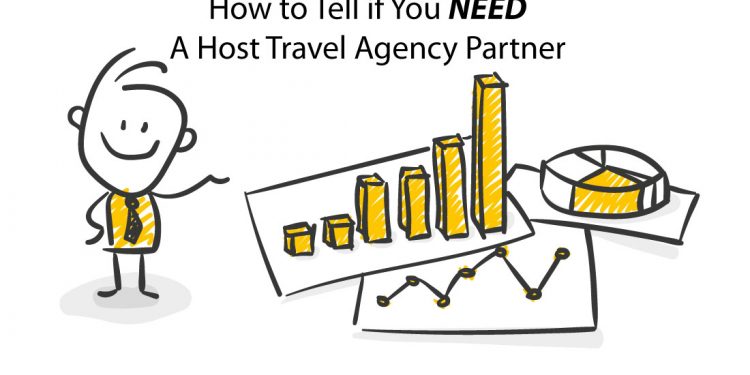 Partnering with a Host Agency is a big choice, is it right for YOU?
Making the decision to either work with a host agency, or go completely independent requires a good amount of thought and planning. Today's host agencies are robust and fully qualified as business partners and offer myriad marketing, operations, technology and training support. So let's delve into how to tell if you need a host travel agency partner.
What is Your Business Plan?
Before you even consider if you need a host agency travel partner, or not you need to understand what your business is going to be. By having a well thought out business plan, you will be able to understand what you need from a potential host travel agency partner. You can usually tell if you need a host travel agency partner just by your business plan only. 
If you are going to be highly specialized in a niche where you already have the specialized knowledge to open your travel business, then you may not need a host agency partner. However if you lack certain elements that would be necessary for your success, then you probably do need a host travel agency partner.
Business Considerations to See if You Need a Host Travel Agency Partner
Business Experience
If you do not have the specific experience of operating a small business including accounting, operations, marketing and management, you should strongly consider locating a host travel agency partner. Running a business is not a simple task and your host agency partner will be able to provide many of the necessary tools and services to make it much easier to succeed. This support in itself makes working with a host travel agency partner extremely attractive.
Travel Agency Experience
If you have strong business experience but very little experience operating a travel agency as either the owner or manager, you will definitely need a host travel agency partner. Travel agency operations requires detailed knowledge of the reservations process and managing multiple transactions that are in various stages of completion. Your host travel agency partner will yield huge dividends in this area.
Benefit Considerations to See if You Need a Host Travel Agency Partner
Host travel agencies offer several benefits that are also major considerations when deciding if you need a host travel agency , or not. Here are some of the more important.
The Low Cost of Starting Your Travel Business
Starting your travel business is much less costly using a host travel agency partner than not. Since the host agency will provide much of what you need to start your business, choosing your host agency may be an important consideration if you are on a tight budget. Besides being an economical way to launch your business it is also a relatively easy way to start up.
The Relative Ease of Entry
Finding and joining a quality host travel agency partner has never been easier. Simply visit FindaHostTravelAgency.com and start reading the host agency profiles until you find one that matches your needs. Once you have found them, you may be able to launch your business the very same day. Finding a quality host travel agency makes it quite simple to start up.
Mentoring
Your Host Travel Agency partner may offer mentoring for new agents, or those new to running their own operation. Most mentoring programs do not require extra cost and can be extremely helpful for those with little or no business or travel agency experience.
Ongoing Training
Most host travel agency partners offer ongoing training and usually have hundreds (if not thousands) of training videos on demand. This training content really helps get established in the travel industry quickly.
Backroom Support
If you have not studied accounting or bookkeeping, maintaining your business books can be difficult even with today's modern software. Host travel agencies offer complete backroom support which includes, accounting, reservation support, quality control, commission tracking and much more. Host travel agency backroom support is one of the main reasons to associate with a host travel agency partner.
Commission and Overrides
Host travel agencies aggregate their affiliated travel agent's revenue under one umbrella to attain much higher commissions, overrides and promotional support. This one benefit alone could be the primary motivation for using a host travel agency partner. As an example, if your business plan is to sell cruises as a niche, but not so narrow as to focus on just one cruise line, then finding a host travel agency with a robust presence in the cruise industry would make a ton of sense.
Pricing Advantage
In the example of selling cruises, it is not uncommon for a host travel agency partner to hold a substantial amount of group space that individual agents can sell into to access exceptionally attractive pricing that they can offer clients.
Supplier Connectivity and Relationships
Getting the attention of major travel industry suppliers can be difficult at times. However most host travel agency partners have already established a relationship with a supplier that you would like to work with that you benefit from. They have in-depth knowledge of each supplier and can help you find just the right one for your business.
Knowledge and Experience
Host Travel Agency Partners may have been in business for 20-years, or longer. This fact has resulted in their being extremely knowledgeable and also given them a wealth of experience in the travel industry. This is a huge benefit as you build your business.
Marketing Support
A host travel agency partner may offer digital and print marketing opportunities and a wealth of knowledge on what works and what doesn't. Your host travel agency will help you build a formidable marketing campaign with strategies that are proven to be successful. 
Technology
Many host agencies have proprietary technology that makes you extremely effective and productive. Most offer access to the GDS/CRS automation structure, which is mandatory if you intend to sell airline tickets. Using a host travel agency's technology is one of the best reasons to work with a host travel agency partner.
Sales Leads for Hosted Travel Agents
Some host agencies offer sales leads to their agents. This can be extremely beneficial especially if you do not have an existing client list. Leads can launch you into the business of selling travel exceedingly fast and is the best way to hone your sales and presentation skills quickly.
Travel Perks
Because of the great volume of business that host travel agencies produce they are one of the first entities to be offered travel perks and incentives that they generally pass down to the agents that a have been productive for the offering supplier. When you are seeking a travel agent reduced rate on a travel event, being a part of a credible host agency is nothing but a positive in the supplier's eyes.
As you can see, there are a good number on considerations to contemplate to determine if you need a host travel partner in 2019. Best of luck in your business.