QR Code Marketing for Travel Agents in 2022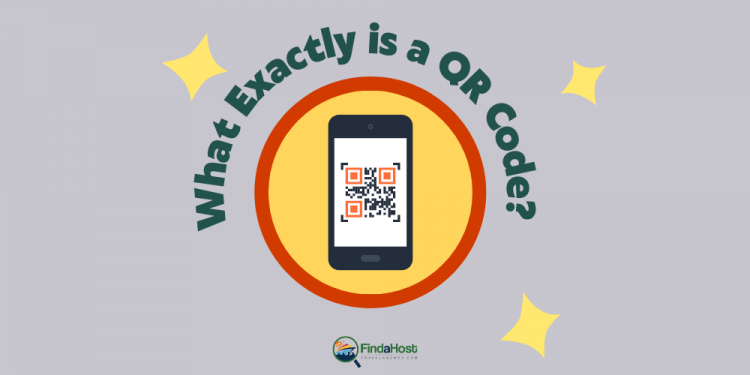 QR Codes – You see them everywhere but how can they work for you as a Travel Professional in 2022?
Written By: Tom Ogg, Co-Owner – FindaHostTravelAgency.com 
For years QR codes languished as a viable marketing tool. It was only the COVID pandemic that resuscitated the use of QR codes and consumers became comfortable using them to access restaurant menus, hotel services, museum exhibit information, business contacts, social media content and so many other places. Consumers went from general apathy towards QR codes to using them on a daily basis.
Of course, this phenomenon opens up several marketing opportunities in the travel industry for travel agents to exploit. This article will look at just a few of them and hopefully get your wheels turning to see how you can use QR codes in your marketing efforts.
So What Exactly is a QR Code?
QR stands for "Quick Response". It is basically like a barcode only rather than just containing information horizontally, a QR code holds it both horizontally and vertically. This gives the QR code approximately 100 times the quantity of information that it can hold. QR codes need to be read by a QR code reader, but fortunately just about every smart phone in existence has a QR reader in it. By launching your phone's camera and focusing on a QR code, you will be given the option of opening a link to the content the QR code is all about. The most common use that all consumers have experienced is in restaurants who have gone with digital menus during the COVID pandemic to avoid having several customers using the same hard-copy menu.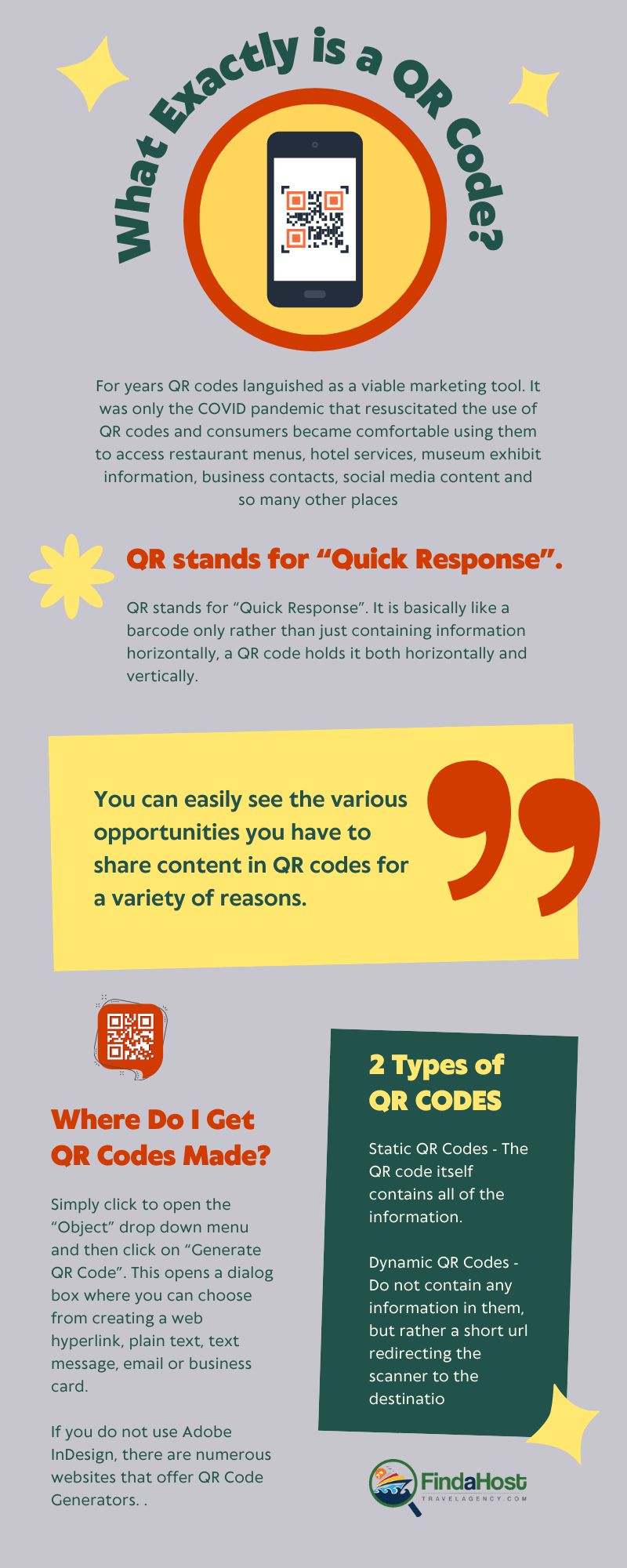 QR codes can accommodate the following types of information.
Text
Textual messages are perfect for QR codes.
Links
One can link to any digital content that has a url. This can be webpages, video, audio, social media and anything else that can be defined in a url.
Telephone
QR number codes are highly effective at getting scanners to immediately contact you by phone. 
SMS Message
Instant messaging QR codes make it easy for your clients to instantly message you via SMS, Facebook Messenger or WhatsApp "Click to Chat". As more and more people are using messaging as a preferred way to communicate, look for instant messaging QR codes to become more and more popular.
Email
Known as an email QR code one can easily deliver an entire email to the scanner quickly and efficiently.
Contact Entry
vBusiness cards are awesome for sharing your business contact information in an easy to scan QR code. The scanner simply scans the QR code and clicks on "create new contact" to add you to their contacts.
Calendar Entry
You can have clients note your event in their smart phone calendar by simply scanning a calendar QR code. If clients are using a Google calendar, Google offers its own Google Calendar QR Code generator for this purpose.
Google Maps QR Code
The viewer simply scans your code and your location shows up on Google Maps. There is also an app for Waze that does the same thing.
The fact is that there are over 30 different QR codes for various applications. For social media there are specific QR codes for Facebook, LinkedIn, Instagram Nametag, Pinterest Pincode and Snapchat Snapecode. There are also several payment QR codes that can be used for clients to pay for service fees or other service payments. Google Pay, PayPal and Apple Pay all have QR codes, not to mention many other payment gateways.
You can easily see the various opportunities you have to share content in QR codes for a variety of reasons.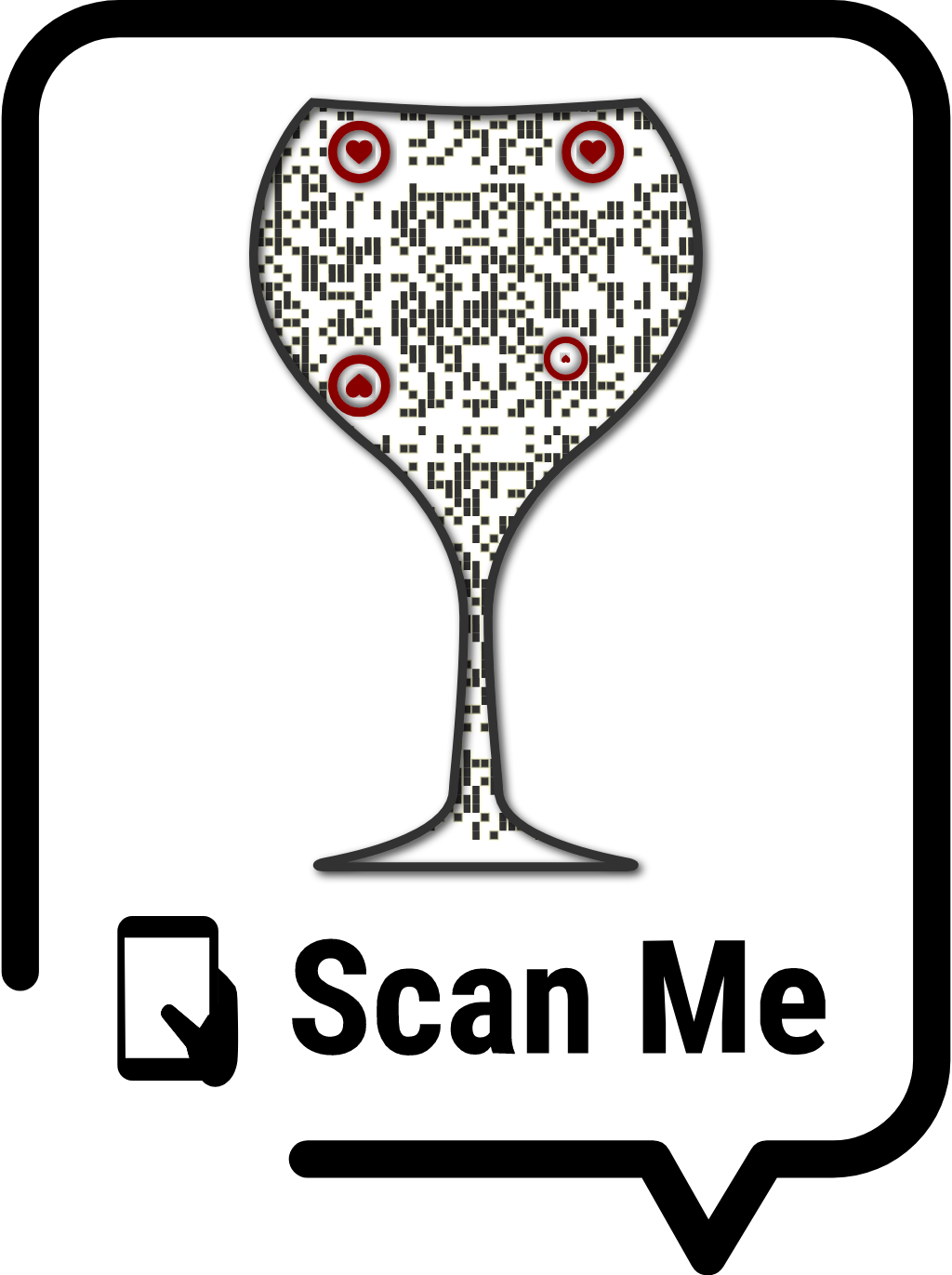 Static and Dynamic QR Codes
There are basically 2 different types of QR codes and depending on your application, it is relative easy to select the right type.
Static QR Codes
Static QR codes are just what the name implies. The QR code itself contains all of the information being given when someone scans the code. Static QR codes are excellent for one time uses such as linking to content on a website or other one time applications. Because the QR code contains all of the information it delivers, it cannot be changed.
Dynamic QR Codes
Dynamic QR codes do not contain any information in them, but rather a short url redirecting the scanner to the destination that the QR code is pointing them too. As such, dynamic QR codes are great for content that may change in the future as the changes can be made to the destination content as many times as you would like. One of the best features of using a dynamic QR code is that they can be tracked by time used, number of scans, locations of scanners, operating system used and so much more. Some QR code generators also have an interface with Google analytics so that you can track more information to see how your QR code campaigns are performing.
 

Where Do I Get QR Codes Made?

QR codes are produced by QR Code Generators. If you use Adobe's InDesign you can easily create static QR codes. Simply click to open the "Object" drop down menu and then click on "Generate QR Code". This opens a dialog box where you can choose from creating a web hyperlink, plain text, text message, email or business card. Once you have chosen the type of QR code simply complete the content form that is provided upon selecting one.  Once the form is completed, you can then select the color(s) you want to use for your QR code. Assuming that it will be included in a larger graphic or other digital or print item, you can build the QR code to look like it was designed as part of the graphic. Once everything is ready, you simply click on "OK" and the QR code is generated. You can make the code whatever size that you would like and have it fit perfectly into your graphic.

If you do not use Adobe InDesign, there are numerous websites that offer QR Code Generators. Each site has a slightly different value proposition, but suffice it to say you will not have trouble finding one you especially like. Following is just an example of what is out there.
QR Code Chimp
QR Code Chimp is a wonderful site and is near the top of QR Code Generators on review sites. Once you visit it you will easily see why. It makes creating QR Codes fun and entertaining. It gives maximum flexibility when designing a QR code and allows for different shapes, colors, figures and images. You can even upload your own images to use in QR codes. This site rocks! There is a free version for static QR Codes and then 3 levels of support for dynamic QR codes that starts at $6 per month. Here are its features from their website
Generate Static and Dynamic QR Codes
Bulk Upload and Bulk Download QR Codes
Advanced Analytics to Track Scans
Integrate With Google Analytics
Customize Domains for White Labelling
QR Code Design Customization
Beautiful vCard Plus and Landing Pages
Free Account With Upgrade Options
Beaconstac QR Code Management Solution
Beaconstac's QR code generator allows you to make both static and dynamic QR codes You can easily create a QR code for free and they also have a paid service that starts at $5 per month if you want more services. According to their website you will receive the following benefits.
Create a Branded QR Code
Manage and Personalize global QR Code Campaigns
Measure Engagement in the Physical World
Capture Intent in the Physical World and Build Digital Cohorts.
Run Targeted Social Media Ads Based on Intent in the Physical World
QR Code Generator
This completely free-to-use website generates static QR Codes with a lot of customization available on the free version. However, if you want more advanced features you can upgrade to a paid account for $9.99 per month. The beauty of QR Code Generator is ease of use. When you load the site you are given the generator which couldn't be easier, even for novices. 
These three QR Code Generators are representative of the myriad of choices out there. Just Google "QR Code Generators" to find many to explore if one of these three does not handle your requirements.
How to Use QR Codes in Travel Marketing
You can use QR codes in so many different ways to drive traffic to your content. While everyone will have their own applications for QR codes, here are just some ways that they can be effectively used. As the world becomes more and more digital, look for QR code usage to soar in the future.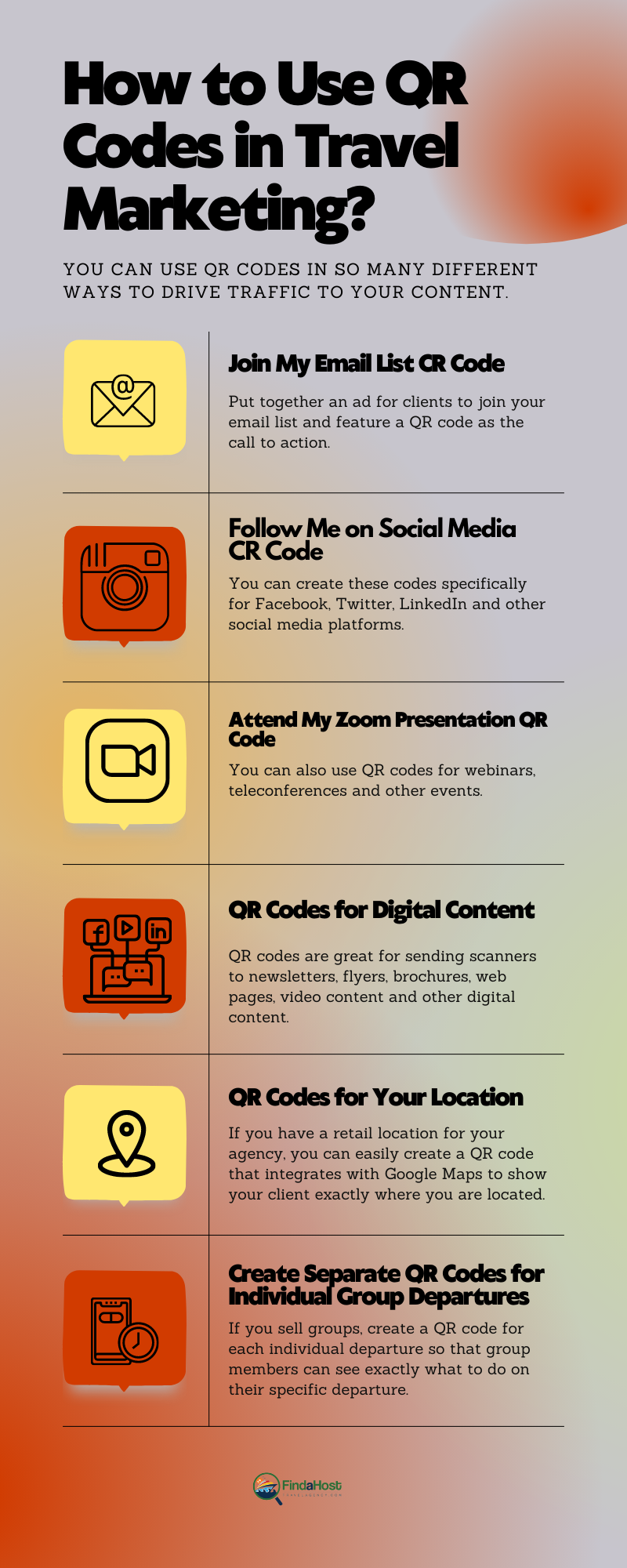 Create a QR Code Business Card
This is something everyone should have available in numerous locations. Clients scan the QR code and click on your name to create a thorough contact entry on their smart phone. These are also quite helpful when attending trade shows, seminars and other venues where suppliers want to capture your information. They completely eliminate the need to keyboard information into smart phone contacts.
Join My Email List CR Code
Put together an ad for clients to join your email list and feature a QR code as the call to action.
Follow Me on Social Media CR Code
You can create these codes specifically for Facebook, Twitter, LinkedIn and other social media platforms. Easy to create and can be customized around the social media itself.
Attend My Zoom Presentation QR Code
If you are doing a presentation why not use QR codes to motivate registration. You can also use QR codes for webinars, teleconferences and other events.
QR Codes for Digital Content
QR codes are great for sending scanners to newsletters, flyers, brochures, web pages, video content and other digital content.
QR Codes for Your Location
If you have a retail location for your agency, you can easily create a QR code that integrates with Google Maps to show your client exactly where you are located.
Create Separate QR Codes for Individual Group Departures
If you sell groups, create a QR code for each individual departure so that group members can see exactly what to do on their specific departure. 
This is just a brief list of ways QR Codes can help you market your business. As you get further into using QR codes to market travel you will explode with ideas and concepts.