Sponsored – Six Simple Marketing Strategies to Grow Your Travel Advisor Business in 2021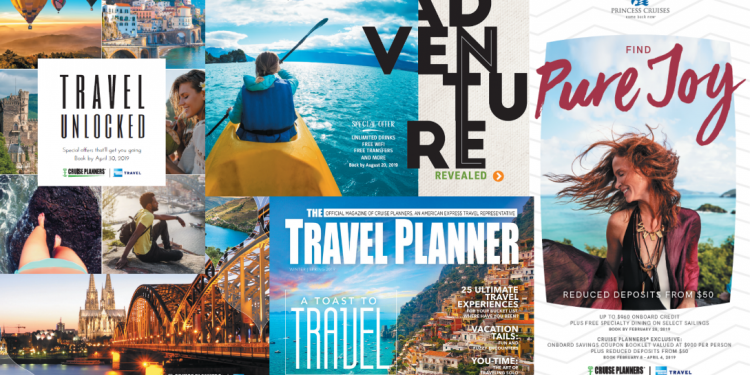 Written By: Michelle Fee, CEO & Founder – Cruise Planners, an American Express Travel Representative
Whether you are just starting out as a travel advisor or you have been around for years, marketing is key to building brand awareness, and providing information about the services you offer and expanding your client base. Although marketing your business can seem like a daunting task, you don't have to have a master's degree or an unlimited budget to be successful at marketing. Sometimes, simple things can go a long way. Especially because of the impact of Covid, mastering these Six Marketing Strategies that can help grow your client base, even if you have an established travel agency.
1.  Start with Family and Friends
Do you have friends and neighbors who are eager to travel? Have you ever gone on a trip with family? If your family and friends aren't booking their travel through you, you are missing out on a huge opportunity! Not only can family and friends bring you actual business, but they can also help establish a referral network. Word of mouth continues to be one of the best ways to expand any business, and by providing exceptional service to your family and friends, they are likely to refer you to other people.
Don't be shy about your travel business! Create a post on your personal Facebook or LinkedIn page, send an email to your personal contacts or knock on your neighbor's door. Just make sure everyone in your immediate circle knows you are a travel advisor, and you are happy to help them plan their next trip.
2. Think Local
Unfortunately, you probably won't have a marketing budget the size of Apple's to create international campaigns, and that's ok. You don't have to spend huge amounts of money to get impactful results. Tapping into your local community can go a long way in building brand awareness. Customers still like supporting local businesses owned by people they know and trust. Joining the local chamber of commerce, getting involved with parent teacher associations, participating in local Business Network International (BNI) chapters or sponsoring a youth sports team can go a long way in building trust and familiarity in the community and growing a strong network of potential clients.
3. Run a Contest
Contests are a great way to engage potential customers and capture valuable information when building up your database. One idea is a photo contest. Ask people to submit their best travel photos for a chance to win a $100 travel gift certificate (or whatever value you feel comfortable with).
To enter, they must provide their name, email, and phone number. Not only are you engaging your potential customers in a fun way, but you are also collecting valuable information you can use to market to them in the future. Beyond just their contact info, you can also see what type of travel they like based on the pictures they submit.
4. Stay Top of Mind with Email
Whether you are just finding your first clients, or you have a well-established database, it's important to stay top-of-mind with your customers. Email is a great way to do this. Try sending a weekly email newsletter promoting different specials. and promotions.  Also consider being your client's source for news & updates about the travel and destinations they are most interested in
As you start to segment your contacts, you can even have multiple newsletters based on specific types of travel, so you are sending the right deals to the right people.
6. Don't Spread Yourself Too Thin
With so many options, it can be tempting to spread your dollars thin on a variety of marketing efforts. Even though Cruise Planners is a low-cost travel franchise, you can maximize your marketing efforts through the larger franchise business model. As the adage goes though, quantity is not always better than quality and Cruise Planners' collective buying power, which you can benefit from. Try focusing your budget on a few things and do those well.  Once you master the basics, you can begin expanding your efforts. Leverage the marketing tools and assets created by the in-house team.
6. Get Marketing Support from Cruise Planners
As a travel advisor, we know you have a lot on your plate, and you often must wear many hats. At Cruise Planners, we provide our advisors with award-winning marketing to help drive sales and free up their time to focus on other areas of the business.
Our in-house marketing team creates up to 23 beautifully designed and informative direct mail campaigns each year and sends them on our behalf of our agents. We also create and send segmented weekly email blasts, provide social media management support and offer print-on-demand services.
Our goal is to create comprehensive campaigns that cover a variety of touch points, so our travel advisors can stay top-of-mind with their clients and drive sales.  Download the Six Marketing Strategies Travel Advisors Checklist to learn more about what will help you stay on track and make sure you are doing all that you can for your clients and your business during the coronavirus outbreak.
Learn more about how you can get award-winning marketing support to grow your travel advisor business at www.cruiseplannersfranchise.com. For a limited time, Special incentives are available for travel industry professionals.