Travel Professional Service Fees in 2021 and Beyond (Infographic)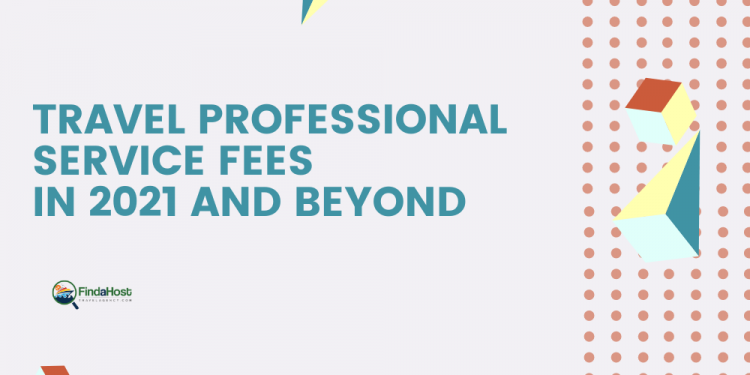 In a Post-COVID World, Travel Professionals Must Learn and Implement Service Fees for Success as a Home Based Travel Agent
The COVID-19 pandemic caught many travel professionals without having a structured service fee in place and many ended up working hour after hour with virtually no pay for doing so. The benefit for consumers was that they realized how important it was to have an advocate in their corner, as most travel distribution channels were unable, or unwilling to try to resolve the chaos that mass cancellations and the closing of the travel industry world wide created. As a result, it is obvious that travel professionals need to have a well thought out service fee agreement to avoid the loss of income if and when disaster strikes.
Service fees have been a hot topic for travel professionals ever since the airlines did away with airline ticket commissions. Before that time, very few agents charged service fees, as the commissions were robust and getting an agency into profitability was quite easy. During the period subsequent to the elimination of airline commissions, charging service fees has been all over the board. Some agencies do and some don't. There is no set amount that agents typically charge either. 
With the COVID pandemic, every travel agency ended up working harder and harder to keep their heads above water and those that had a service fee structure in place were much more prosperous than those that did not. The beauty of having a special niche is that consumers are more than happy to pay for top quality advice that will end up in their having a more satisfying and successful vacation experience. At this point in history, service fees are something that every travel agency should use as a part of their overall revenue stream.
Airline Commissions and Cruise NCFs
Over the years, suppliers have reduced commissions paid to travel agents, by either reducing the commission rate, or increasing the non-commissionable portion of a sale. Airline commissions were paid at 10% of the airline ticket price and was gradually reduced to 0% as technology reduced the role of travel agents and the need for them to both process payments and document the sale in the form of an airline ticket. Cruise lines also increased the portion of the cost of a cruise fare as a "Non-Commissionable Fare". While initially NCFs were described as "port fees and other expenses" it became obvious to everyone that NCFs were simply a way for cruise lines to lower the commission amount paid to travel agencies.
Travel professionals that handle commodity transactions (domestic airline tickets, domestic hotel reservations, 3 and 4 day cruises and so on) use service fees to stabilize revenues from sales since the transaction generates an insufficient amount of money to sustain profitability. These kinds of service fees are generally what a travel agent thinks of when planning their revenue stream.
Known as a "transaction fee" agents generally charge a flat fee per transaction regardless of the dollar amount of the transaction. The amount of the fee is dependent upon your agency's overhead, your business plan and the amount of commodity transaction the agency performs. Understand that a transaction fee is a charge for completing a transaction, not a service fee that implies ongoing service. As an example, an airline ticketing fee does not include refunds, changes or any other transaction type.  Here are some examples of commodity type transaction fees.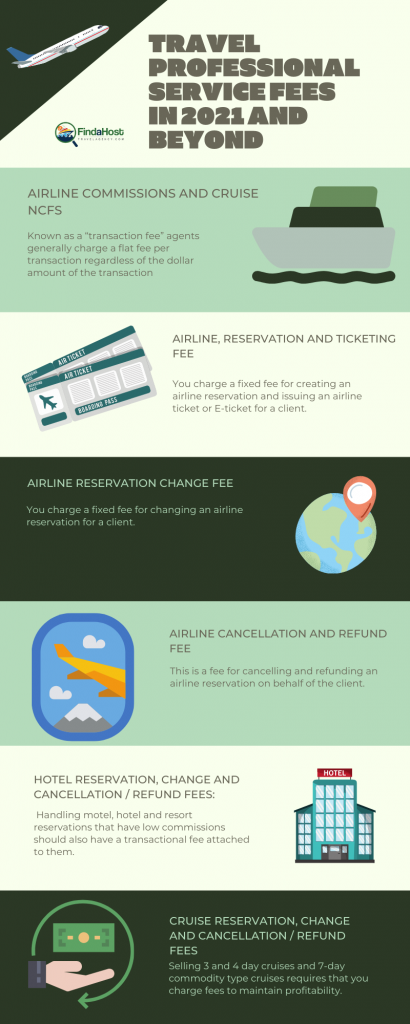 Airline,
 

Reservation and Ticketing Fee

You charge a fixed fee for creating an airline reservation and issuing an airline ticket or E-ticket for a client.
Airline Reservation Change Fee
You charge a fixed fee for changing an airline reservation for a client.
Airline Cancellation and Refund Fee
This is a fee for cancelling and refunding an airline reservation on behalf of the client. 
Hotel Reservation, Change and Cancellation / Refund Fees
Handling motel, hotel and resort reservations that have low commissions should also have a transactional fee attached to them.
Cruise Reservation, Change and Cancellation / Refund Fees
Selling 3 and 4 day cruises and 7-day commodity type cruises requires that you charge fees to maintain profitability. As many agents learned during the pandemic, they were faced with cancellations, rebooking and refunds without remuneration. Don't get caught in this situation.
Each client will have different needs and expectations so you should be crystal clear about your transactional fees and what is included. This is best done in a written document that the client signs so that you have a copy in the client file.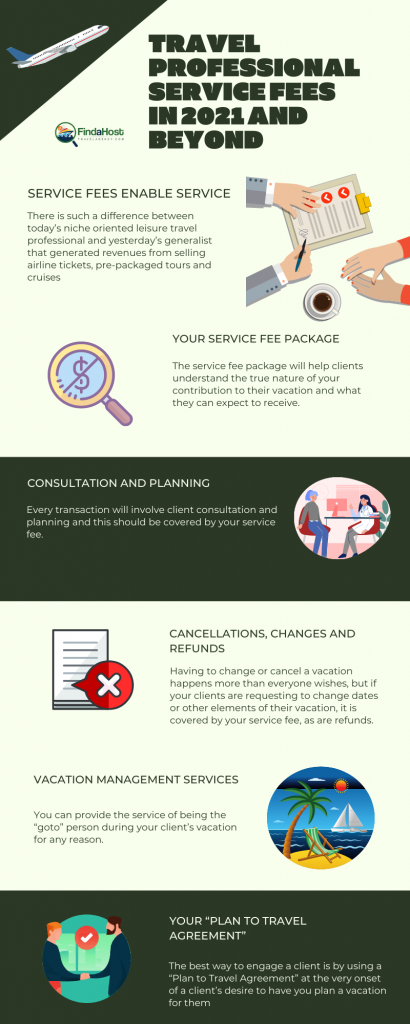 Travel Agency Service Fees Enable Service
There is such a difference between today's niche oriented leisure travel professional and yesterday's generalist that generated revenues from selling airline tickets, pre-packaged tours and cruises. There is also a huge difference between selling commodity type transactions and complex leisure transactions.
If you think of travel generalist as being like someone that works in a retail clothing store selling clothes. Sure, they may help you pick out a nice shirt and ring up the sale when you are done, but you would not expect much more than that as a customer. Since the sale of off-the-rack clothing is basically a commodity transaction, there is no promise or expectation of exceptional service. 
But, if you visit a tailor who is also in the business of selling clothes, but he or she is a specialist and may focus strictly on creating men's suits at a high price point. His or her service might include several fittings, alterations and adjustments before the suit is completed and they would also offer after sale service such as additional alterations and adjustments. In effect, the tailor is in the complex service business and customers have every right to expect exceptional service and results.
Your Travel Agency Service Fee Package
While you have your agency's transactional fee schedule, you should also offer clients a service fee package that outlines the various benefits that they will receive by using your services. The service fee package will help clients understand the true nature of your contribution to their vacation and what they can expect to receive. There are various types of services that you can provide the traveler and they are all extremely important.
Consultation and Planning
Every transaction will involve client consultation and planning and this should be covered by your service fee. One of the biggest complaints from travel professionals that do not use service fees to cover this cost is that they do all of the work only to have the client book it online, or somewhere else. Having your service fee cover this is the way to go.
Cancellations, Changes and Refunds
Having to change or cancel a vacation happens more than everyone wishes, but if your clients are requesting to change dates or other elements of their vacation, it is covered by your service fee, as are refunds.
Vacation Management Services
You can provide the service of being the "goto" person during your client's vacation for any reason. 
Changes: If your client needs to change their itinerary while on vacation for any reason, you can make it happen for them.
Cancellations: You would manage cancellations at your client's request.
Travel Documents: You can have digital copies of all the clients travel documents so that if they lose them you can easily provide them with copies.
Emergency Intermediary: Should your clients have a medical emergency while on vacation you would be the intermediary between the clients and the insurance company. You would be able to act on your client's behalf for any emergency that occurs while they are traveling.
Lost Luggage Tracking: Should the client's luggage become lost, you can track it down on the client's behalf and make sure the it is delivered to the correct location.
Reconfirming Their Itinerary: You can reconfirm the key components of your client's vacation before they arrive and also let suppliers know if they are going to arrive early or late.
You can structure your service fee package much like the tailor's services in the above example. The tailor would offer x number of fittings, y alterations and z post completion alterations. You should spell out exactly what the client is getting in no uncertain terms. This could be x consultation hours, y changes and z post sale support.
Your "Plan to Travel Agreement"
The best way to engage a client is by using a "Plan to Travel Agreement" at the very onset of a client's desire to have you plan a vacation for them. You explain that you will need to invest x number of hours in planning the travel event and that you normally charge an upfront service fee for planning it. You can also explain that you will provide them a firm quotation for their travel event that they can then shop on the Internet or anywhere they would like. Of course, if the travel event has excellent internal yields, you would probably deduct the service fee from the quote that you provide the client making it difficult for anyone else to compete on a price basis.
You should use a Plan to Travel Agreement for consulting fees, vacation, FIT and group planning and all the various pre and post travel activity as mentioned above.  By conveying the various benefits that they will receive and the comfort knowing that they have a knowledgeable contact should anything come up during their vacation, signing the Plan to Travel Agreement will be very easy for them to do. 
Here is a sample Plan to Travel Agreement that you can modify to meet your own needs. You Can also Download it Here.