Travel Agent Website Guide (2020) – Section 2 – Where Can You Get a Travel Agency Website?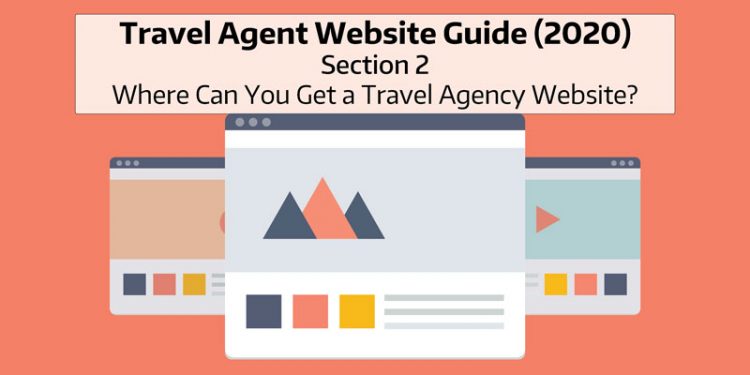 Where Can I Get a Travel Agency Booking Website?
There are several ways to negotiate a booking site depending on your circumstances. Generally they are available with your private branding, yet the provider takes care of maintaining keeping the content current and up-to-date. 
Remember to make sure that having a booking website is consistent with your overall value proposition. If you are an expert on a particular niche of travel, it is quite likely that you do not want to relegate a client to a generic booking engine, but would rather that they reach out to you personally so that you can share your expertise and turn the contact into a sale. That said, here is how to find the perfect travel agency booking website for your business.
Host Agencies
While just one of the benefits realized by using a host agency, booking websites are available at a number of host agencies. Visit www.FindaHostTravelAgency.com and simply click on "Click Here to Start Your Search" and then select the "Is a Website Building Tool Available" and enter "yes". When this is done click on the red "Filter" button and well over 80 host agencies that offer booking websites are revealed. By evaluating each host agencies' value proposition you will find the perfect one for you.
Passport Online
Passport Online offers NexCite2 a robust fully designed website program including travel offers from nearly 100 leading leisure suppliers (preferenced for your preferred supplier options) social media integration, dozens of pages of destination content, electronic marketing tools, and agent DNA to provide profile information about you and your agents. It is mobile friendly. NexCite2 offers the major ocean and river cruise lines' content as well as tour wholesalers, vacation packagers and key resorts and all calls to action always lead directly back to your agency. Nexcite2 for Hosts allows you to empower your agents with their own digital presence with a "cloned" site that reflects your host agency branding and supplier preferences and their individual identity. Also, if you are integrating your online marketing with Facebook, Passport Online's ESP will allow you to post engaging content daily (or as often as you would wish to your Facebook Business page. Visit Passport Online at http://www.passportonlineinc.com
Online Agency
Operating third party travel agency websites for over 20 years, Online Agency boasts over 3,000 active users for their sites. Visit them at www.onlineagency.com
Voyager Travel Agency Websites and Social Media Manager
Voyager offers competitive pricing for both social media management and travel agency websites. Voyager sites are visually stimulating and offers an easy-to-use user interface. Visit them at www.voyagerwebsites.com
Agent Studio
This is another third party travel agency website supplier. While not as robust as Nexcite2, Agent Studio is used by a good number of travel agents as their primary site. Visit Agent Studio at www.agentstudio.com.
VacationLabs
While not really a third party booking website, Vacation Labs  offers robust travel industry websites for both travel agencies and travel suppliers. It is perfect for niche oriented websites and VacationLabs also offers web hosting and support. Visit them at www.VacationLabs.com.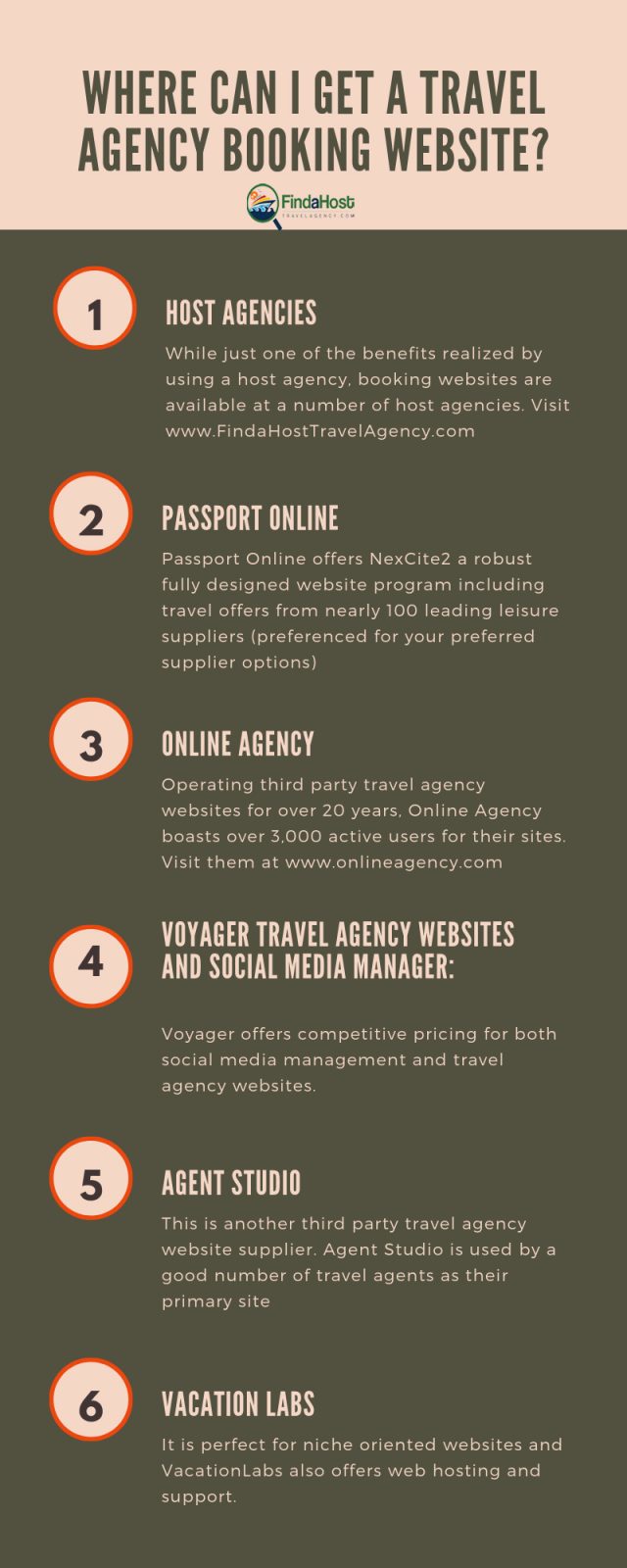 Where Can I Get a Travel Agency
 

Online Presence or Other Website?

There are hundreds of websites that allow you to build your own site using their tools. Depending on what you want to create there are some sites that seem especially viable for travel agency websites. While this list is intended to give the reader enough sites to check out, it is by no means complete, but you should find the right tool for your needs in this list.

All of these sites are "build your own" rather than being a third party booking website. They offer the user an intuitive and easy-to-use interface that does not require any understanding of code whatsoever. In most cases you can build a website quickly and easily. Note that many of these sites offer "Free" websites, but they come with ads served from the host's website. These "Free" sites are simply not consistent for the purpose of a travel agency website.

Also, while these are great for those with no or little experience at building websites they are also appropriate if you want to create a special group, landing page or any other travel agency website. They allow you complete control over the content in your site.
Here Are the Top Ten Travel Agency Website Builders
AtlasRepublic.com
Offers a robust travel agency / tour operator website specific web building tool.  From content development to measurement and tracking tools, Atlas Republic is a great choice to build your website. Note that this company is owned by a travel agent. Contact www.atlasrepublic.com for more information and pricing. 
Wix.com
Wix is an easy-to-use website creation tool that allows you to create your business website quickly and efficiently. Wix offers several plans for websites which start at $13 per month.  Visit wix.com for more information.
Weebly.com
This is a great tool for building travel websites. Weebly also offers domain name registration, web hosting and just about everything else that you may need to get your online presence website up and running. Weebly's programs start at $12 per month.  Visit www.Weebly.com. 
WebFlow.com
This site offers over 100+ web templates, web hosting and just about everything you will need to launch a formidable online presence. They offer programs from $12 (personal website) to $36 (for a business website). Visit Webflow at www.Webflow.com.
Mobirise.com
If your client base is using smartphones to access your content, then Mobirise may be the right tool for you. It is a downloadable tool that allows you to create websites that are totally mobile friendly. It features an easy-to-use interface that is quite intuitive. There is no charge to download the tool for Windows and Mac. Visit www.mobirise.com.
Squarespace.com
An easy to use website building tool that will accommodate e-commerce, as well. The cost is between $12 to $40 per month. Squarespace offers a good number of travel and tourism templates that you can use for a very professional look and feel. Visit www.Squarespace.com.
GoDaddy.com
Everyone knows about GoDaddy and as you would expect, they do offer a web building tool and hosting. "GoCentral Web Builder" is the name of their tool and is very easy to use. While pricing to use the tool and host a site with GoDaddy is relatively inexpensive, there are several better options in my opinion. Visit www.GoDaddy.com. 
1 & 1 IONOS.com
Offers a website building tool comparable to GoDaddy's. They have hundreds of predesigned web templates to choose from and can also host WordPress sites if that is the direction that you are heading. While IONOS offers several different plans, they are all inexpensive. Visit www.ionos.com.
Vevs.com
While not particularly a general website creation tool, Vevs offers turn key websites for the marketing of rental properties. This would be an excellent choice if you are interested in diving into the "Shared Economy" by promoting vacation rentals by private owners to consumers. The cost starts at $8 per month for up to 5 properties and goes up to $83 per month for up to 250 properties. There are also "canned" business sites available. Visit vevs.com for more information.
WebsiteBuilder.com
Here is a tool that you can build websites with for free. Their business platform costs $14 per month and you can upgrade the free site to the business platform once it is everything you want. Visit WebsiteBuilder.com for more information.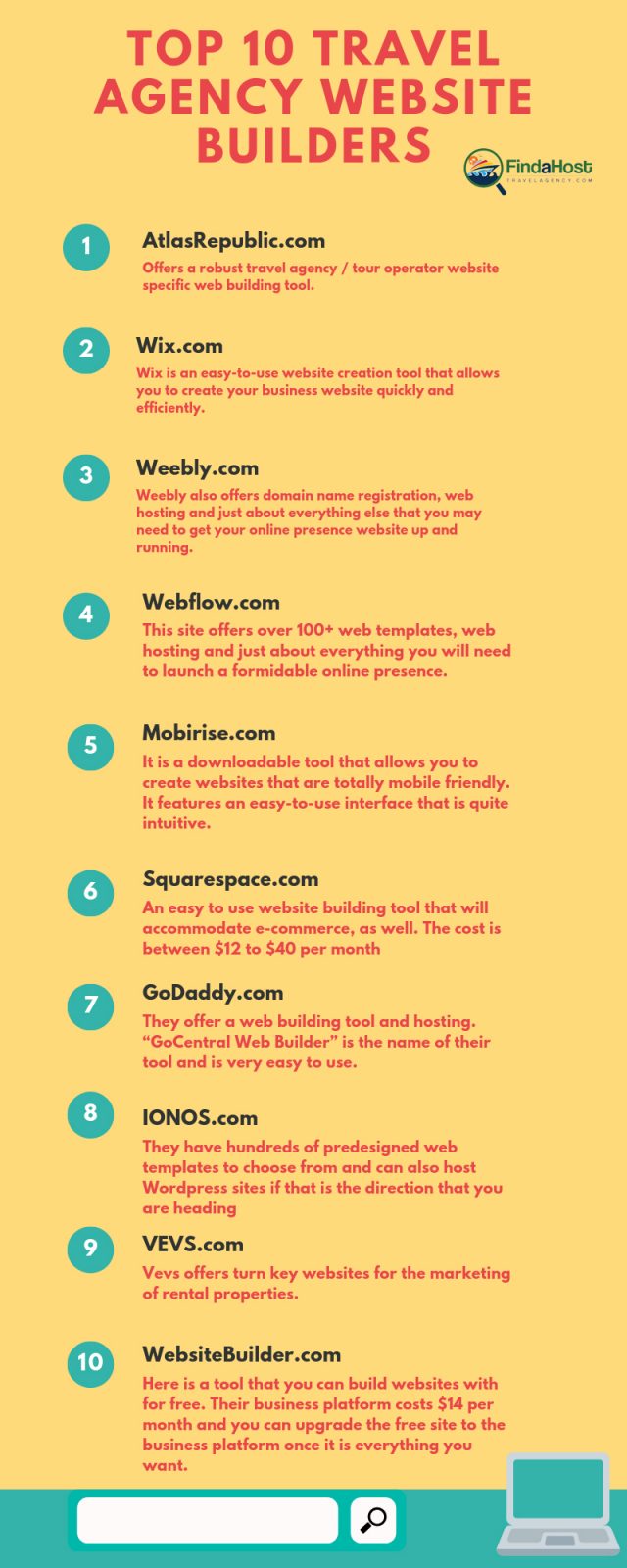 10 Additional Website Builders
tilda.com: Easy to use drag and drop website builder. 
webflow.com: A great site for developing modern business websites.
bookmark.com: Here is another excellent website builder that can easily churn out a wonderful travel agency website.
ucraft.com: Create beautiful websites with absolutely no coding,
site123.com: Super easy to build a travel agency website using this tool. 
webnode.com: Easy to use and completely free to build your website.
jimdo.com: With a "Travel Blog" template ready to go, if you are looking for a blog, check this one out.
pagecloud.com: With several Travel and Tourism web templates to start with, pagecloud offers an easy-to-do tool for creating engaging travel agency websites.
uKit.com: Has over 350 web templates including several travel templates.
webstarts.com: This free cloud based tool allows users much more access to the underlying code and is a great choice for those that know and understand CSS and HTML coding. However no coding is needed to create sites with Webstarts.
strikingly.com: Here is another quality "no coding, no design experience" website builder.
As you can see there are many solutions for building website that meet the needs of travel agents. In Part 2 of this article we will explore the more sophisticated kinds of travel agency websites that will use SEO to gain organic (free) traffic based on consumer search with keywords.
Travel Agent Website Guide: 11 Steps to Success with SEO and SERP – Part 5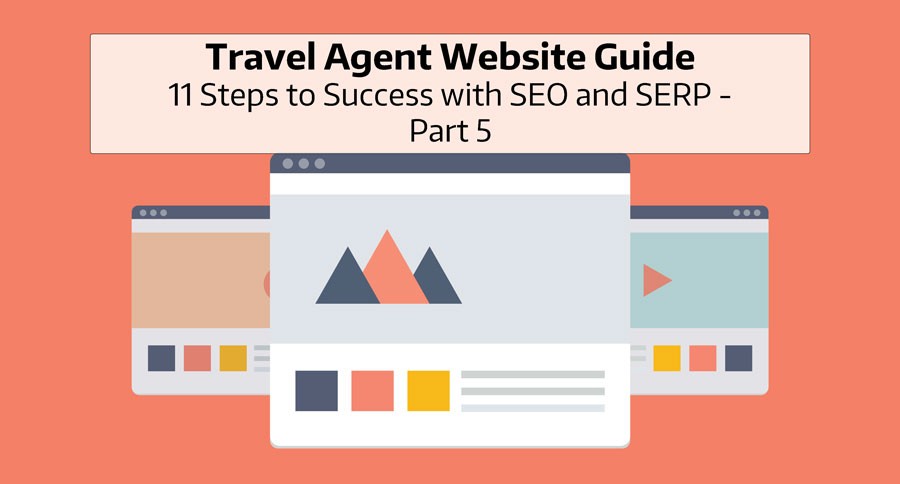 So far we have explored travel agency website basics and where to get a travel agency booking website and a travel agency online presence website. Before we move on to explore more sophisticated travel agency websites we must first develop an understanding the role that Search Engine Optimization (SEO) plays regarding the creation of organic, or non-paid traffic to your website. 
Understand that the basic types of websites that we have discussed are not likely to generate organic (aka FREE) traffic based on consumers doing keyword searches in Google or other search engines as they are more dependent on links from your sites and other online and offline advertising for traffic.
While more sophisticated travel agency websites are dependent upon SEO to continue generating organic traffic, if you are looking to get into the organic traffic area of website marketing you should understand the roll that SEO may play in your future. This article is not meant to be an article on SEO, but rather just a general overview so that you may develop an interest in understanding SEO and how to comply with the intent of SEO on your web pages. SEO has become so evolved that it is almost an exact science at this point and if your travel agency website will be dependent on organic traffic for results, SEO is something you may want to study and become proficient at.
In order to gain high Search Engine Results Page, or SERP one must conform to several formats that search engines like Google look for in content they will reward with organic traffic. 
Here are 11 SEO elements you need to understand.
11 SEO Elements For High SERP
1. Commercially Viable Website
Your travel agency website needs to reside on  a commercially viable and secure server. While having SSL enabled and displaying "https" isn't necessarily a requirement for SERP, it adds to the user experience which is critical to gaining high SERP. The site should be created in the current level of HTML, CSS and any other code that is used to build the site. Rock solid code is essential. Also, the website must be responsive to mobile devices and perform equally well with desktop, notebook, tablet and smart phone devices.
2. Loading Speed
The website's individual pages should load quickly on the user's device. This can easily be accomplished by using super clean code and optimized images and graphics. 
3.
 

Mobile Friendly

It isn't enough to have your desktop and notebook version of your responsive website perform, but the mobile version of it must, as well.Delivering fast loading, intuitive and engaging content to smart phones is becoming more and more important every day. Your content should be as easy to engage with on a smart phone as any other device. This is especially true if you are marketing to Millennials.
4.
 

Keywords

Understanding the importance of keywords to your search engine rankings is critical to your website's success. This is where operating within a niche makes total sense. Your blog, community or niche website should all be branded with keywords that reflect the way that consumers might search for the content that you are offering. 

Let's assume that we specialize in packaging fishing  trips to Puerto Vallarta's ocean reefs and banks with a focus on cow tuna. Obvious keywords would be "Puerto Vallarta Cow Tuna Fishing". And, other keywords that might be used as page titles might be "Puerto Vallarta Cow Tuna Fishing at Tres Marias, or El Banco, or La Corbetena".

If the keywords were used properly then someone searching the keywords "Cow Fishing at Tres Marias" should find that page of the web in search results. While Puerto Vallarta is not in the search string, search engines will intuitively know that Puerto Vallarta is the location for cow tuna fishing at La Corbetena.
5.
 

Keyword Domain Name, Title, Meta Data and Headlines

Continuing with the above example, using the keyword domain name of "PuertoVallartaCowTunaFishing.com" would be a great name that pretty much tells search engines what the site is all about. To reinforce the subject of the website the home page Title would be "Puerto Vallarta Cow Tuna Fishing" and the Keywords might include "Puerto Vallarta Cow Tuna Fishing, El Banco, La Corbetena, Tres Marias" and the description tag might read "A website about cos tuna fishing in Puerto Vallarta's offshore banks of El Banco, La Corbetena and Tres Marias." 

The META Data all resides in the <HEAD> portion of the website and the <BODY> portion of the website contains the content portion. It is also very important that the keywords are used in the structure of the <BODY> format. On the page's main headline, or the H-1 Headline, your keywords should once again be used. In our example "Puerto Vallarta Cow Tuna Fishing" would be the H-1 Headline. The sub-Headlines, or H-2 Headlines would again carry keywords and so on.
6.
 

Keyword Content

Once the web page is formatted correctly using the appropriate keywords for the page it is time to drop the actual content onto the page. The keywords should also be used in the content in a density that reconfirms that the content is focused on the keywords as outlined so far on the webpage. However, it is important to not "stuff" keywords or use "Black Hat" tactics like using background keywords hidden from view of the reader and such. 
7. Keyword .alt tags
Once the page is properly tagged and the content is established with realistic keyword density, it is time to add a few more tags. Each image on the page adds to the content in a way that the search engines cannot see. Therefore, each image gives you the opportunity to add an ".alt" tag which is to let the search engine know what the image actually is. This is a great place to use your keywords, again in a reasonable way to let the search engine know what the page is about.
8. User Satisfaction
Search engines pour over your server logs to see exactly what your bounce rate (the number of people that arrive on your site (but don't stay). It also looks at the average time visitors stay on your site and which pages are the most popular. Your server logs offer a wealth of information about the user satisfaction that the search engines factor into your overall SERP.
9. Internal, External and Social Links
The search engine robot or spider will crawl up every external link into your website and evaluate the keywords used to link to the page and also the page rank of the page which the link exists upon. The more links on the higher page ranked sites, the higher the impact on the site's SERP. The spider will also crawl the internal links on your site and evaluate their importance, as well. Your social media links also contribute to your SERP. Google treats Facebook, Instagram and Twitter posts just like any other web page.
10. Quality of Content
One of the most important elements of a website that search engines respond to is the overall quality of the content on each page. Search engines like thorough and complete content with specific keywords, tagged images, a youtube.com video (especially Google), complex infographics which also add to the user's overall experience as tracked by the page's bounce rate, time on page and inbound links.
What search engines do not like is duplicate content, weak content with a low word count and mis-tagged content with a high bounce rate. If you are using content that is delicate content on your site you should include a "noindex" or "nofollow" meta tags in the head section of the webpage. This will tell the search engines not to rank that page and keep you from getting dinged with duplicate content. 
11. Google Search Console
These are just some of the more important elements of gaining a high SERP. Fortunately Google gives you everything that you need to get your travel agency blog, community or niche website higher rankings. Google's Search Console allows you to run metrics on your site and generate reports on how effective your SEO is and also offers areas that need improvement. GSC takes the mystery out of gaining high SERP.
As you can see SEO is not rocket science and if you pursue handling the SEO for your website it will become second nature, as you build your website. However, it is important to understand the importance of website structure and SEO. This is certainly going to be a consideration if you select a more complex website format in your quest for a web presence.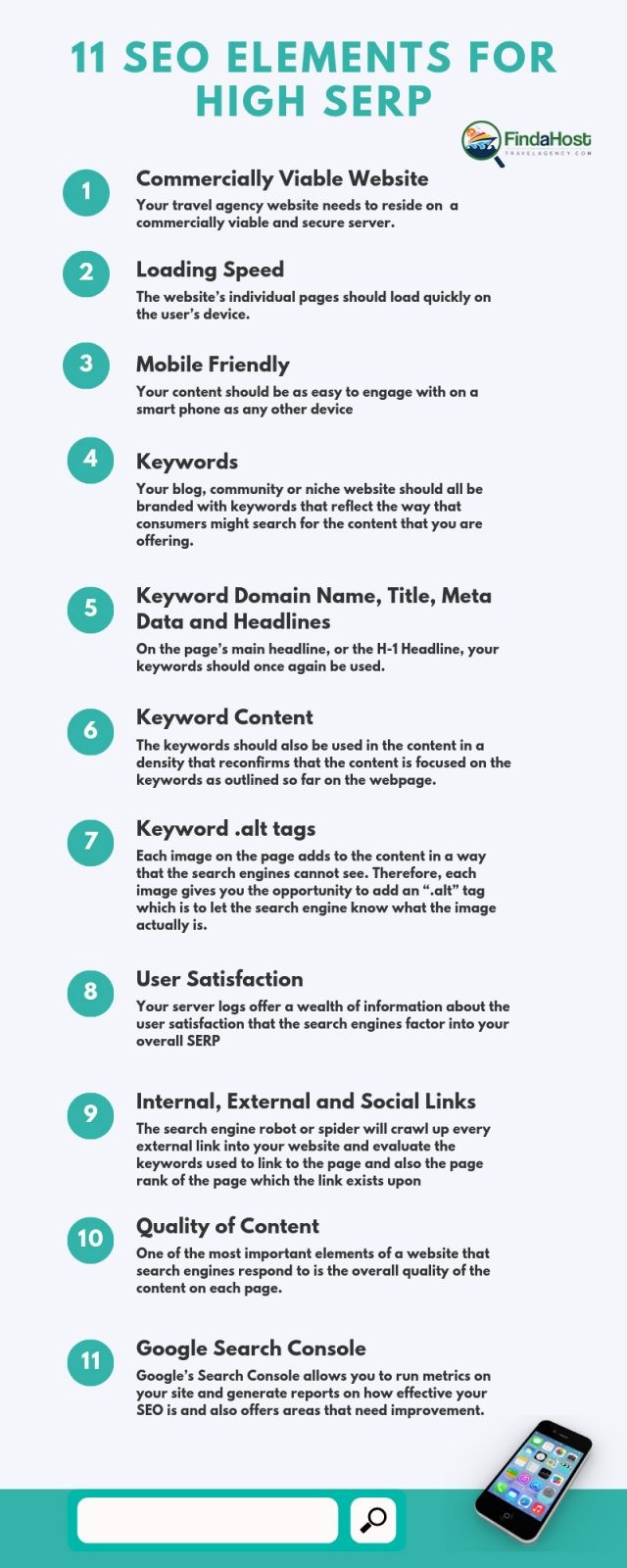 Travel Agent Website Guide: Creating a CMS for your Travel Agency Website – Part 6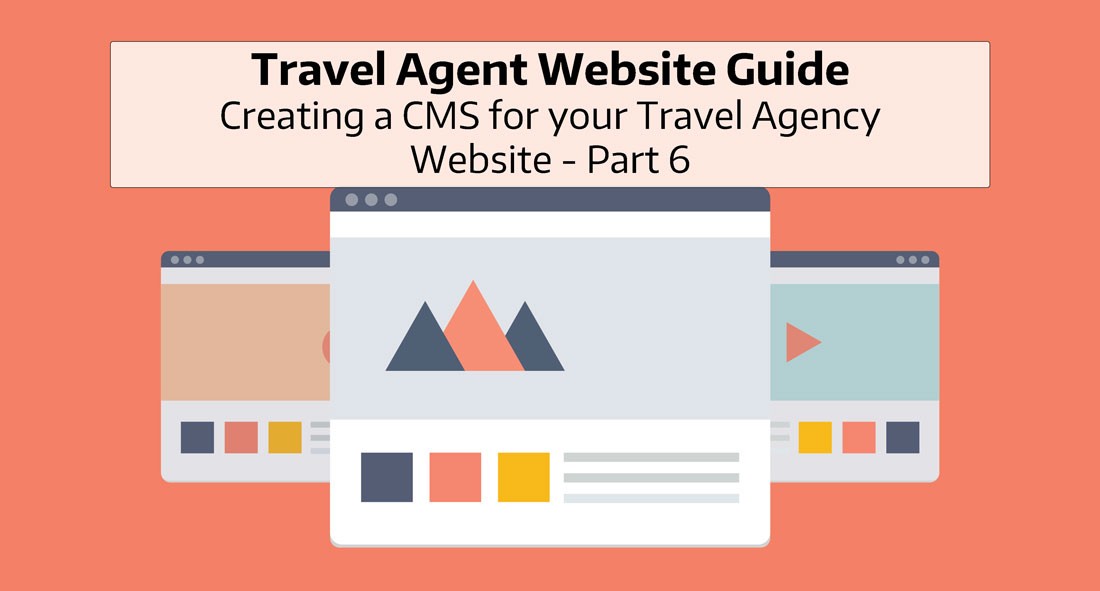 Content Management System (CMS) Travel Agency Websites
CMS, or Content Management System, is software that is used to create websites and to manage the content within the website. For the most part, CMS is free to use. To give an idea of how popular using a CMS is, WordPress is said to be the engine for over 35% of all websites in the world. For the sake of this article we will look closely at WordPress and then the other CMS out there.
WordPress is public domain software that is free to use for anyone that wants to. In addition to using WordPress you will need server space to host the website on, a domain name and possibly a WordPress theme (or prepackaged design). There are actually two different WordPress sites. wordpress.org is the site where you can download the current WordPress release while wordpress.com is a site that hosts WordPress both for free and also for a fee. If you want to operate your own website on your own server then wordpress.org is the place to go. If you want to access a hosted WordPress website then wordpress.com is where you would go.
While the wordpress code is free to use, there are hundreds of thousands of website themes to choose from and even more plugins that will add tens of thousands of special functions to your website. It is quite likely that if you are looking at establishing a sophisticated travel agency website that it will most likely be built on WordPress.
If you intend to build your site for organic traffic, then the combination of WordPress and Yoast are the winning team. Yoast is an application that evaluates on-page SEO on the fly and suggests better ways to build your page for SEO. For a non-techy user, this is the winning combination and one you should investigate. If you do not feel comfortable installing the WordPress code onto your server, there are thousands of techys who will install the WordPress code and a theme if you are using one. To start your research on finding the right one visit fiverr.com.
Here are some of the more popular CMS. All of these are well established and have many themes and plugins available. Many people believe that because WordPress is so popular that it is an easy and frequent target for hackers to attack.
Joomla: This is a great alternative to WordPress and has thousands of free plugins on their website. Joomla enjoys millions of users and there are numerous themes and templates that one can use for design. Visit Joomla.com.
Drupal: This free CMS is a bit more sophisticated than most of them. And, as such, is a great choice for more complex websites. Lots of themes and templates to work with. Examples of sites built with Drupal take a look at Twitter, Pinterest, Verizon and NASA. Visit drupal.org.
While there are numerous other CMS out there, these three make up the vast majority of websites using CMS as a platform and there is really no reason to look any further unless you have a specific application that requires special coding.
Travel Agent Website Guide: Creating a Travel Blog Website for your Travel Agency – Part 7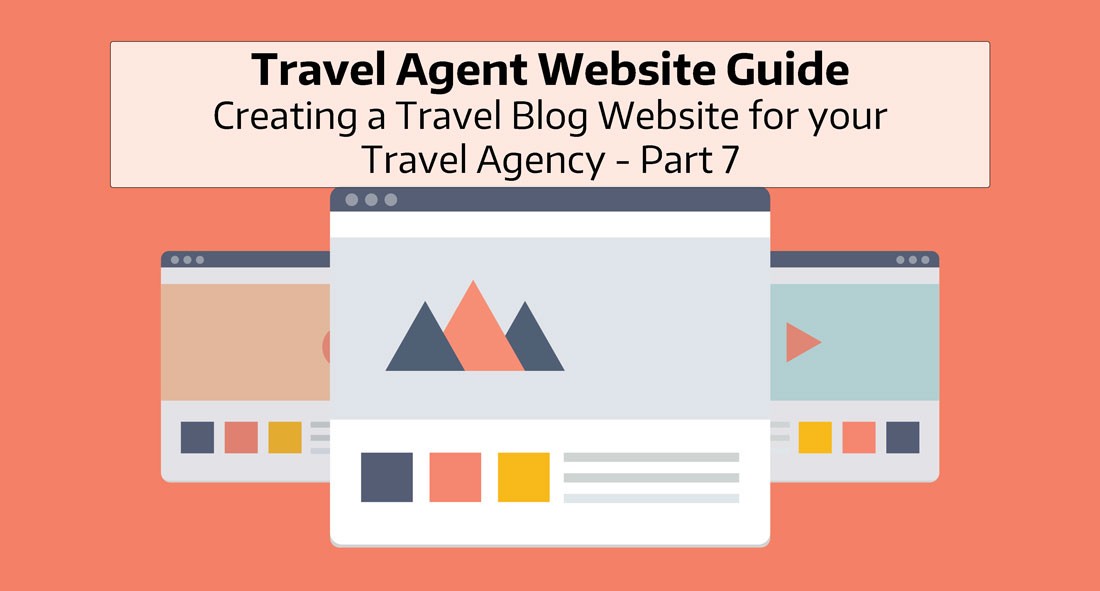 Where Can I Get a Travel Blog Website?
If you intend on using a blog to promote your knowledge and expertise, understand the best decision would be to establish your own keyword blog that you own and maintain. Just about every format of website that a travel agency might use can all accommodate a blog as a part of its functionality. All of the CMS has many blog plugins, themes and templates. But, for the sake of focusing strictly on blogs in this article, we will explore the best of the best free blog sites that you can start a blog on. Here is a list of 5 excellent free blog sites you may want to take a look at.
1. Blogger
Owned by Google, blogger.com is a free site that you can start blogging in just a matter of a few minutes. Blogger is best for either personal blogs or non-commercial blogs. Visit Blogger.com.
2. Wix
wix.com is a very popular free web site builder, but is also excellent for blogs. Wix offers several blog themes and templates and is very easy to use. If you are a non-techy then Wix might be a great choice to launch your travel blog. Visit Wit.com.
3. Jimdo
Offering an extremely easy to use blogging tool, jimdo.com is more than a blogging tool, as you can also build a website using it, but creating a blog uses Jimdo's most effective function. Visit Jimdo.com
4: Weebly
While we discussed Weebly when we looked at building a basic website, it also offers a robust blogging function. You can not only create a blog but build in numerous website functionality. Easy to use and offers free hosting. Visit Weebly.com.
5: Medium
Super easy to use, medium.com's real value proposition is the 60 million people that visit Medium just to read blog posts. If your are looking for a built in audience, checkout Medium. Visit Medium.com.
There are numerous other free blog sites, but these are the main ones and you should be able to find one that fits your needs by exploring theses opportunities.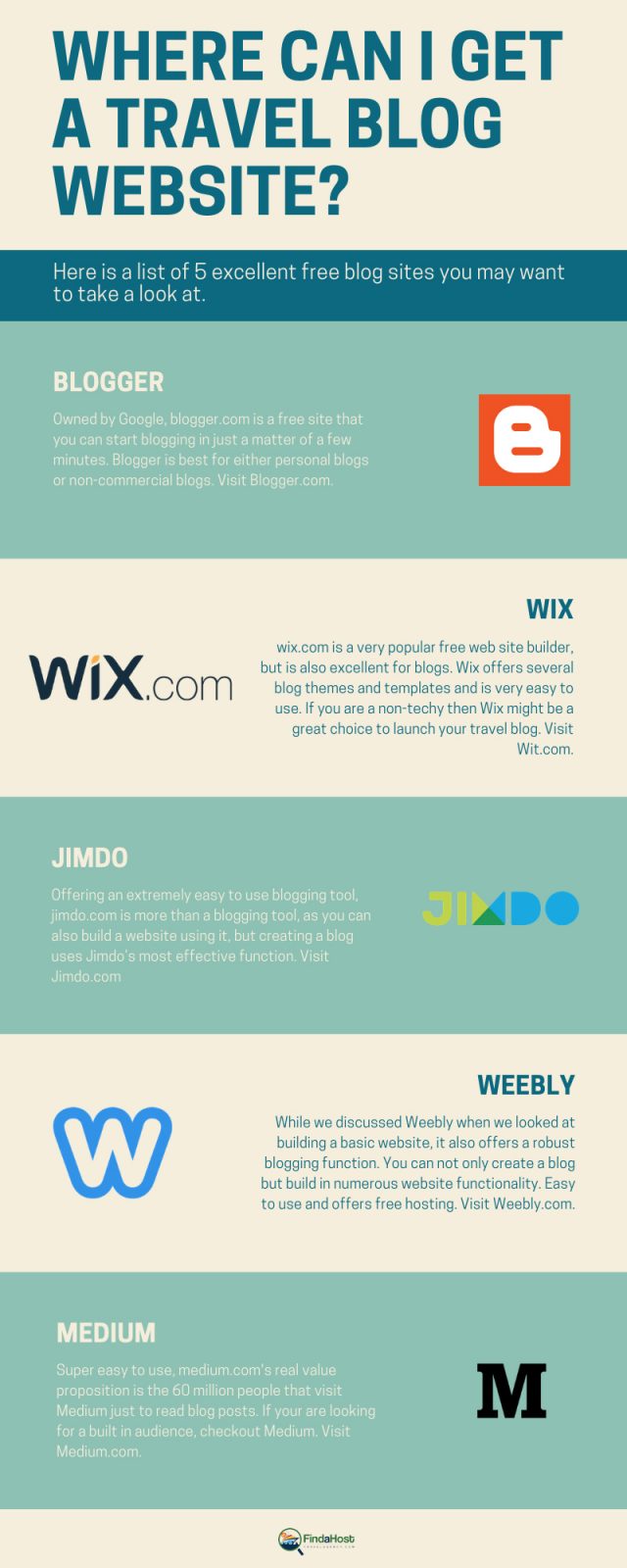 Travel Agent Website Guide: Creating a Keyword Niche Website for your Travel Agency – Part 8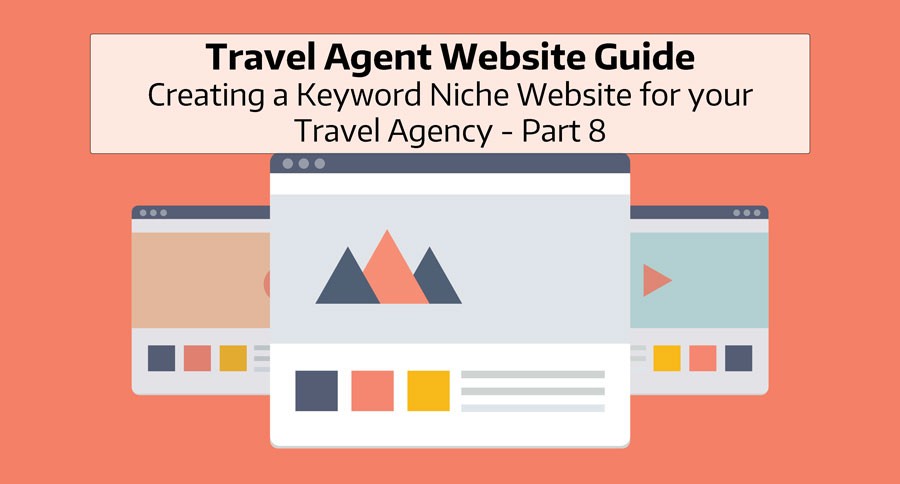 Where Can I Get a Keyword Niche Travel Agency Website?
If you are considering operating a niche keyword website focused on your specialty, there is an entire world of opportunity on the web. A keyword niche website is used to target a very specific audience and is dependent on keyword searches for organic traffic. The content of the site is consistent with the overall keyword topic of the site and fulfills a demand for expert information on a very narrow area of travel. 
As we discussed when talking SEO, let's say that you specialize on sending tuna fishermen to Puerto Vallarta's prolific cow tune banks. Your website would be dedicated to this very narrow subject. Each page of the website would offer expert advice to fishermen looking for detailed information on when the fishing is good, where to fish and when, what tackle to bring, all of the options for boats to fish from and on and on. 
Each page would be optimized for a certain long-tail keyword search string. As an example, one page of the website might be detailed information about tuna fishing Tres Marias, an island chain 100 miles offshore from Puerto Vallarta. The long tail keyword string for the page might be "cow tuna fishing Tres Marias, Puerto Vallarta, Mexico".
When the page is optimized for on page SEO, it stands a great chance of gaining the #1 slot in a keyword search using those keywords. When each page of the niche keyword website is optimized for unique long tail keywords, the overall effect is that the search engine will see that the content is all related and will give the site a high SERP for the keywords. Of course, it isn't as easy as that, but in theory this is how a keyword niche website works and why you would want one for each niche that you market. Yes, you should have separate websites for each niche, as once you broaden the content to include non-related topics, you lose the benefit of keywords.
Understand that operating a keyword niche website requires some level of SEO knowledge and that you will also have a learning curve to get one to work, but the rewards can be amazing for your business. I personally operated the CruiseReviews.com complex of websites and by just using long tail keywords and SEO was able to build its organic traffic to over 60,000 page views per day.. 
While there are hundreds of places that one can get a keyword niche website, here is a very specific suggestion. The winning combination for first time keyword niche website entrepreneurs is using WordPress and Yoast SEO. Both are easy to use and Yoast SEO will make it simple for non-SEO experts to handle on-page SEO like a professional. 
You will need to rent server space to host your website and finding one that works seamlessly with WordPress will make your job so much easier. Two hosts that are recognized as among the best for WordPress are HostGator.com and BlueHost.com. They both offer quick loading speeds, We use HostGator and while our sites are built on WordPress, we have several customized plugins and I have to say that HostGator's customer support is among the best. 
There are thousands of different solutions, but for building and operating a keyword niche website these are the right tools. All of the various sites that we have explored offer some sort of SEO support but the reason that WordPress is used on over 35% of the world's websites is because search engines love it. 
Travel Agent Website Guide: Creating a Community Based Website for your Travel Agency – Part 9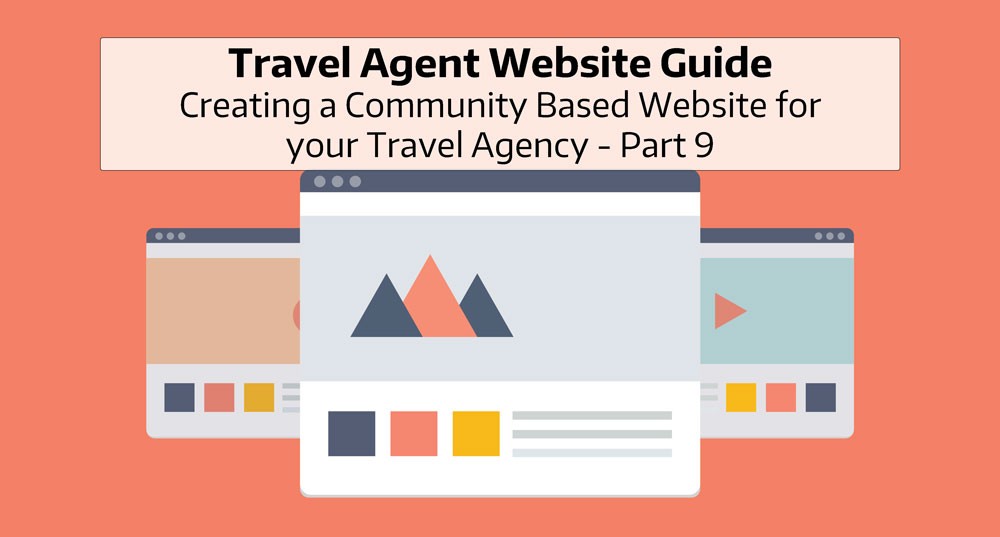 Where Can I Get a Travel Agency Community Website?
Community websites are defined by Wikipedia as "A group of individuals who share a common interest via email, blogs, instant messages, chat rooms or newsgroups. Members of a virtual community are self-subscribing." I would add digests and social platforms to the definition.
Before you jump into creating a community understand that your community must have a specific value proposition. Is it going to be a closed professional group like TravelProfesionalCommunity.com? Is it going to be an open local or regional geographic group like Nextdoor.com? A national or international group based on a specific topic of interest such as a plumeria growers group? You should be able to define the group's primary value proposition in a clear and specific term.
Why do you want to start an online community? Understand that maintaining an online community requires knowledge and time. How is the community going to generate revenue? What experience do you have in managing online communities. If you do not have any experience, I would suggest that you volunteer to help moderate a community that you may be interested in. The behind the scene moderation and administration is quite a task and the more you understand it, the more successful your group will become.
Managing Your Online Group
Once you have launched your group you must create the standards that members must adhere to. If your group is successful it will require quite a bit of administration and an investment of time. One has to explore the opportunity costs associated with operating an online community successfully. You will probably need at least three administrators in able to maintain a consistent environment for the community's members which is mandatory for a thriving community. 
Here is a real example of it. Operating TravelProfessionalCommunity.com is an ongoing challenge as with over 15,000 members we have had to vet each and every member. During the discourse between the community members (which all have different personalities) who post and communicate in the forum. One agent who was knowledgable would consistently make subtle insults to other members. Not to the point of breaching the community's standards, but frequently enough to alter the flow of conversation. Our standards were set that if all four administrators felt a member should be suspended, that we would suspend them. In this particular case this member had a toxic effect and all four admins voted to suspend the member.
About Facebook Groups
I suspect that everyone reading this is on Facebook and is probably the member of several groups that they have interest in. Whether or not Facebook is a great place to start a community depends on many factors. So let's look at both the positives of using Facebook and the negatives.
Positives
*Free to set up a group.
*Easy to set up a group on Facebook. Only takes a minute.
*People are already there to get to join.
*Your community's accessibility is a click away.
Negatives:
*You do not own or control your community and are subject to the whims and fancies of Facebook.
*The largest fear most community owners on Facebook have is that Facebook will start charging to reach group members much like it has for business pages.
*Managing a closed group is extremely challenging on Facebook.
*Disgruntled members have immediate revenge on Facebook groups.
*Groups do not allow for any type of advertising.
While there are plenty more positives and negatives of using Facebook groups for your community, suffice it say that the one primary reason to use it is if you intend to only recruit members that are active on Facebook. Using Facebook groups  for anything else doesn't make a lot of sense.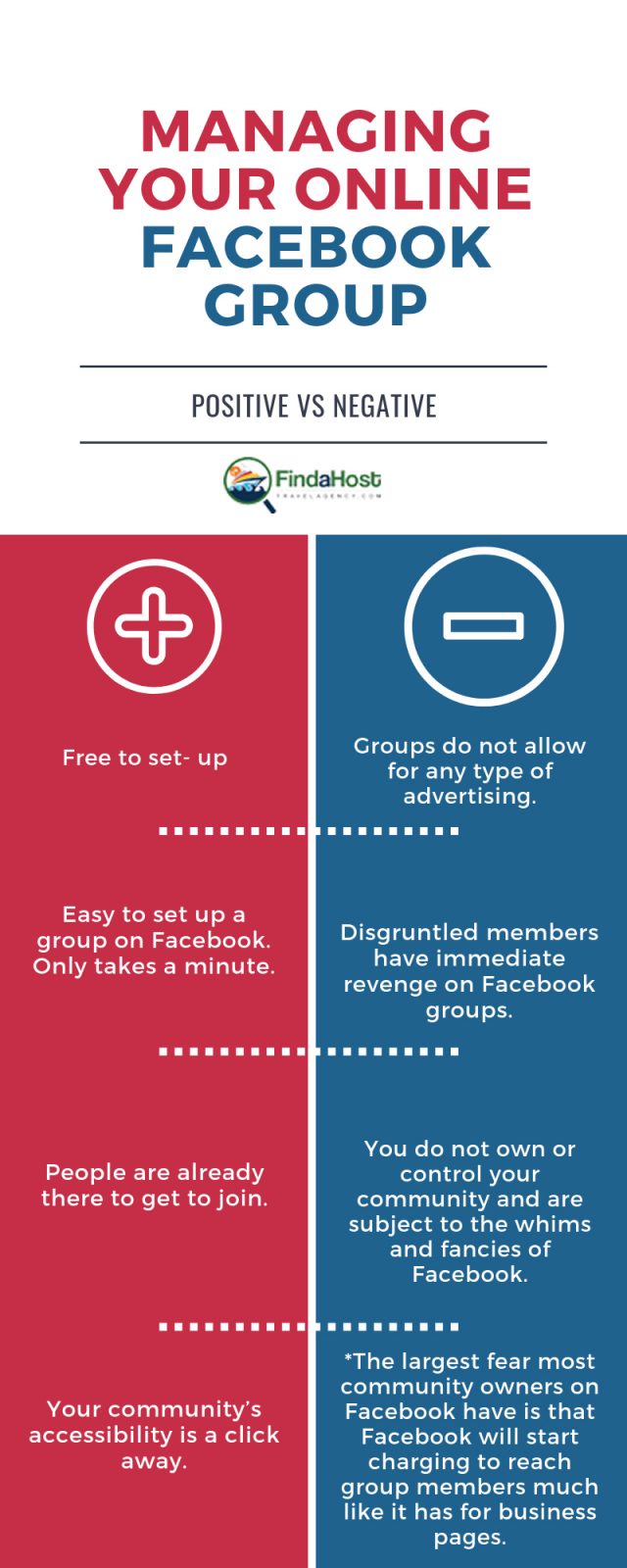 Reference Link: Home Based Travel Agent