Defining a Travel Agent – Do YOU Have What it Takes?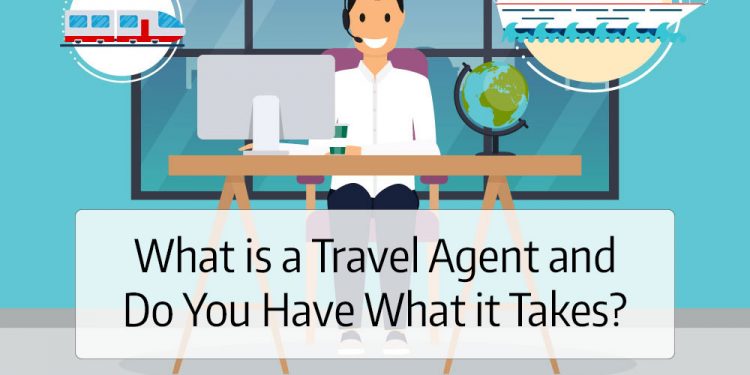 It's One of the BEST Jobs Around but Do You Have What it Takes to be a Travel Agent in 2019?
The term has been used for many years and while there are variations of it such as Travel Professional, Travel Consultant, Travel Advisor and so on, the basis remains the same, what is a Travel Agent?
Travel Agents book travel for clients and handle the accommodations, transfers and planning of a trip, whether it be for business or pleasure. A Travel Agent should be an expert in their specialization and able to not only offer fantastic packages to their clients, but also ensure that they offer their clients the best possible pricing to stay competitive with other travel booking options.
So, what does it take to be a Travel Agent?
Travel Agent Personality Traits & Interests
Travel agents love travel. Without the passion for and interest in travel and all that the world has to share with us, we would simply lack the ability to share enthusiasm and encouragement to bring the world to others through travel experiences. Being adventurous and fun loving are also some very handy traits to carry. Let's face it, travel is taking adventures, having fun and creating memories.
In addition to that underlying passion and the love of travel experiences, there are some very similar traits that many travel agents share. There are also some basic underlying skills that are necessary to excel in the journey of selling travel. Ask yourself these questions to confirm you are the right fit for being a Travel Agent.
Do YOU Like to Travel?
Gaining firsthand experience traveling to different destinations and trying out different means of travel is one of the most exciting and rewarding things about choosing a career in travel. If you love to travel and want to share those experiences with others then you are certainly headed in the right direction choosing to be a travel agent. Seriously, it does not get much better then being able to fulfill your own personal desire to travel and then be able to share that with others by helping them plan their travel dreams. Add to it the opportunity to make some great money as an agent and it is pretty easy to see what it is such a rewarding career path to take.
You will often hear travel agent veterans tell you that once you start in this business, you can never stop. Retirement for travel agents is rare, instead many choose a travel career as their after retirement from another field next business move!
Do you Possess Good Sales Skills?
Travel Agents need to be good sales people! An agent has to be able to persuade clients to purchase travel options they recommend and while that sounds like it might be simple, it is not always the case. Good sales skills are something that come naturally to some, but to others it can be a bit challenging. When you think about it you are in fact asking someone to give you money to pay for their vacation of a lifetime or other needed travel plans. A Travel Agent has the knowledge and experience working with the vendors or suppliers of the actual travel product and you have to convey that value to the client and successfully close the sale.
If you don't think you innately have the sales skills needed there are so many ways to garner that ability through industry training optionsthat are readily available to you. Suppliers such as cruise lines, tour operators, hotel chains and just about any type of travel vendor one can think of are anxious to help you hon your sales skills to promote their products to your clients. The learning possibilities are endless and your's for the taking.
In addition to supplier training and industry focused learning options, you can also enroll in college classes, read sales booksand even take online sales training classesto better your sales skills. This is certainly going to be helpful to you in all aspects of your life and in your relationships.
Are you a Good Communicator?
Being a good listener and translating what you hear a client say and maybe not say is absolutely mandatory. Travel Agents are often linked to therapists for their ability to really listen and understand what their clients want and need in their travel desires. Listening carefully to the client throughout the sales process and doing so in a friendly and professional demeanor is paramount to your success.
Along with the ability to listen intently to what your clients are sharing with you, is the need and ability to listen to the supplier side of the equation. It is important to communicate your client's requests to the supplier and to be sure you are hearing and confirming the appropriate travel arrangements for your clients.
Do you Possess Clear Attention to Detail?
Details when working to ensure your clients reservations and travel itineraries go off without a hitch are a very important trait that a Travel Agent should possess. One simple wrong date or flight number can throw an entire trip into chaos. Travel Agents need to always check and re-check for accuracy, consistency and completion.
Are you an Organized Individual?
Organization is without question a basic necessity for Travel Agents. In the old days of selling travel when we had to research without the internet and manually write airline tickets it was even more important. Yet today it still holds great value to your success. You may find yourself working on some pretty complex itineraries for numerous customers all at one time. The need to be highly organized becomes so very important. Multi-tasking is might as well be another name for travel agent, so being able to keep thoughts and information in its appropriate place is mandatory.
How are Your Customer Service Skills?
Being flexible and accommodating to your clients wants, needs and desires are all very important traits to possess as a Travel Agent. Customer service can be defined in so many ways but the most simplistic and probably best definition is "Making Sure the Customer is Happy".
From a customer's point of view, it is really less about what you do or what you say to them and more about how you make them feel. A Travel Agent needs to provide and deliver professional, helpful, friendly, high quality service and assistance all along selling, buying and delivery cycle of a sale.
What do you Want to Sell?
These days there are so many opportunities to specialize in different destinations, adventure travel, cruise travel, river cruise travel, special needs travel, health and fitness travel, senior travel, single travel and the list is seemingly endless. The choices are wide and diverse and the more you focus in on a speciality or niche, the more successful you will likely be.
Maybe you want to sell corporate travel and arrange itineraries for business people. Travel agents that understand corporate travelers and their needs, are in high demand. It can be a very rewarding a lucrative area to focus upon. This type of travel does demand great attention to detail however, so be sure that this fits your profile.
Choosing your travel selling direction is important and something that requires your passion. Be sure to choose what you can find passion in selling. The enthusiasm and love you will share with your clients is sure to make  you very successful.
Travel Agents are Here to Stay!
Travel agents are needed now more then ever before. The options available when planning a vacation are seemingly endless. While the internet has changed to way travel is researched, it has actually made travel planning harder for travelers. Travel agents sell travel for a living and they know their stuff. If they don't have the answer for a traveler, they find it.
If you are considering a career as a travel agent, be sure to visit www.HomeBasedTravelAgent.com and www.FindaHostTravelAgency.com for a wealth of information and tools to help you find your dream career in travel.