Host Travel Agencies and the Opportunities They Offer to Travel Agents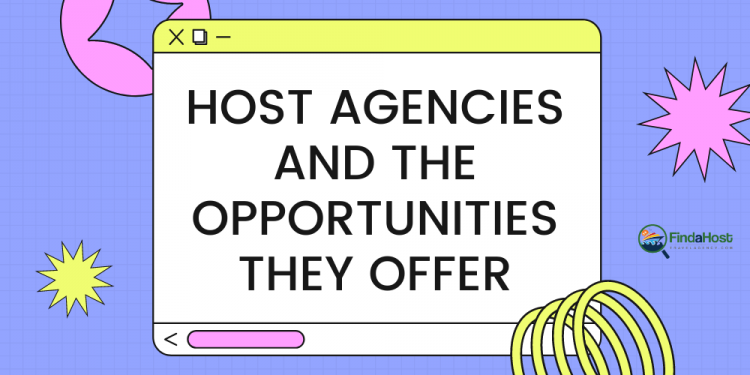 What Does a Host Travel Agency Offer a Home Based Travel Agent? Let's Dive in to discuss the Benefits and Reasons to Partner with a Host Agency!
Written By: Tom Ogg, Founder and Co-Owner – FindaHostTravelAgency.com
The first host travel agencies and the opportunities they offer surfaced after the Airline Deregulation Act which took place in 1981. Prior to the Act, the travel agent industry was heavily regulated by the CAB (Civil Aeronautics Board), the ATC (Air Traffic Conference) and IATA, (the International Airline Transport Association). Prior to the Act travel agents were required to maintain their airline appointments and individual agents tended to be employees of a travel agency. If they wanted to start their own, they had to qualify and file for airline appointments. This required a huge financial investment so there were not too many agents that started their own.
The Act ended up closing the CAB in 1985 and had the effect of kicking IATA out from the U.S. as "anti competitive". The ATC was replaced with a "for profit" ARC (Airline Reporting Corporation) which still exists today. As for the airline business, it was turned upside down and saw many legacy airlines go bankrupt. It completely set travel agents loose to morph in whatever way they could.  Consortia who provided a supplier distribution channel quickly lost their luster simply because they were not adding value to the supplier for the portion of dollars they were taking from a transaction. Suppliers started coming up with individual agency productivity requirements since they could see what travel agencies were actually booking them and which ones were not. They didn't think it made sense to offer overrides to an agency for virtually no revenue.
Joanie and I started one of the first credible host travel agency models back in 1985 when it became obvious that the consortium our agency belonged to, was being held to an individual agency productivity standard to obtain overrides. We thought it made perfect sense to aggregate independent agent's revenue under our ARC number as a way to increase our revenue and thus, our commissions and overrides. It worked well as the suppliers could not see our agents because all of the revenue came through our ARC number, not a separate number. By the 1990s it became obvious that agents were moving to a home-base and that aggregating revenues as a host agency seemed to be the way forward. This created the modern day host agencies and the opportunities they offer.
Exactly What is a Host Travel Agency?
A host agency is an agency that provides the professional services that an independent travel agency requires to perform the function of selling travel at a consumer level as a business. This includes operational, marketing, accounting, supplier negotiations, training and much more.  A host agency acts as the middleman between their network of independent travel agents and travel industry suppliers.
All of the agents in a host agency network use the Host's ARC number for booking their travel so that suppliers see the entire group as one reputable agency, rather than as each independent agent separately. Individually, the agents probably would not have enough revenue volume to qualify for overrides and cooperative marketing funds, but collectively they do.
The host agency model allows small independent agents to forego the expense of obtaining an ARC appointment and other credentials needed to operate their business and the expense of creating a start-up. In addition, the independent agents enjoy the commissions, overrides and special pricing that the combined revenue of the network produce which are generally much more than they could access if they were on their own. Host agencies generally share commissions with their network and also have either a monthly or annual fee to be a member.
Host Agencies and the Opportunities they Offer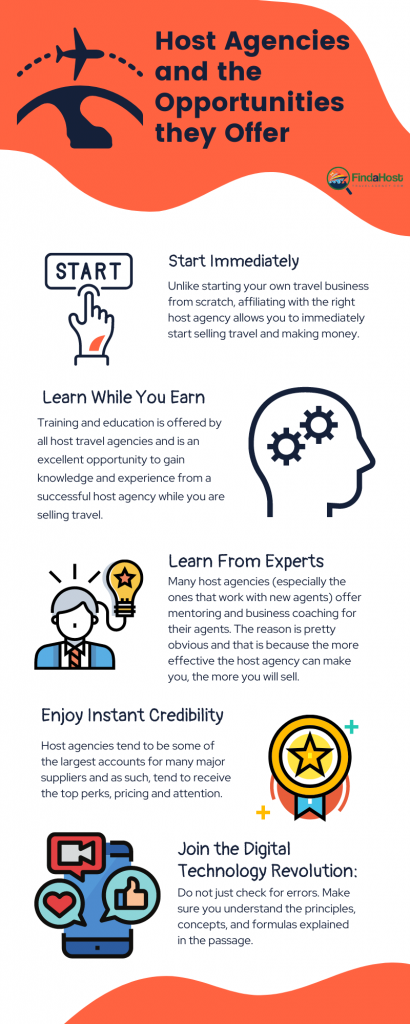 Unless you have lots of experience and a well established travel niche, every new travel agent should consider affiliating with a host agency. This is especially true if you are just starting out. Here are some reasons why.
Start Immediately as a Home Based Travel Agent
Unlike starting your own travel business from scratch, affiliating with the right host agency allows you to immediately start selling travel and making money. Some host agencies specialize in taking on brand new to the industry travel agents and can get you selling travel the second you sign up with them. To locate this type of host simply visit FindaHostTravelAgency.com and click on "Yes" for the search filter "New Agent Training Program". This will present the host travel agencies that will get you selling travel immediately. The ability to sidestep the start up period is just one opportunity host agencies offer.
Learn While You Earn
Training and education is offered by all host travel agencies and is an excellent opportunity to gain knowledge and experience from a successful host agency while you are selling travel. Most host agencies have hundreds of hours of on-demand training that you can take at your leisure. And, the on-demand training covers all aspects of operating your home-based travel business including marketing, operations, accounting, supplier training, social media marketing and much more. When you think about it, as you are starting your agency you will learn by actually selling travel and also discover topics you probably never even thought of before starting your business. This is truly one of the most important opportunities host agencies offer.
Learn From Experts
Many host agencies (especially the ones that work with new agents) offer mentoring and business coaching for their agents. The reason is pretty obvious and that is because the more effective the host agency can make you, the more you will sell. And, by selling more, you not only make more money but so does the host travel agency. If you were independent of a host, you would pay dearly to gain the knowledge and experience that mentors and business coaches would provide. This is indeed one of the largest opportunities offered by host travel agencies. Host agencies generally offer the availability of mentors and business coaches to all of their affiliated agents and there is never a charge for their time and services.
Enjoy Instant Credibility
When you join an established host agency you are joining one of the most credible organizations in the travel industry. Host agencies tend to be some of the largest accounts for many major suppliers and as such, tend to receive the top perks, pricing and attention. Having the attention of a supplier will only help you be successful should you have a client that needs attention from the supplier.
Join the Digital Technology Revolution
Without question, your host travel agency will offer digital technology for you to use in your business that will cover the entire gamut of functions you will need to master. Here is just a brief description of what they may offer.
CRM or Customer Relationship ManagementA CRM is technology that allows you to manage your relationships with clients and potential clients with the focus on growing your business. A CRM helps you track all of the relationship details in a way that helps grow the relationships and focus on your client's unique and special needs, wants and desires.

 

A CRM enables your business to selectively market to individuals, not groups and is a powerful way to build individual relationships.
Social Marketing Opportunities: Host travel agencies will also give you the opportunity to engage in social media marketing programs. They will offer tips and tricks that successful affiliated agencies use to market preferred supplier campaigns that produce results. Host travel agencies are deeply involved in social media and will be able to help you gain new clients and sales via social media marketing.
Your Robust Consumer Website: Virtually all host agencies will provide you with a robust consumer website that will make you look much bigger than you are from day one. It may have a consumer booking portal for commodity type transactions such as domestic airline tickets, car rentals and other miscellaneous low end sales.
Host Agency Booking Portal: Your host agency may offer one, or more booking portals such as a GDS (Global Distribution System) or other proprietary technology. Cruise oriented host agencies will undoubtedly have a cruise booking portal and possibly a cruise group desk to aggregate cruise passengers into independent groups. Having access to booking portals dramatically increases your efficiency.
Back Room Technology: Your host agency will instantly make your back-room operation efficient by having technology for all types of transactions. Accounting, commission tracking, refund processing and so much more will make operating your travel business super efficient.
Digital Marketing Programs: Look for your host agency to offer lots of expertise and support for your digital marketing campaigns. Sophisticated targeted email marketing, brochure, flyer and other graphical digital and print production capabilities and video editing are all just examples of what a host agency may have available for your use.
There are many other opportunities that your host travel agency may offer, but this should give you an excellent idea of what is available.