How Do I Start a Travel Host Agency?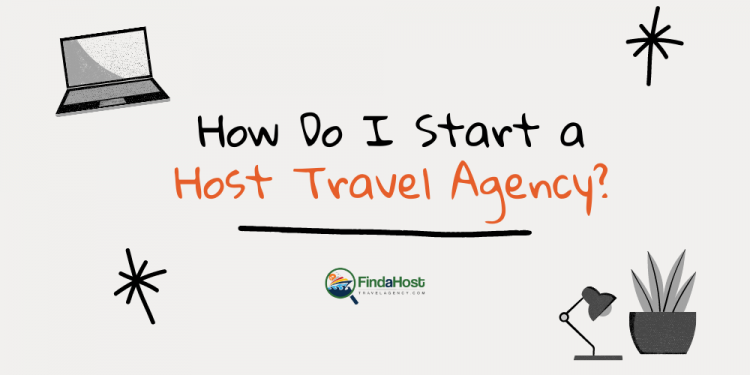 Starting your own Host Travel Agency may be exactly the direction for your Travel Business, but how do you get started?
Written By: Tom Ogg, Founder and Co-Owner – FindaHostTravelAgency.com
Creating a host agency is a great way to grow your travel business and is certainly a viable option to consider. The concept of host agencies is well established and makes a good deal of sense for home-based travel agencies that want to enjoy a substantial opportunity. The question becomes "How do I start a travel host agency?"
If you are thinking about starting a host travel agency to serve independent travel agents you must carefully consider exactly what your value proposition will be and why it will be of interest to travel agents in light of all the quality host agencies they already have to choose from. While this may sound like a daunting task, there are hundreds of thousands of niche host agency possibilities for smaller agencies to focus on.
The challenge becomes identifying and planning for a niche market that could attract independent agents to send their clients to your host agency. Ideally you would have an existing agency that specializes in a profitable travel niche and are already creating enough revenue for suppliers to be one of their top accounts. Or, you could work through another host agency and also be at an expert level in your niche. Either way, you should be able to create a strong value proposition to attract independent travel agents who are looking for your expertise and specific value proposition.
So, How Do I Start a Host Travel Agency?
Making the assumption that you already have an existing agency and have developed a niche and have a level of expertise that would allow you to take on less experienced agents who need the mentoring and support of an expert in the niche, here are the steps you should take to create your travel host agency.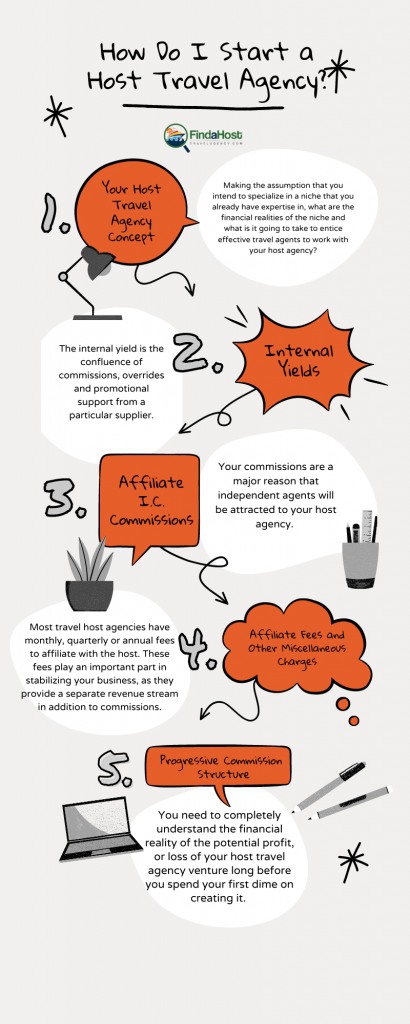 Your Host Travel Agency Concept
Long before you launch your host travel agency you will need to completely understand the financial motivation for doing so. Making the assumption that you intend to specialize in a niche that you already have expertise in, what are the financial realities of the niche and what is it going to take to entice effective travel agents to work with your host agency? Here are financial elements to consider.
Internal Yields
Considering the niche that you will specialize in, what are the average internal yields that can be developed? The internal yield is the confluence of commissions, overrides and promotional support from a particular supplier. Knowing your average internal yield is mandatory for supporting a host agency. If the yield is too low it is quite likely the concept will fail.
Affiliate I.C. Commissions
What level of commission are you going to pay agents that affiliate with your host agency? Your commissions are a major reason that independent agents will be attracted to your host agency. While most host agencies refer to the commission amount paid as a percentage of the commission earned such as 70/30 or 80/20 how are you going to offer the commissions that you pay your I.C.s? Remember that your portion of the commissions must cover your cost of operating and your profit, which is why the internal yield is so very important. 
Affiliate Fees and Other Miscellaneous Charges
You will also need to structure your fees. Most travel host agencies have monthly, quarterly or annual fees to affiliate with the host. These fees play an important part in stabilizing your business, as they provide a separate revenue stream in addition to commissions. If you are offering CRS, GDS or booking portal access, is there going to be a fee for that as well? Also, is there a fee for providing a consumer website for affiliated agents to use if you are providing one? Operational fees may also be applicable on extra services an affiliated agent may require from your operation.
Progressive Commission Structure
As your internal yield grows, so does the commissions paid to your I.C.s. Considering that just about any I.C. can book directly with a supplier and realize a 10% commission, understanding the progressive nature of commissions as they relate to internal yield is critical to your success. Let's say you have your I.C.s on a 70/30 split. The commission paid on a transaction done at 10% would be 7%. But, when the internal yield reaches 15%, the commission then becomes 10.5% paid to the I.C.. This is why I.C.s will join your travel host agency. At 20% internal yield, the commission becomes 14% and so it progresses. The higher the internal yield, the higher the commission.
You need to completely understand the financial reality of the potential profit, or loss of your host travel agency venture long before you spend your first dime on creating it. But, if your idea is financially viable then it might make sense to move ahead and create a business plan for the project. Since volumes have been written about creating business and marketing plans, we will skip that process in this article.
Creating Your Host Travel Agency I.C. Agreement
Each independent agent that works with your host agency will need to execute your "Host Travel Agency Independent Travel Agent Agreement". You should always seek the advice of a competent attorney familiar with independent contractor issues and the travel industry to create the agreement. The agreement will document every detail of the business relationship with the I.C. and protect both you and them. Following are some of the more important issues you may want to appear in your contract: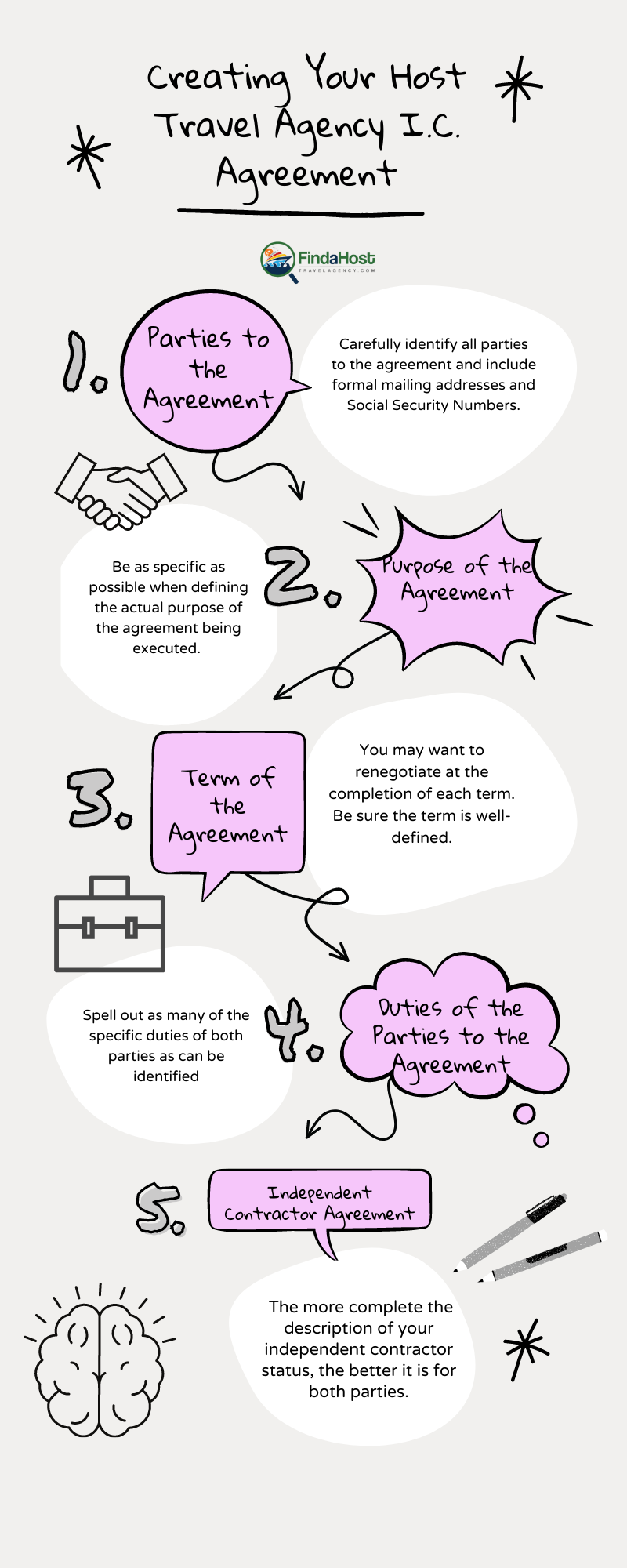 Parties to the Agreement
Carefully  identify  all  parties  to  the  agreement  and  include  formal mailing addresses and Social Security Numbers. If you are entering into a contract with a corporation, try to identify the key person with whom you should communicate.
Purpose of the Agreement
Be as specific as possible when defining the actual purpose of the agreement being executed. The more definition you can insert here the better the agreement. Avoid ambiguous statements of purpose, as they may be used to decide the intent of subsequent paragraphs in the agreement.
Term of the Agreement
An independent contractor agreement must have a specific term to be valid. You may want to incorporate a rollover clause, so that the term is automatically renewed when the term has elapsed, or you may want to renegotiate at the completion of each term. Be sure the term is well-defined.
Duties of the Parties to the Agreement
Spell out as many of the specific duties of both parties as can be identified. If the agency has made a commitment to perform training, education, quality control, or some other special function on your behalf, it should be detailed here, as well.
Independent Contractor Agreement
The agreement should state clearly that the working relationship between you and the  agency is one between an independent contractor and the agency. Issues such as non-exclusivity, tools of the trade, control by the agency, risk of profit or loss, place of work, and so on should be detailed here. The more complete the description of your independent contractor status, the better it is for both parties.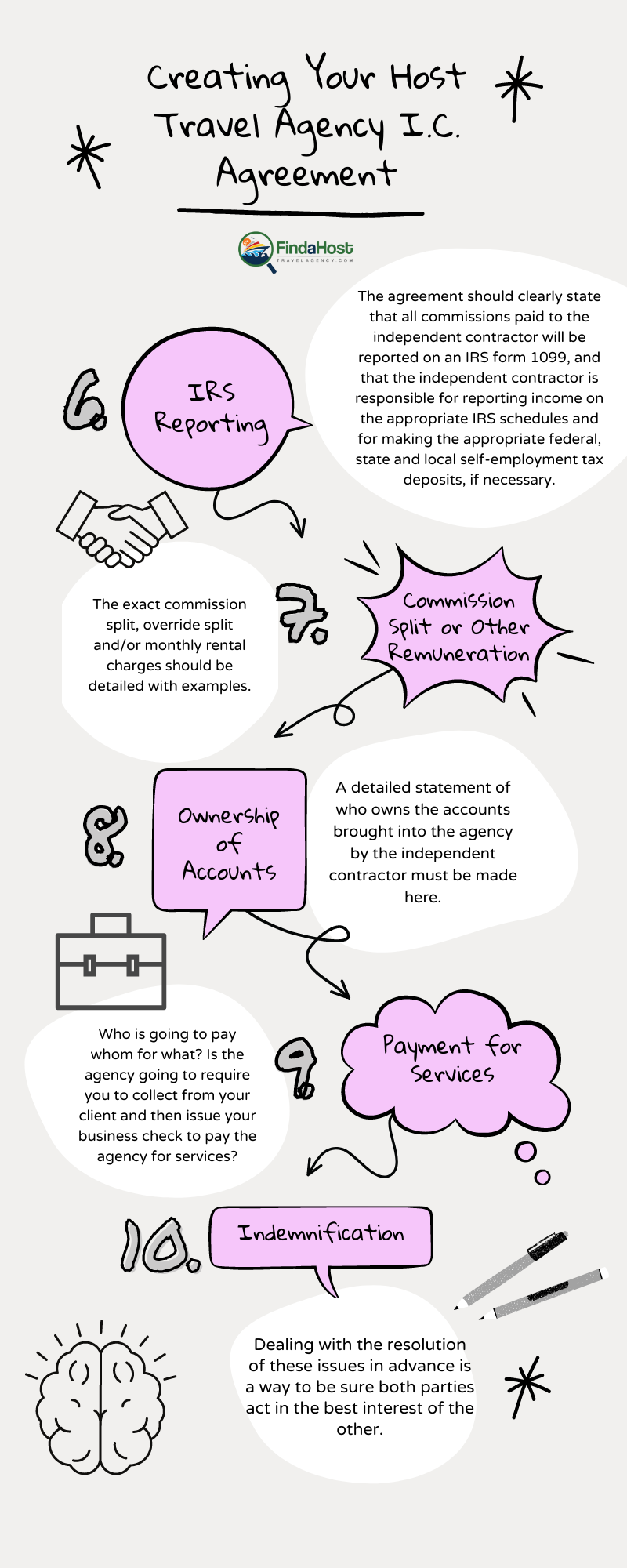 IRS Reporting
The agreement should clearly state that all commissions paid to the independent contractor will be reported on an IRS form 1099, and that the independent contractor is responsible for reporting income on the appropriate IRS schedules and for making the appropriate federal, state and local self-employment tax deposits, if necessary.
Commission Split or Other Remuneration
The  exact  commission split, override split and/or monthly rental charges should be detailed with examples. The timing of payment of commissions and method of payment should also be specified. Resolution of potential disputes over commissions should be considered here, as well.
Ownership of Accounts
A detailed statement of who owns the accounts brought into the agency by the independent contractor must be made here. One of the most common areas of dispute when an independent contractor decides to move on is the ownership of the clients the independent contractor introduced to the agency. Agency owners feel that they have paid the independent agent to develop the clients for the agency, and the independent agent feels that the clients are theirs to take with them. A clear and concise understanding of ownership of the clients in the agreement eliminates this issue down the road.
Payment for Services
Who is going to pay whom for what? Is the agency going to require you to collect from your client and then issue your business check to pay the agency for services? This is sometimes best if you are dealing with multiple suppliers and don't want to confuse your client by making checks out to several different entities for one vacation. If your agency is receiving checks directly from your clients, what is the agency's policy for holding client funds? Do they operate a trust account to protect your client's funds should the agency fail? If you are doing groups through the agency, demand that the funds are held in a dual signature trust account, so that you have some security.
Credit card sales must be processed through the agency's ARC weekly settlement report or merchant account.  What is the agency's policy on paying commissions on credit card sales? If a credit card charge is subsequently denied by a client, what is the agency's policy on collecting the funds? Do they expect you to cover it and then collect from your client or are they willing to help you collect?  All of the issues regarding payment should be considered, as should the resolution of potential disputes.
Indemnification
Include an indemnification clause specifying in what instances each party will indemnify the other for loss created by their errors and omissions. If the agency issues an airline ticket for the wrong date, surely the agency should correct the situation. Conversely, if you issue a reservation on the wrong date, you should correct the situation. Dealing with the resolution of these issues in advance is a way to be sure both parties act in the best interest of the other.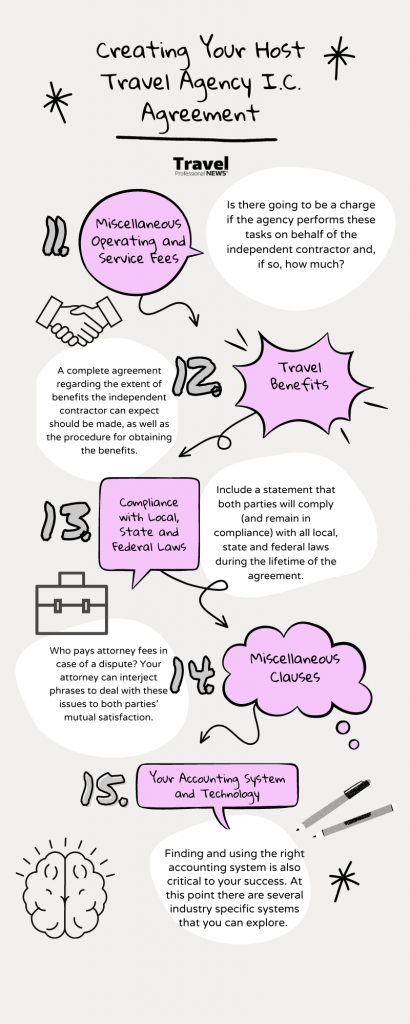 Miscellaneous Operating and Service Fees
Both parties should try to agree in advance to miscellaneous operating fees that may be assessed on certain types of transactions. Minimum commission level, service fees, ticket reissues, voided tickets, invoice fees, special services, such as delivery, airport  pick-up, courtesy reservations for hotels, frequent flyer awards and coupons all cost the agency plenty of money to perform, but are not offset by revenue. Is there going to be a charge if the agency performs these tasks on behalf of the independent contractor and, if so, how much?
Travel Benefits
Is the travel agency going to include the independent contractor on their IATAN agency registration list and what is the criterion? A complete agreement regarding the extent of benefits the independent contractor can expect should be made, as well as the procedure for obtaining the benefits.
Compliance with Local, State and Federal Laws
Include a statement that both parties will comply (and remain in compliance) with all local, state and federal laws during the lifetime of the agreement. Further, if your particular state has a tour promoter or travel agent registration law, mention your compliance here.
Miscellaneous Clauses
Include various legal clauses regarding the contract. If the agency is in a different state than you, where will any disputes be heard and under which state's law will the agreement be interpreted? Do you wish to choose arbitration rather than going through the courts? If part of the agreement is unenforceable, should the balance of the agreement be null and void or enforceable? Who pays attorney fees in case of a dispute? Your attorney can interject phrases to deal with these issues to both parties' mutual satisfaction.
Your Accounting System and Technology
Finding and using the right accounting system is also critical to your success. At this point there are several industry specific systems that you can explore. Host agency accounting is far more complex than that of a regular travel agency. Again, there is a wealth of technology for use as a host travel agency and depending on your niche, you should be able to find the perfect solution.
At this juncture you should have reached a go or no go point when considering the venture. I hope it is a go and you go on to build a successful operation.