Website Simplifies the way Travel Professionals Research and Connect with Host Travel Agencies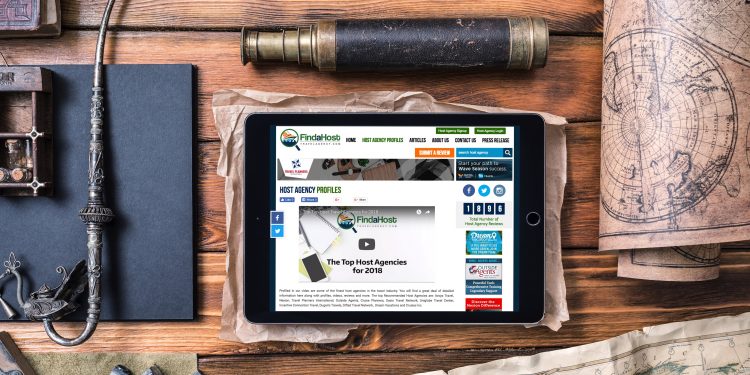 Updates include: Enhanced User Experience, Advanced Filtering, Additional Host Agency Information, Improved Database, and Much More
October 23, 2018 – FindaHostTravelAgency.com, premier review and in-depth host agency locator site, has upgraded the user experience for Travel Professionals seeking a new host agency and for Host Agency organizations seeking new members. Responding to the explosive growth of independent travel professionals and the desire to find the best fit for their individual business goals, FindaHostTravelAgency.com has upgraded search capabilities and review information. With a complete platform overhaul, the site is now more user friendly and more intuitive to agents' needs.
FindaHostTravelAgency.com is a review-based site with nearly 2,000 reviews from Travel Professionals assessing their current or past host agency affiliations. The site offers Host Agency Profiles on nearly 150 host agency options currently available. "We've listened to the feedback from those who used the site before, and are delivering this new site because we realize that you – the Agent – know what you need better than anyone else. We're just here to help you find it quicker and more effectively," said Andy Ogg, Sales and Marketing Director for Ogg Marketing Group.
With new and improved criteria, Travel Professionals can now refine their Host Agency search by:
Years in Business
Average Yearly Sales Volume
Number of Independent Agents
New Agent Training
Education Programs for Agents
Consortia Membership(s)
Association Membership(s)
Whether or not the host agency offers:

 

Lead generation
Accounting Systems

 

CRM Program

 

Air Ticketing
GDS

 

Website Building Tool or Website
Direct Access to Owners of the Host Agency

 

Marketing Tools and Assets

 

Booking Technology

 

Hosting for International Agents
In addition to the complete overhaul of the filter functionality, FindaHostTravelAgency.com offers an entirely new and improved user experience. Visitors to the site will be able to easily learn more details about each Host Agency, such as agency reviews by other Travel Professionals, timely information about awards and recognition the agency has received, and much more. "Bringing all of the pieces together was key to this overhaul and I am confident this site will provide the growing independent contractor and Travel Professional community quality functionality and great user experience" Ogg said.
In addition to the new user experience for individuals seeking a host, the Host Travel Agencies also now have a completely new Portal, allowing them to update their profiles in real time. "This new Host Agency Portal will allow Host Agencies to modify and maximize the information shared on their profile any time they need to, ensuring that prospective Travel Professionals have the most up to date information before making an important decision for their travel business," said Joanie Ogg CTC, MCC and Co-founder of the site. "This is such an exciting time in the travel community and the independent agent is truly leading the growth and development. We are thrilled to be helping to make the best connections possible." 
FindaHostTravelAgency.com is one of many industry tools available through Ogg Marketing Group to advocate travel professionals and help them become more successful.
Host Agencies that would like to update or add their profile to the FindaHostTravelAgency.com site can visit www.FindaHostTravelAgency.com to do so. If a Host Agency Profile already exists for your business, please contact Andy Ogg for details on how to successfully access the Host Agency Portal to update your information. 
About FindaHostTravelAgency.com
FindaHostTravelAgency.com
The premier platform to connect Travel Professionals to the Host Travel Agency that fits their needs. On top of 18 filters to narrow the search, FindaHostTravelAgency.com holds over 1,900 reviews from vetted Travel Professionals regarding listed Host Travel Agencies. 
TravelProfessionalNEWS.com
A monthly Digital Magazine delivered right to a Travel Professional's inbox. With informative and helpful articles each month, this publication is a tool to assist in growing a Travel Professional's business. On top of the Digital Magazine, TravelProfessionalNEWS.com offers the latest news and happenings in the Travel Industry in an easy to navigate and enjoyable experience.
HomeBasedTravelAgent.com
Since 1988 this has been an invaluable resource with extensive information for new agents wanting to enter the industry. The Ogg's latest books are considered "must reads" for many home based travel agents. They are used by many colleges and universities as texts and are included in the Travel Institute's "Trip Kit" for new agents.
TravelProfessionalCommunity.com
A Social engagement community for established Travel Professionals only. With over 15,000 vetted Travel Professional members, this Social Community is the "Go To" site for support, networking, and information. It's FUN and FREE for Travel Professionals to join and begin engaging with colleagues from around the globe.
Media Contact: Andy Ogg – support@findahosttravelagency.com