What is a Host Agency for Travel Agents: A Travel Agent Beginners Guide
What a Host Travel Agency is and What Exactly a Host Agency can Offer Travel Agents
Here at FindaHostTravelAgency.com our goal is to provide you with the information and tools to assist you in making a good decision choosing a host travel agency to partner with. There is a tremendous amount of great information on this site to help you understand the options and choices you have and how best to zero in on the right host travel agency fit for you and your travel agency.
Getting to the Basics
When the airlines eliminated commission payments in 2002 to travel agents who issued airline tickets, the world as agencies and agents knew it radically changed. Agents responded to this change by relinquishing the appointments necessary to process accountable documents such as airline tickets and moving home to operate their travel businesses. At the time this was happening, there was some speculation that this would be the demise of travel agents. Thankfully, nothing could have proven further from the truth. The lower overhead that a home based business provided increased profits, and for many productivity as a commute to an office was no longer necessary.
In this new model of doing business the home-based travel agents still found they needed several services that could only be provided by an "appointed" travel agency. Actually, my husband Tom Ogg and I operated one of the very first home-based host agency models back in late 1980s and early 1990s. The evolution of host agencies blossomed and grew exponentially since that time. Today host agencies make up a substantial part of the distribution of travel.
The Host Travel Agency Model
Host agencies come in all shapes and sizes. On FindaHostTravelAgency.com you have the ability to see a comprehensive list of host agencies with varying services and programs offered to travel agents who affiliate with them. The typical host agency business model is to act rather like a "Mother Ship" for independent travel agents providing those needed services and a generous commission split on sales made through the use of their appointments and relationships with their supplier partners. For example, a supplier partner would be a cruise line, hotel chain, all inclusive resort and a wide variety of other suppliers of leisure travel. 
Should a Host Travel Agency be near me?
It should be noted that the physical location of the host agency is not as important as the services they provide. It is not at all unusual for an agent to be home-based working from their home state of say California and have a host agency located all the way across the country. It is far more important to ascertain the host agency provides the business support and supplier connectivity to help you grow and prosper. So the old term "Location is Everything" does not hold true in the host agency world. Finding the host to help you fulfill your business needs is key.
What does a Host Travel Agency provide?
Here is just a brief listing and description of some of the many services that a host agency might provide or make available to their affiliated agents. Be sure to read my piece on What EXACTLY does a Host Agency offer a Travel Agent to get more insight into the benefits of working with a host agency. 
Access to Suppliers
Host Travel Agencies have relationships with cruise lines, tour companies, all inclusive resorts, hotel, car rental agencies, shore excursion companies, travel insurance vendors established and using their identification number to book travel for clients is seamless for an agent that is hosted.
Bookkeeping and Sales Tracking
Instead of spending your valuable time on bookkeeping and accounting for your business, spend it on selling travel. Let the host agency provide you with that backroom support so you can focus on building your business.
Consumer Sales Leads
When you are just starting out, you might be relying on friends and family for business and referrals. It takes time to build up a book of business. Some host agencies provide consumer leads to their agents which can really help you to grow your business and sales experience. How the host agency provides the leads and any fees associated with that will depend on each hosts unique offerings.
Continuing Education
We never want to stop learning and continuing educations is absolutely vital to the success of your business. Take advantage of every learning opportunity that comes your way. It might be in the form of weekly sales training calls, webinars, on-location training or travel learning opportunities. Education is key!
Marketing Programs
Many host agencies offer a wide variety of marketing materials that you can take advantage of to build your business. These can range from printed pieces if you choose to go that route or digital options. The suppliers often partner with the host agencies to promote specific products and sales they want to push out to the consumers through the agency. You can often take advantage of this great benefit.
Mentoring
Some host agencies pride themselves on their mentoring of their agent affiliates. If you are new to the travel business, be sure to look for a host that offers mentoring. Someone shadowing you as you go through the learning process can be invaluable.
Networking Opportunities
One of the most valuable features that a host agency may offer its agents is the ability to network with your peers. It might be a facebook live event, a webinar, a conference call or event a face to face event locally or at the host's headquarters.
Many host agencies will have pre or post events for their agents that surround an industry trade show or conference. You might even get a discount on the event by being affiliated with that host. If you have the time and the ability to attend such events, you should seize the opportunities as they present themselves.
Substantial Commission Sharing
This is where  you will find a variety of different pictures to look at when you are making your host agency choice. Most of the larger host agency networks are receiving very high commission percentages on sales made with the suppliers and vendors. Because of their volume of agents working through them their sales are substantially higher than that of a smaller agency. They typical 10% that most suppliers offer to a new agency or smaller agency is more than likely 2 to 6 or more percent higher in those larger hosts. When you sell the product, you will benefit from those higher commission levels.
Technological Tools and Programs
Some host agencies will offer state of the art technology solutions for their agent members. This can be a huge benefit to you and a cost savings as well. They will invest in technology to help their agents sell more travel and you will be the beneficiary of that investment.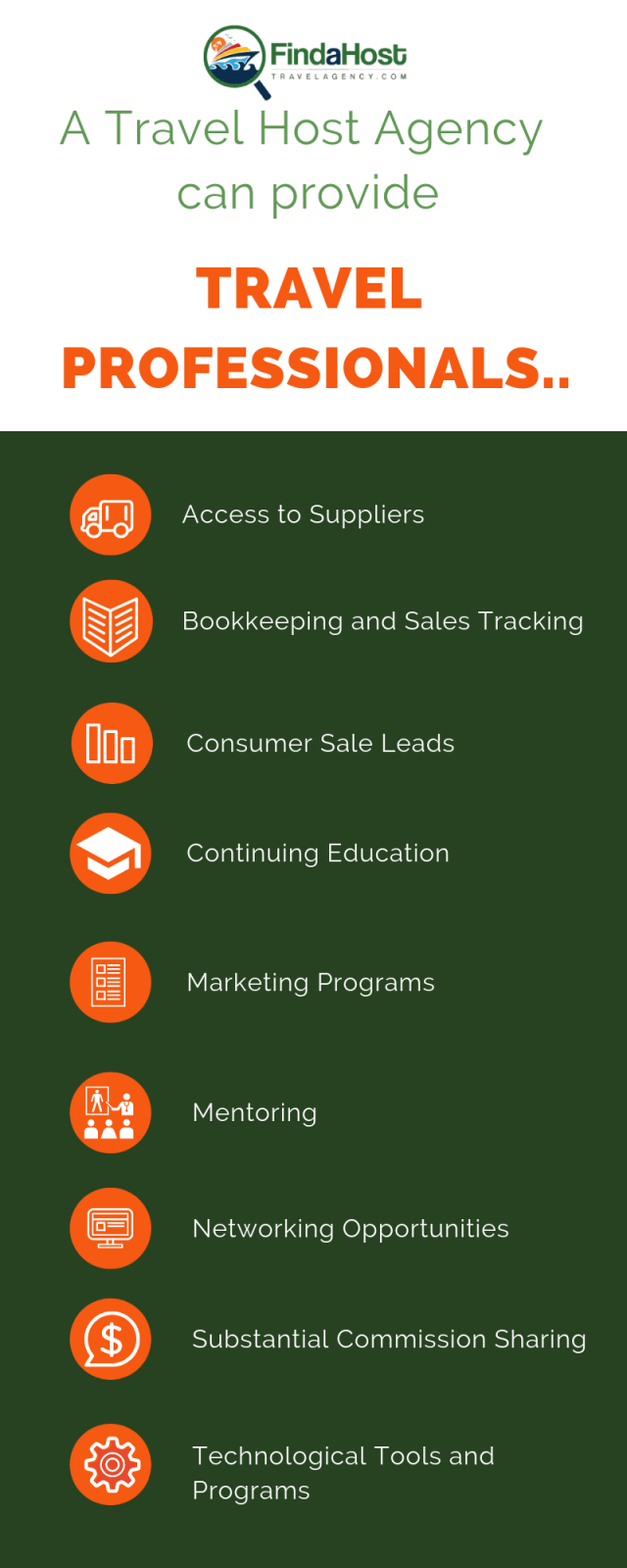 This all sounds great right? What does partnering with a Host Travel Agency cost?
Certainly this is not all free for the taking. There is no easy answer to this one as "one-size" does not fit all here. Typically, host agencies will offer a commission sharing model or models depending on productivity and a variety of other deciding factors. Host agencies have tremendous buying power with the suppliers of travel product. With the collection of travel agents working through them as a host, this allows them higher commission from the supplier due to their high sales volume. This can translate into very healthy commission payments to those agents that use them as their host agency partner. 
Some host agencies charge a start-up fee to affiliate with them. Other hosts might charge a monthly fee as well. Hosts often split commissions based on your sales volume and that percentage typically starts at about 70% to the agent and 30% retained by the host. However, there is simply no set rule here and just about every host agency has a different value proposition. Do your homework and understand all the costs and fees that you might be taking on to be sure you are making the right decision for the financial health of your travel agency. Be sure to read our article entitled "How do Host Travel Agencies Pay Agent to get more specifics.
In closing, simply stated a Host Travel Agency can be the most efficient and beneficial way to operate a travel business for many. For a newer agent it can be a cornerstone to continued success. Lower start-up costs is just one of the many reasons it can be a good choice for a newer agent. Additionally, even a very seasoned agent can benefit from working with a host agency that focuses on their travel niche and can offer them the higher commissions and internal support. Making more time for selling travel should be the goal.
Aligning with a host agency may or may not be a forever commitment if you should decide the marriage is not working out for you. There should be a contract in place when you align with a host agency and it should have the ability to be severed by either party. Spend an ample amount of time doing your research here on FindaHostTravelAgency.com to find the right fit that makes sense for your business.
We are here to help you make an educated choice based on comprehensive search filters and a plethora of articles and free information to get you rolling to success!