5 Ways to Boost Your Travel Business in a Post-COVID 2021 as a Travel Agent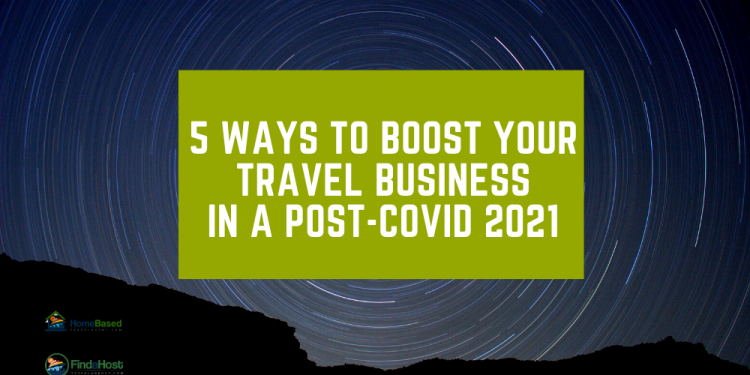 Travel is Roaring Back, Here are 5 Tips to Boost your Travel Agency to Maximize your Success!
Written By: Tom Ogg, Co-Owner – FindaHostTravelAgency.com
The COVID Pandemic has certainly caused major havoc in the travel industry and as we slowly blossom from the chaos, we can identify some new trends that are going to affect the environment of travel in the future.
First of all, travel agents have emerged from the COVID pandemic as the clear winners of consumers trust and focus. Other distribution channels simply could not take care of their clients who were losing money right and left. Travel agents were there to pick up the pieces for their clients who all realized the true value of working with a travel professional.
And, that is just one of the big changes that have taken place in travel distribution. The pandemic changed the way people perceive travel and the way they want to participate. By understanding the nature of the changes, you can add segments to your niche that will make you very competitive. So before we get to the 5 ways to boost your travel business, let's explore the post-COVID travel trends.
Post COVID Travel Trends For 2021 and Beyond

Teleconferencing
Just about everyone participated in teleconferencing to stay in touch with friends and family. In fact, zoom.com has seen unbelievable growth during the pandemic and introduced tens of millions of people to the value of teleconferencing making it a very viable tool to use when selling travel. 
Domestic Travel
Selling domestic travel will enjoy a huge increase in popularity as consumers start to feel comfortable traveling again. Look for beach resorts, theme parks, dude ranches, sustainable and special interest domestic travel to become wildly popular. Rail travel, RV travel, yacht charters, house boat charters and other domestic travel options will also grow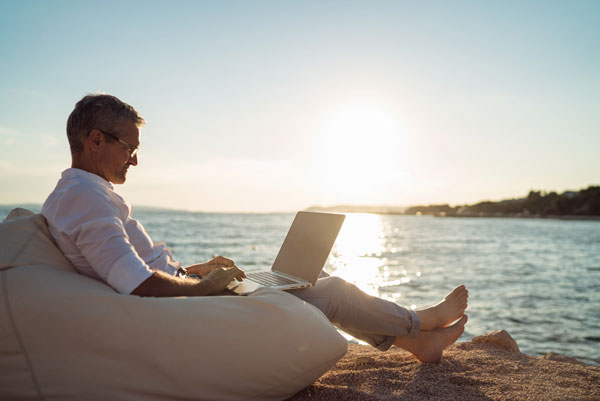 Workations
With tens of millions of people moving from the office to a home-base in their careers, look for a large surge in workations. Employees now working remotely will be working on vacations at destinations around the world for longer periods of time. If they are able to work from home, why not work from another country as long as the Internet is available?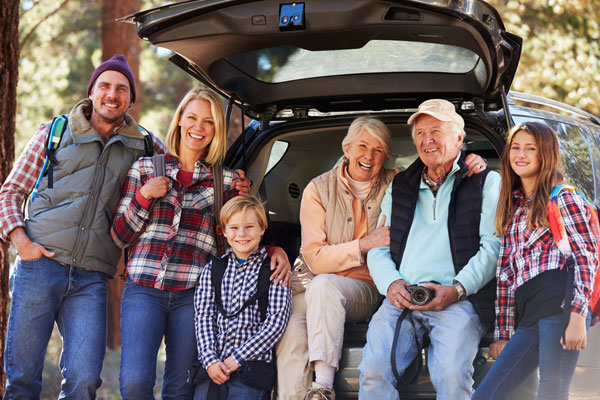 Multigenerational Travel
After being forced not to see grandchildren and other immediate family members because of the pandemic lockdown, look for families to seek out multigenerational travel.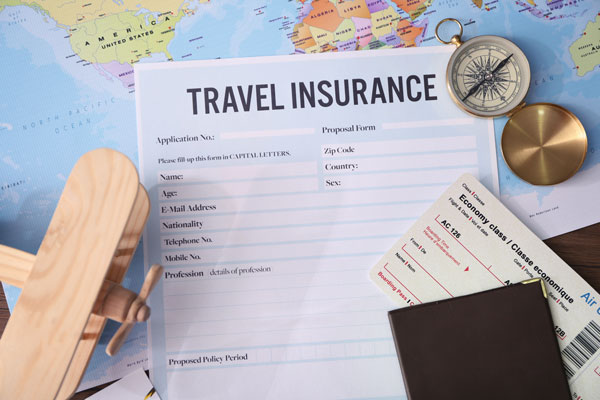 Travel Insurance
The COVID pandemic proved the value of third party travel insurance to both consumers and travel professionals. Selling 3rd-party travel insurance including medical evacuation insurance will be a necessity post COVID because of all the money lost on supplier failures and also people that had contracted COVID being stuck far from home.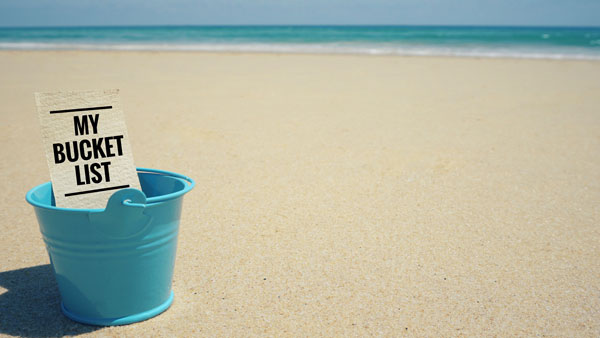 Big Bucket List Trips
Look for people to accelerate their "Bucket List" trips. Having the globe closed for oven a year has created motivation for travelers with a bucket full of destinations and experiences they want to explore to accelerate their desire to accomplish them while the going is good.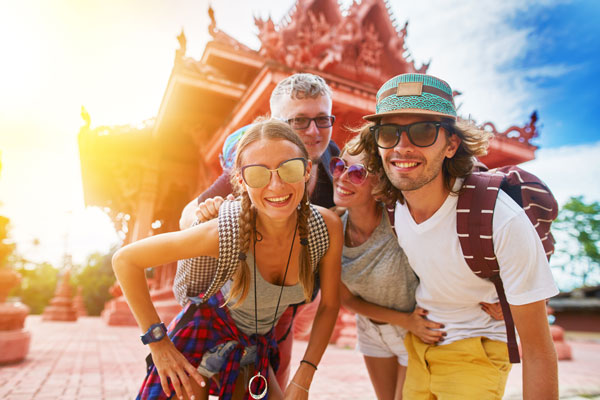 Small Group Travel
Small groups of like minded people, friends and colleagues will form where the chance of medical risks and issues will be greatly diminished. These will quite likely lean towards FIT groups rather than cruises and all-inclusive resorts.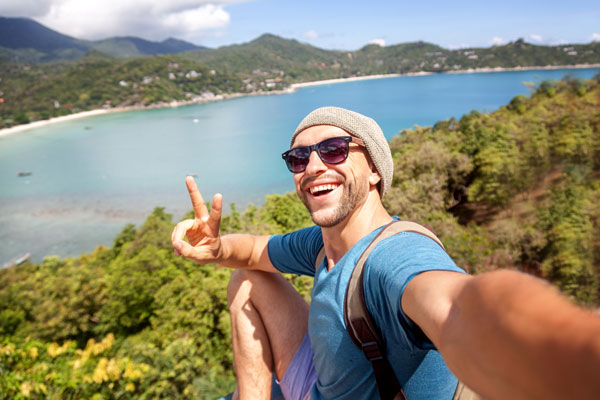 Digital Nomad and Wanderlust Travel
The ability to work from anywhere has been discovered by tens of millions of people who will likely see the opportunity to make long journeys while working digitally around the world. Visiting Europe for six months, or more while working will be ideas that will attract these types of adventurers.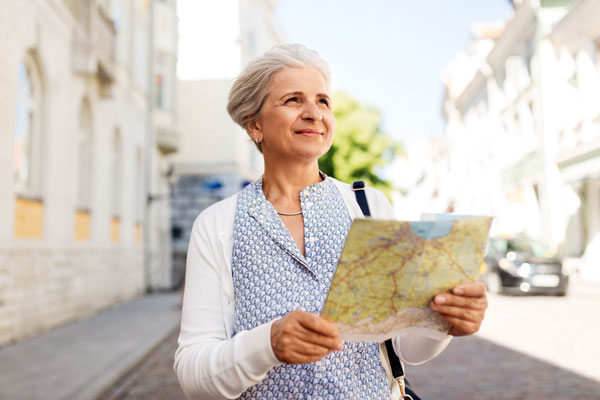 Solo Senior Travel
The pent-up demand for travels that the COVID pandemic has created will motivate solo seniors to travel solo on cruises, to destinations, on escorted tours and just about everywhere else. Look for solo seniors to meet up with other solo seniors during a trip by using social media and sites like Trip Advisor and so on. Gone is any negative connotation of traveling alone. This is also true of non-seniors.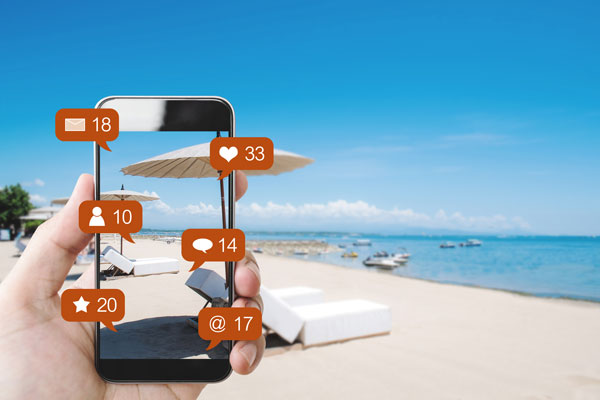 Social Media Travel
 

Influencers

With social media travel influencers becoming important to suppliers and consumers alike, look for volumes of people to compete for followers in the travel spectrum of influencers. Many top travel influencers have the attention of millions of followers and they are making their money by traveling in niche markets. Travel Influencers need the support of acknowledgeable travel professional to help coordinate experiences that the influencer would like to exploit. After all, what millennial wouldn't like to travel the world and make money doing it? All they need is a venue others would find fascinating.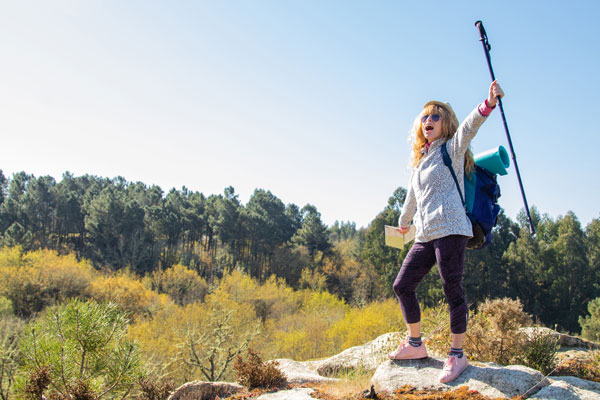 Sustainable and Eco Tourism
One observation that the COVID pandemic confirms is that tourism has a major impact on both nature and culture in a destination. Look for more people seeking out sustainable travel and ecotourism that want to protect the environment and improve the lives of the people living at the destination they select.
There are more trends that will undoubtedly emerge as the U.S. returns back to normal, but these are well established and are worthy of consideration. In this transition period of travel reawakening. The key to success is to keep an open mind and maximum flexibility as there is quite likely to bo vast opportunities that evolve. So, realizing that change has taken place and there is likely to be more change, how can you boost your travel business during this post COVID pandemic recovery?
5 Ways to Boost Your Travel Business in a post-COVID 2021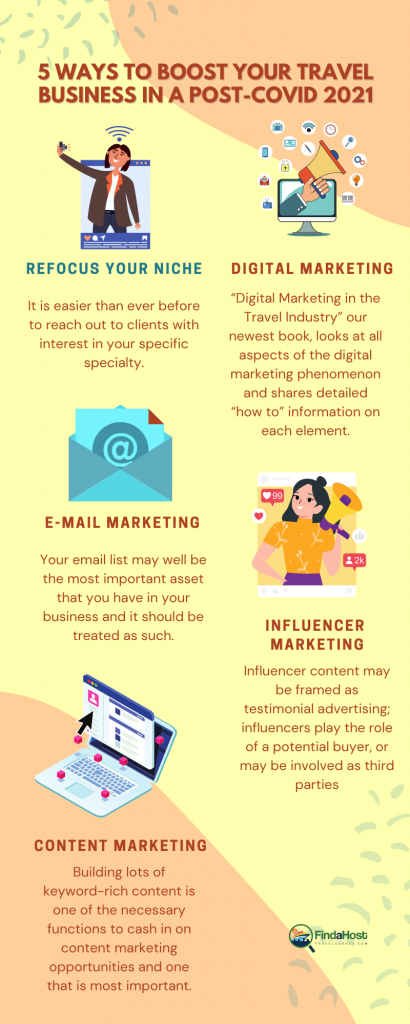 Refocus Your Niche
The era of being a travel generalist is completely in the rear view mirror at this point and now is the time to really grow your niche. Think about the various travel trends that are taking place and see how you can incorporate them into your niche. It is easier than ever before to reach out to clients with interest in your specific specialty. If you still do not have a niche that you are focusing on, now is the time to start working on one. Developing your niche is a major topic in itself, so rather than recreate the process in this article, here is a video tutorial on exactly how to make it happen.
Digital Marketing
No longer is a direct mail promotional campaign going to cut it when marketing. Travel technology has advanced digital communication to a level that every travel professional must understand and use modern digital marketing strategies in their agency. While digital marketing has taken on the persona of a buzz word, there is lots more to it than just a buzz word. "Digital Marketing in the Travel Industry" our newest book, looks at all aspects of the digital marketing phenomenon and shares detailed "how to" information on each element. Here is what makes up digital marketing in 2021. Digital Printing, websites, blogs, communities and other digital environments, social media, content marketing, e-mail marketing, SEO & SEM, banner advertising, webinars, video marketing, influencer marketing and affiliate marketing, just to name a few of the more obvious. Here is a video tutorial that will give you an introduction into digital marketing post COVID in 2021 and beyond.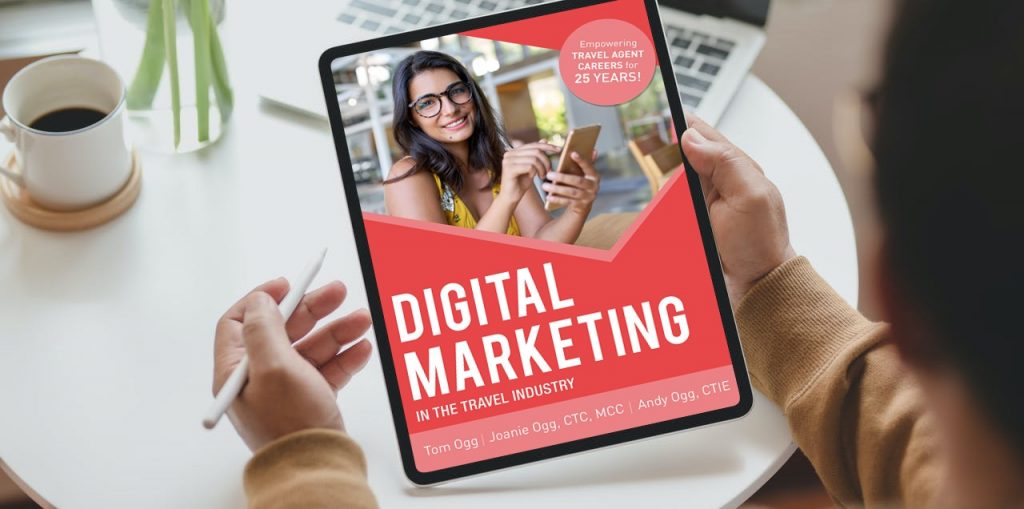 Also, if you would enjoy finding out exactly how to use the various tools that are available to you, be sure to read the Ogg's new book "Digital Marketing in the Travel Industry.
E-mail Marketing
Your email list may well be the most important asset that you have in your business and it should be treated as such. You should absolutely invest in a professional email marketing company like ConstantContact.com, MailChimp.com, GetResponse.com, ConvertKit.com and others.  It is imperative that you comply with all of the CAN-SPAM Act that regulates how email marketing must legally be done. Using a commercially viable email marketing company sends a clear signal to your clients that you are competent and that their privacy is protected.  Avoid sending "Undisclosed Recipient" emails as they shout unprofessionalism and potential scams.
Influencer Marketing
Here is how Wikipedia defines Influencer Marketing "Influencer Marketing is a form of social media marketing involving endorsements and product placement from influencers, people and organizations who have a purported expert level of knowledge or social influence in their field. Influencer content may be framed as  testimonial  advertising; influencers play the role of a potential buyer, or may be involved as third parties. These third parties can be seen in the  supply chain (such as retailers or manufacturers) or as value-added influencers, such as journalists, academics, industry analysts, and professional advisers."
Depending on your specific niche, there are likely several travel influencers who may be in a position to endorse or refer their followers to you. Influencers come in all shapes and sizes so you can be very creative in the way that you approach them and also measure results to evolve a remuneration structure. It is vastly important that remuneration be tied to productivity and not activity.
Content Marketing
More than anything, content is how you will make tons of money. The world of travel has so many unique opportunities to generate keyword driven content that it is difficult to even imagine an end to keywords and topics. Building lots of keyword-rich content is one of the necessary functions to cash in on content marketing opportunities and one that is most important. Having page after page of keyword optimized quality content will allow search engines to locate your web pages based on the specific keyword search string that someone would use to find information about the topic of the keywords. Each content page within your web offers another opportunity for search engines to deliver traffic specific to the content on that page.
Of course, on the other side of the coin, when someone is conducting a search using the specific keywords for which your page is optimized, it will undoubtedly deliver an affiliate opportunity based on the same keywords. This will dramatically increase your click-through rate and generate an excellent income. Contextual advertising affiliate programs will also deliver advertisements based on the optimized keywords on the page thus offering another opportunity for increasing your click-through rate. All in all, content marketing is all about evolving great content. Search engines want to offer quality content and consumers want to find it. As a publisher, you want to offer it to both.
As you can easily see, digital marketing is here to stay and a travel professional can no longer afford to ignore the opportunities that it presents.