Challenge Accepted. Attendees at 2019 Dream Vacations, CruiseOne® and Cruises Inc.® National Conference Dared to Embrace Change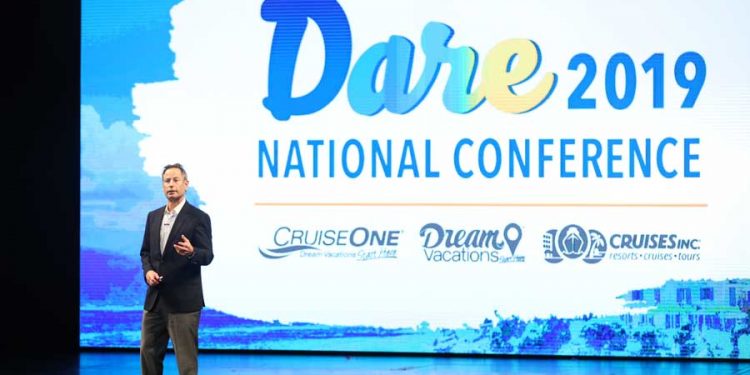 Fort Lauderdale, Fla. (October 24, 2019) – The final general session of the 2019 Dream Vacations, CruiseOne® and Cruises Inc. ® National Conference aboard Royal Caribbean International's Symphony of the Seas featured closing remarks from the home-based travel agency network's senior leadership team, which dared attendees to take risks and create change in business and in life.
"Dares show up at different times in our life. Sometimes they are verbalized by people around us like in the game truth or dare. Most of the time it is our own internal voice that challenges us and prevents us from taking action. You have to dare yourself to take risks. Eventually your dare will become your truth and then you can live your best life," said Senior Vice President and General Manager Drew Daly, who provided examples by taking attendees on an introspective journey about how he has embraced dares this past year and their positive impact on his life.
Co-CEO/Chairman Brad Tolkin took a different approach to examining dare and change by using business case studies of successful brands that have created entirely new business models that never existed before, and which people can now not live without. He challenged attendees to think of themselves as their own individual brand and create their own value proposition to sell to their customers, resulting in them getting ahead in business and leaving the competition behind.
During the final general session of the week, attendees were also excited to hear about the training and engagement events planned for 2020, including a surprise joint announcement from Director of Events and Corporate Giving Andrea Giraldo and Vice President of Sales for GOGO Vacations Brennan Quesnele which announced the location of the 2020 Land Summit. Engaging events are a hallmark of Dream Vacations, CruiseOne and Cruises Inc., stimulating sales and boosting camaraderie among the network of home-based travel agents. Daly and Chief Operating Officer Debbie Fiorino closed out the final general session with a reflective look back of all the dares accomplished during the week.
To follow the excitement this week aboard Symphony of the Seas, use the #2019DareConference hashtag.
About Dream Vacations, CruiseOne® and Cruises Inc.® 
Dream Vacations, CruiseOne® and Cruises Inc.® are part of World Travel Holdings, the nation's largest cruise agency and award-winning leisure travel company. The Dream Vacations and CruiseOne franchise opportunities give entrepreneurs a choice in how they want to brand their travel business, and Cruises Inc. is an independent business opportunity. Both business models provide a work-from-home opportunity to those interested in selling all types of travel experiences whether it be a cruise, resort stay or land tour. With a mission of delivering a remarkable experience, travel agents with all three brands are given premium resources to plan and create a seamless vacation experience for the customer while offering the best value. For more information on Dream Vacations and CruiseOne, visit www.DreamVacationsFranchise.com, like the Facebook page www.facebook.com/DreamVacationsFranchise, follow on Twitter at @Dream_Franchise or watch its videos atwww.youtube.com/DreamVacationsBusiness. For more information on Cruises Inc., visit www.SellCruises.com and become a fan on Facebook atwww.facebook.com/SellCruises.
People with a passion for travel who want to learn more about franchising opportunities with CruiseOne and Dream Vacations, and business opportunities with Cruises Inc. should visit www.DreamVacationsFranchise.comandwww.SellCruises.com.