Cruises Inc, CruiseOne and Dream Vacations Kick Off 2019 National Conference Aboard Royal Caribbean's Symphony of the Seas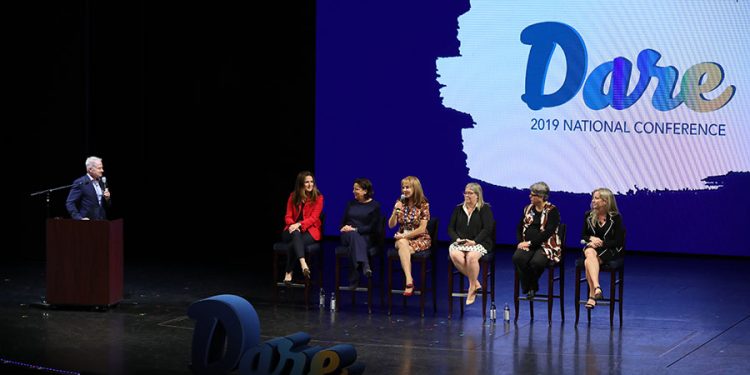 Fort Lauderdale, Fla. (October 20, 2019) – The first full day of the 2019 Cruises Inc.®, CruiseOne® and Dream Vacations National Conference aboard Royal Caribbean International's Symphony of the Seas was jam-packed with inspirational messages about taking risks and industry insights from cruise executives. Attendees even received a personal video message from Richard Fain, Chairman and CEO of Royal Caribbean Cruises Ltd.
The morning started with Chief Operating Officer Debbie Fiorino and Drew Daly, senior vice president and general manager, both with Cruises Inc., CruiseOne and Dream Vacations, celebrating 2019's major accomplishments and discussing how attendees should leverage the "Dare" theme to make the most out of the conference. Fiorino's inspirational speech dared attendees to believe in themselves so they will have the courage to take risks and be better than they were the day before.
Fiorino noted that to believe in oneself, "You have to have intelligence to learn what you need to learn, you have to have passion to want it more than anything, you have to have courage to believe in yourself and you need determination. There is only one person to compare yourself to – the person you were the day before – and if you are getting better – GREAT and if you slide back – well as Scarlett O'Hara said –  'tomorrow is another day.'"
Five industry leaders joined together for the signature Cruise Line Executive Panel, discussing trends, what's on the horizon and answering pre-submitted questions from conference attendees. World Travel Holdings Senior Vice President of Product & Operations David Crooks moderated a discussion with:
Vicki Freed – senior vice president, sales and trade support & service, Royal Caribbean International®
Camille Olivere – senior vice president, sales, Norwegian Cruise Line®
Janet Wygert – vice president, strategic partnerships, Carnival® Cruise Line
Michelle Sutter – director of sales, strategic accounts, Holland America Line®
Elena Rodriguez – director of sales, national accounts, charters and incentives, Princess Cruises®
Lori Sheller – senior vice president, strategic accounts for the U.S., MSC Cruises
Technology is table stakes in the travel agent industry, and at Dream Vacations, CruiseOne and Cruises Inc. new programs and enhancements to existing technology are released every two weeks. Vice President of Information Technology Sandi Szalay provided a preview of new best-in class web-based tools that will simplify the river cruise booking process, as well as enhance the way consumers do business with travel agents associated with Dream Vacations, CruiseOne and Cruises Inc. With river cruising booming in popularity and sales growing by double-digits each year, starting in November Dream Vacations, CruiseOne and Cruises Inc. agents will easily be able to book Viking River Cruises with online access plus real-time pricing and cabin availability accessible through the intuitive My Cruise Control booking system. In addition, agents will be able to save valuable time by taking full advantage of the power of Cruise Reservation Pull technology, which means they can effortlessly capture the reservation details from a cruise line or GOGO Vacations with a click of a button which automatically drops the booking information directly in My Cruise Control. Making cruise payments will be easier than ever for consumers with two new payment options that provide increased flexibility. First, based on feedback from customers, the addition of self-service payments will give clients the option to make subsequent payments online when they want and how they want, but with the comfort in knowing they have a travel agent as their advocate. Second, through a strategic partnership with UpLift, customers will be able to purchase their travel now, but pay later with monthly payments over a 12-month period offered at competitive interest rates. Using UpLift, they can even travel before paying off their dream vacation.
The morning concluded with a reprise keynote presentation from Global Trust Expert David Horsager, who returned this year and examined the five remaining pillars of trust – competency, commitment, connection, contribution and consistency. Attendees walked away with trust techniques they can use to take their customer service to new heights.
To follow the excitement this week aboard Symphony of the Seas use the #2019DareConference hashtag.
About Dream Vacations, CruiseOne® and Cruises Inc.® 
Dream Vacations, CruiseOne® and Cruises Inc.® are part of World Travel Holdings, the nation's largest cruise agency and award-winning leisure travel company. The Dream Vacations and CruiseOne franchise opportunities give entrepreneurs a choice in how they want to brand their travel business, and Cruises Inc. is an independent business opportunity. Both business models provide a work-from-home opportunity to those interested in selling all types of travel experiences whether it be a cruise, resort stay or land tour. With a mission of delivering a remarkable experience, travel agents with all three brands are given premium resources to plan and create a seamless vacation experience for the customer while offering the best value. For more information on Dream Vacations and CruiseOne, visit www.DreamVacationsFranchise.com, like the Facebook pagewww.facebook.com/DreamVacationsFranchise, follow on Twitter at @Dream_Franchise or watch its videos atwww.youtube.com/DreamVacationsBusiness. For more information on Cruises Inc., visit www.SellCruises.comand become a fan on Facebook at www.facebook.com/SellCruises.
People with a passion for travel who want to learn more about franchising opportunities with CruiseOne and Dream Vacations, and business opportunities with Cruises Inc. should visit www.DreamVacationsFranchise.comand www.SellCruises.com.