Global Trust Expert Returns to Present Keynote Speech at upcoming Cruises Inc, CruiseOne and Dream Vacations Conference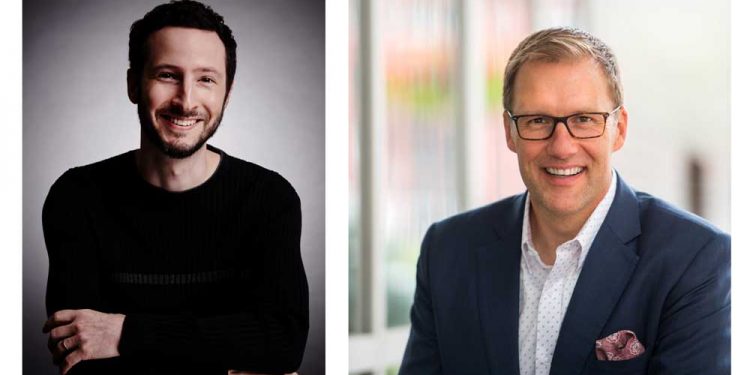 Global Trust Expert Returns, Joined by Editor-in-Chief of Entrepreneur, To Give Keynote Speeches at Cruises Inc.®, CruiseOne®and Dream Vacations National Conference
David Horsager and Jason Feifer will DARE travel professionals to take risks, elevating their business to next level
Fort Lauderdale, Fla. (September 4, 2019) – The world-renown keynote speakers are always a highlight of the Cruises Inc.®, CruiseOne®and Dream Vacations award-winning National Conference, and this year's conference aboard Royal Caribbean International's Symphony of the Seas, which takes place Oct. 19 – 26, 2019, is no different. Leveraging the 2019 theme of DARE, this year's keynote speakers include Global Trust Expert David Horsager and Entrepreneur magazine's Editor-in-Chief Jason Feifer.
"Entrepreneurs are the ultimate risk-takers and this year our National Conference will tackle the obstacles they face head on through our workshops and general sessions — providing motivation, education and inspiration," said Drew Daly, senior vice president and general manager of Cruises Inc., CruiseOne and Dream Vacations. "What makes our National Conference stand out from other travel agencies is the caliber of speakers we invite to present every year and the messages they share."
Back by popular demand, Horsager will take a deeper dive into how building trust with key stakeholders can give attendees an edge in business and life. Last year, he inspired attendees with the first three pillars of trust – clarity, compassion and character. This year, he will DARE attendees to adopt the five remaining pillars – competency, commitment, connection, contribution and consistency. As the foremost expert on trust, Horsager has been featured in prominent publications such as Fast Company, Forbes, The Huffington Post and The Wall Street Journal,and has presented to audiences from FedEx, Toyota and global governments to the New York Yankees and the Department of Homeland Security.
Feifer will address how change is an entrepreneur's greatest asset as it is the most critical skill for succeeding in business and life. He will reveal the tactics and strategies for turning new challenges into opportunities—and he'll transform the way attendees think about change. In addition to his current role at Entrepreneur magazine, Feifer also hosts two podcasts: Pessimists Archive, a history show about why people resist new things, and Problem Solvers, about entrepreneurs solving unexpected problems in their business. He has been an editor at Men's Health, Fast Company, Maxim, and Boston magazine, and has written about business and technology for the Washington Post, Slate, New York,and others.
The 2019 National Conference will DARE attendees to evolve and try new tactics for growing their business. Whether it's taking their customer service to new levels using trust techniques learned from Horsager, or tackling challenges and change head on using Feifer's methods, travel advisors will walk away with the confidence and skills to take personal and professional risks, ultimately benefiting their travel agency businesses.
Use the #DareConference hashtag to follow the excitement of the annual Cruises Inc., CruiseOne and Dream Vacations conference at sea.
For more information on joining these award-winning agencies, please visitwww.DreamVacationsFranchise.comto learn more about owning a Dream Vacations and CruiseOne travel franchise, and visit www.sellcruises.comto learn more about the Cruises Inc. host agency opportunity.
About Dream Vacations, CruiseOne®and Cruises Inc.® 
Dream Vacations, CruiseOne®and Cruises Inc.®are part of World Travel Holdings, the nation's largest cruise agency and award-winning leisure travel company. The Dream Vacations and CruiseOne franchise opportunities give entrepreneurs a choice in how they want to brand their travel business, and Cruises Inc. is an independent business opportunity. Both business models provide a work-from-home opportunity to those interested in selling all types of travel experiences whether it be a cruise, resort stay or land tour. With a mission of delivering a remarkable experience, travel agents with all three brands are given premium resources to plan and create a seamless vacation experience for the customer while offering the best value. For more information on Dream Vacations and CruiseOne, visit www.DreamVacationsFranchise.com, like the Facebook pagewww.facebook.com/DreamVacationsFranchise, follow on Twitter at @Dream_Franchise or watch its videos at www.youtube.com/DreamVacationsBusiness. For more information on Cruises Inc., visit www.SellCruises.comand become a fan on Facebook atwww.facebook.com/SellCruises.