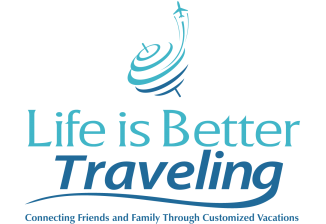 (5 reviews)
1270 Prospect Road
Pittsburgh, PA, 15227, United States
Host Agency Information
Average Yearly Sales Volume
$1 - $4 Million
Number of Independent Agents
10 - 24
Program for New Agent Training
Yes
Education Programs for Agents
Yes
Are Leads Offered for Agents?
Yes
Do You Offer an Accounting System for Agents?
Yes
Do You Offer a CRM Program for Agents?
Yes
Is Air Ticketing Available for Agents?
No
Is a GDS Offered for Agents?
No
Is a Website Building Tool or Website Available for Agents?
Yes
Is Direct Access to Owners of Your Host Agency Available?
Yes
Are Marketing Tools and Assets Available for Agents?
Yes
Is Booking Technology Available for Agents?
Yes
Consortia Membership(s)
Travel Leaders Network
Association Membership(s)
CCRA, IATA, IATAN
Is Hosting Available for International Agents (Outside of the United States)?
No
Program Information and Media
Information About Company / Programs and Structure for Independent Agents
IS LIFE IS BETTER TRAVELING THE RIGHT HOST AGENCY FOR YOU?
Do you want to turn your travel business into a full-time job time but you are barely making part-time pay from it now?  Is the search for the right host agency tiring and frustrating because you just don't know who to choose?
I have been there myself when I first started out.  I was weeding through emails and websites trying to determine who would help me grow my travel agency.  I had only been with my host agency for 18 months, when I knew I wanted to own my own agency which they did not support.  When I founded Life is Better Traveling I knew I wanted to foster a genuine, reliable, and honest-to-goodness brand where travel agents would be enriched, valuable, earn the income and build the travel businesses they wanted.  If you are looking for a host agency who is 100% supportive of only YOU, then Life is Better Traveling may be the right fit for you.
We offer our Life is Better Traveling agents so much:
Build your travel business with the commissions you earn, and you will be able to accelerate your travel business with our high commission splits ?going up to 100%.
Your performance and accomplishments are rewarded through our tangible, tiered commission levels. 
Generate new, viable leads with a smart designed Leads program allowing you to showcase your skills and versatility as a travel professional while pinpointing your target market. 
Opt-in for Free Award-Winning direct mail and email programs with 50+ travel industry leading suppliers helping you reach profitable new markets
Learn how to market your travel business so you continue to growth year after year with our High-Content, Implementable Marketing Strategies.

For those clients who demand excellence, give them exclusive cruise amenities that are available on thousands of departure dates all around the world. 
Use a hotel system that gives you instant access to over 30,000 hotels and villas all over the world allowing you to enhance your commissions and provide amenities to your clients that even OTA's cannot.
There is simply no comparison to the client relationship management (CRM) system our agency uses.  Record all PNR information, keep track of client spending and yearly bookings, commissions owed and paid, build beautiful quotes that turn easily into invoices, track payments, set-up workflows for emails and tasks, and enjoy email marketing all in one easy, simple to use system. 
You can have total control of owning your own travel agency with your own independent contractors with our "Ready to go own your own brand" training and selection of a 100% commission tier.
You will have access to powerful training strategies for taking charge of how to market your travel business, avoiding price matching, dealing with difficult clients, selling with confidence, and so many beneficial, integral training's to make you a success.
Awards and Recognitions
2018 Magellan Award Winning Travel Agency
Additional Media and Information
Questions with Mary, the owner, about switching Host Agencies:
I LIKE MY CURRENT HOST AGENCY, WHY SHOULD I SWITCH?
I completely understand that you have grown fond of your current host agency, I was with my host agency many years.  What happened to me is that I needed more.  I needed more training that would help me find my ideal clients, more training on knowing how to market correctly, and I didn't want to be a number anymore.  So, I understand that you like your current host agency but if you are starting feel that you need something more from your host agency, Life is Better Traveling might have what you need.
WHAT TYPE OF TRAINING DOES LIFE IS BETTER TRAVELING PROVIDE TO ME THAT I DON'T ALREADY HAVE WITH MY CURRENT HOST AGENCY?
Life is Better Traveling focuses heavily on learning how to marketing to your ideal clients.  Our marketing strategies are highly effective which means more in commission and sales.  You may get marketing training from your current host agency but it only focuses on putting out promotions or doing every event possibly, but nothing can be less appetizing to your ideal clients.  We help you tap into that pool of ideal clients so you can start to earn more money.
Every agent that comes onto our agency regardless of experience will receive the How to Become a SUCCESSFUL Travel Agent Program™ and Quarterly Marketing Activators for Travel Agents.  We also have several other training's including How to Effectively Avoid Price Matching and How to Effectively Make more Money with Service Fees.
WHAT COMMISSION TIER WOULD I START OUT AT?
We start our seasoned travel agents at higher commission tiers, possibly higher than their current host agency is providing to them.  When you are at a higher commission tier you have more money to put back into your travel business and more money to provide for your family.
Depending on your current sales with your host agency we would start you out at the appropriate tier based on your sales.  Our top commission tier is 95% without a monthly fee.  We do offer a 100% commission tier which allows you to bring on independent contractors for a small monthly fee.
DO YOU HAVE A CRM THAT YOU USE?
Yes.  Currently our agency uses Travel Esolutions CRM which is incredibly easy to use, and all of our current agents love it.  The system allows you to send proposals, turn proposals into active trips, invoice clients, and set-up work flows.  We love to teach our travel agents about automation and how much time it will save you so you can book more clients.
HOW MANY SUPPLIERS ARE YOU REGISTERED WITH?
Currently our travel agency is registered with over 50 suppliers including AmaWaterways, EuropeExpress, Royal Caribbean, and Disney to name a few.  We are registered with three different air consolidators so you can earn more commissions on airfare.  We are also registered with TravelSafe to sell travel protection and some of the plans will allow you to earn up to 40% commission.
DO YOU HAVE A CONSORTIA YOU ARE PAIRED WITH?
Yes.  Travel Leaders is our consortia and we have been with them for over three years now.  Our travel agency is in very good standing with them which allows us to earn some of the highest commission levels with our suppliers, like with AmaWaterways we can earn up to 25% commission on select FIT sailings.
All of our agents are also on Travel Leader's leads program which has brought in hundreds of thousands of dollars for our agents.  They are being contacted by their ideal clients because we teach them how to market correctly on this site.  They are qualifying clients in half the time while closing more sales and earning thousands in service fees.   Our formula works!
CAN I GET A WEBSITE THROUGH YOUR COMPANY?
Absolutely.  We can help you with getting your own website for your travel business.  You will be allowed to choose from various template, easy drag and drop features to build your own, and you can bring your current URL with you!  The website portion is a low cost of $30/month or $300 for the year, whichever plan works better for you.
WOULD I HAVE E&O INSURANCE UNDER LIFE IS BETTER TRAVELING?
Yes.  Life is Better Traveling does have E&O insurance with Berkshire Hathaway.
WILL I STILL BE ABLE TO TAKE FAM TRIPS?
Yes!  We encourage all of our agents to take as many FAM trips as you can.  FAM trips will be at your own cost, and you are not limited to the number you can take per year.  However, you must follow the supplier's guidelines and regulations regarding taking their FAM trips, and our travel agency expects that you conduct yourself in a manner that is respective of yourself and others on the trip.
I CURRENTLY HAVE AN IATAN CARD WITH MY HOST AGENCY, WILL I BE ABLE TO SWITCH IT?
Yes.  You will be able to switch your IATAN card as long as you can prove that you have the requirements to have the IATAN card.
WHAT SUPPORT DO YOU PROVIDE IF I HAVE QUESTIONS OR CONCERNS?
We have a great team of support available to you either by phone or email, with a quick response rate.  We are here to help you build your travel business to where you want it to be and with that comes a team of support.  We also have a Facebook group for all of our travel agents so you can also receive help 24/7 from your other travel agent team members.
I WOULD LIKE TO TALK WITH SOMEBODY MORE BEFORE I CONSIDER SWITCHING, WOULD THAT BE OK?
Absolutely!  Simply fill out the form below so we can set up an appointment to talk soon.  We look forward to talking with you to see if you would be a good fit for our team!
Contact us at:  http://lifeisbettertraveling.com/join-libt/
Reviews For Life is Better Traveling
Back to Host Agency Profiles