Million Miles Travel Agency, LLC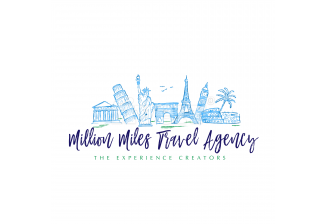 1185 Carroll Street, Apt 5K
Brooklyn, New York, 11225, United States
Host Agency Information
Average Yearly Sales Volume
Less Than $1 Million
Number of Independent Agents
1 - 9
Program for New Agent Training
Yes
Education Programs for Agents
Yes
Are Leads Offered for Agents?
Yes
Do You Offer an Accounting System for Agents?
No
Do You Offer a CRM Program for Agents?
Yes
Is Air Ticketing Available for Agents?
Yes
Is a GDS Offered for Agents?
No
Is a Website Building Tool or Website Available for Agents?
Yes
Is Direct Access to Owners of Your Host Agency Available?
Yes
Are Marketing Tools and Assets Available for Agents?
Yes
Is Booking Technology Available for Agents?
Yes
Consortia Membership(s)
Travel Leaders Network
Association Membership(s)
CCRA, IATAN
Is Hosting Available for International Agents (Outside of the United States)?
No
Program Information and Media
Information About Company / Programs and Structure for Independent Agents
Why Million Miles Travel Agency Is Right For You?
We Want To Enhance Your Business
Boost your income with top-tier commissions. We believe in streamlining your operating costs while increasing your profits. We receive preferred pricing, client amenities, and top notch technology to make sure that you receive the best support and can provide excellent service to your clients.
We Want To Provide Training and Agent Development
We will present opportunities for you to receive training as you build your business. We offer a new agent orientation, on demand mentoring program, educational training opportunities, special supplier webinars and fam trips are all accessible to our agents.
We Want To Give You Support
You will not only have access to experienced industry veterans but also to the collective knowledge of other agents through our private Facebook page. We help you develop and perfect your specialization so that you can target your ideal audience.
We Want To Provide Benefits & Rewards
We offer high commission levels in air, cruise, hotels, resorts, tours, and more. Our suppliers reward our top performers with upgrades, FAM trips, exclusive offers, and reward programs. We have access to bonus commissions and group incentives. Plus we have monthly and yearly agent incentives.
We Want To Give You Professional Support
Your ability to give amazing travel experiences to your clients requires dedicated professionals to keep your business running. We respond to your needs in a timely manner and we understand that accurate and timely statements and payment are vital to your business success.
We Want To Provide Marketing Tools
Our agents have access to numerous marketing tools, state of the art CRM, and access to programs to help your business run smoothly.
Your Hosting Plan Inclusions:
$55 per month ($50 per month if prepaid)
80/20 commission split
Travel Website (example)
Agency Marketing and Education Microsite
Yearly FAM Scholarships (max $750)
Advanced client management system through Vacation CRM
Travefy Itinerary Builder
Errors and Omissions Insurance ($1,000,000)
Free CCRA Membership as an Associate Member
Over 1.2M images, videos, and destination guides
Bonus commission opportunities
Travel Support Assistance Line (additional fee)
Monthly leads program (coming soon!)
Awards and Recognitions
2020 Luminary Award: Host Agency Reviews
Back to Host Agency Profiles