KHM Travel Group Celebrates 2016 Accomplishments at 4th Annual National Conference
KHM Travel Group Celebrates 2016 Accomplishments at 4th Annual National Conference
Between days at sea on the Carnival Conquest, sunny days in three ports, and the Crystal Awards Ceremony, KHM Travel Group's fourth annual Crystal Conference was an event to remember.
From January 29th– February 4th the host agency's supplier partners, staff, agents and guests came together for an amazing week at sea. With 361 people on the cruise, it was the biggest event in the host travel agency's history!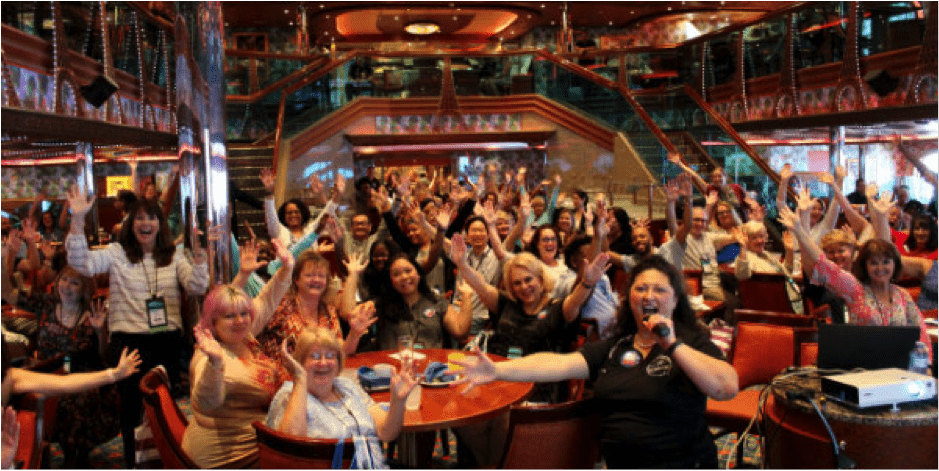 Agents and staff at the supplier trade show on board the Conquest.
Together, they celebrated the past year's accomplishments, connected with old and new friends, and renewed their passion for travel and the travel industry!
"Networking between agents and agents, and between agents and suppliers is really what this event is all about," said Rick Zimmerman, KHM Travel Group's CEO and President.
The training theme for the event, "Discover Your Why" was reflected in the general sessions, our networking receptions, and of course, the Crystal Awards Ceremony in which KHM Travel recognized their top-producing agents for 2016. The full list of Crystal Award winners can be found here.
From left to right: KHM Travel Group's Executive Team with the Agent of the Year, Alison Turner (in red).
At the post-ceremony cocktail reception Zimmerman gave a State of KHM Travel Group address. He urged agents to write down their core values, to focus on the end-client experience, and to always show gratitude. That led into a discussion in which KHM Travel staff and agents shared their "Whys" for what they do and what motivates them.
It was a very stirring and motivating discussion, and one of the highlights of the trip!
"I've never seen a group of people so engaged as they were during that hour," said Zimmerman. "We really got into our core values, and how they really make for a great end-client experience."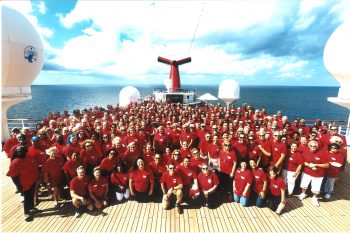 Following the final session on Friday morning, the entire group of nearly 400 people gathered on the Conquest's Sky Deck for a group picture.
The hosts for this year Crystal Conference and Awards, Carnival Cruise Line, made this a truly special week for KHM Travel agents and staff!
"What an amazing way to start off the year," says KHM Agent Sandy. "I came home feeling like I was armed with new knowledge as well as new enthusiasm and motivation to be the best I can be!"
The Crystal Conference and Awards is KHM Travel Group's annual national conference for its travel agents, preferred suppliers and staff. The staff is already planning next year's Crystal Conference and Awards, which is being held on the Royal Caribbean Independence of the Seas.
ABOUT KHM TRAVEL GROUP – KHM Travel Group is an award-winning host agency, currently supporting 4,000+ independent travel agents across the United States. With an innovative education and support program, along with a dedicated staff of over 50 full-time employees, KHM Travel Group specializes in helping individuals sell travel products including cruises, vacation packages, tours, honeymoons, group travel and more. For more information, visit http://khmtravel.com.