Suite of New Marketing Programs Revealed at Dream Vacations, CruiseOne & Cruises Inc. Nat'l Conference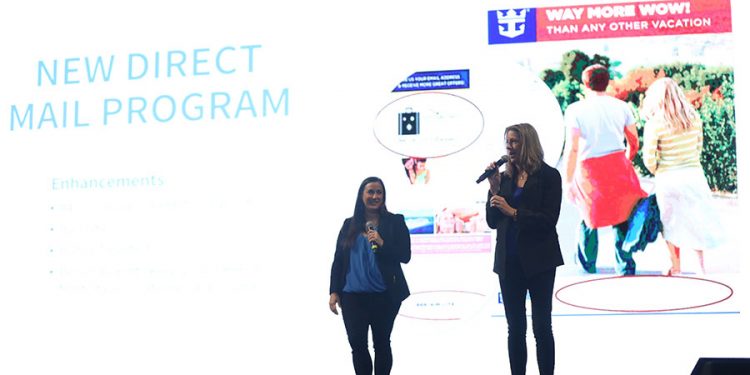 A suite of new marketing programs will increase travel agent's customer outreach
Fort Lauderdale, Fla. (October 21, 2019) – Attendees at the Dream Vacations, CruiseOne and Cruises Inc. 2019 National Conference aboard Royal Caribbean International's Symphony of the Seas received firsthand information from cruise line executives about what's on deck for their individual lines and inspirational advice from Jason Feifer, editor-in-chief of Entrepreneur magazine and a thought leader in change management. New geo-targeted and niche military marketing, the importance of how you show-up online and big data direct mail were the key messages during the marketing general session presentation from Senior Vice President of Marketing Rosemarie Reed, along with Marketing Directors Kimberly Faiello and Alicia Linden.
Today's customer expects personalization when companies market to them and with direct mail being the number one tactic for offline marketing, it is critical for travel agents to "up the game" in this space. As part of reimagining the current direct mail program, the home-based travel agencies partnered with Travel Leaders Network to launch one of the most robust direct mail tools in the travel agent industry. Agents will benefit from a 44 percent increase in free touchpoints to keep their name in front of their customer. They will also be able to capitalize on the power of a sophisticated data system to target customers and deliver offers that address each client's personal needs.
In a salute to the military community, the team revealed the Command Center, a new resource that provides marketing assets, training and general military information in one central location for all military and non-military agents who want to market to this demographic. To further amplify how agents customize their marketing efforts, it was announced that next-level geo-targeting resources will soon be available to provide marketing assets to six of the network's top DMAs.
Having an online footprint is integral to owning a small business and starting in 2020, agents will be provided resources to streamline how they manage their online presence. All in one location, they will have access to an aggregation of all their online reviews, a place to manage their social media and the ability to take advantage of an advanced agent locator that will enhance how consumers find them online.
In addition, this year there were informative presentations from supplier representatives along with a message from first-time attendees John Lovell, president, leisure travel, supplier relations and networks for Travel Leaders Group, and Karin Viera, vice president of sales for Travel Leaders Network.
Feifer gave an energetic Ted-style talk inspiring attendees to embrace change so they have a competitive edge succeeding in business and life. He also gave tips on how individuals and businesses can have an impact on their future by turning challenges into opportunities.
To follow the excitement this week aboard Symphony of the Seas, use the #2019DareConference hashtag.
About Dream Vacations, CruiseOne® and Cruises Inc.® 
Dream Vacations, CruiseOne® and Cruises Inc.® are part of World Travel Holdings, the nation's largest cruise agency and award-winning leisure travel company. The Dream Vacations and CruiseOne franchise opportunities give entrepreneurs a choice in how they want to brand their travel business, and Cruises Inc. is an independent business opportunity. Both business models provide a work-from-home opportunity to those interested in selling all types of travel experiences whether it be a cruise, resort stay or land tour. With a mission of delivering a remarkable experience, travel agents with all three brands are given premium resources to plan and create a seamless vacation experience for the customer while offering the best value. For more information on Dream Vacations and CruiseOne, visit www.DreamVacationsFranchise.com, like the Facebook pagewww.facebook.com/DreamVacationsFranchise, follow on Twitter at @Dream_Franchise or watch its videos atwww.youtube.com/DreamVacationsBusiness. For more information on Cruises Inc., visit www.SellCruises.comand become a fan on Facebook at www.facebook.com/SellCruises.
People with a passion for travel who want to learn more about franchising opportunities with CruiseOne and Dream Vacations, and business opportunities with Cruises Inc. should visit www.DreamVacationsFranchise.comand www.SellCruises.com.