Travel Edge Honors Top Luxury Travel Advisors At Inaugural Awards Ceremony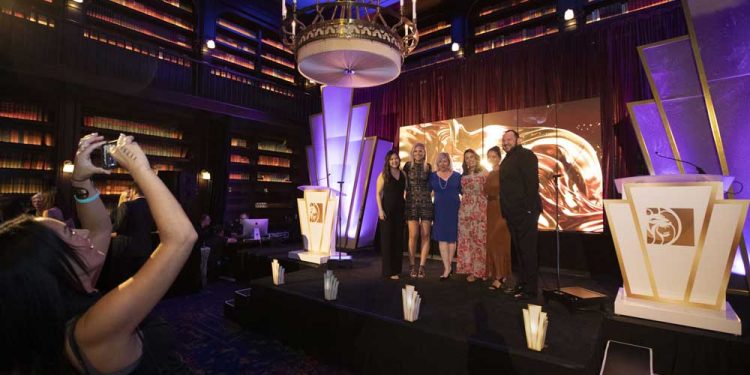 24 leading luxury travel professionals were recognized at the first-ever Travel Edge Awards Ceremony during Virtuoso Travel Week.
LAS VEGAS – Travel Edge celebrated the best luxury travel advisors in the business at its inaugural Awards Ceremony on August 11, 2019 at The NoMad in Las Vegas.
The event, which took place during Virtuoso Travel Week, honored 24 advisors from across North America in five different awards categories.
"We received dozens and dozens of nominations and were caught by surprise by the volume of nominations and the passion and community spirit of the advisors when given the opportunity to celebrate their colleagues," says Michael Johnson, Executive Vice President of Travel Edge Leisure. "And so, as is our nature here at Travel Edge, we embraced one of our values, which is to learn fast. And we learned that it was impossible to pick one person among a list of all- stars. That to identify one star in a constellation as somehow more special is non-sensical. It is the group of stars, all shining in their own way, that lights up the sky."
The Awards honored Marketing Trailblazers, Client Experience Champions, Rising Stars, exceptional advocates of Travel Edge's proprietary ADX software as well as Premiere Advisors of the Year.
"The interesting thing about performance is that it is about more than sales," says Johnson. "Indeed, while sales are the lifeblood of our industry, to be a well-rounded, luxury advisor takes more than transactions. It takes a client-centric approach, an entrepreneurial spirit, sophisticated taste and a solution-oriented mindset. It is this list of
ingredients, coupled with industry expertise, that separates the good from the great."
The Travel Edge Awards Ceremony was made possible by the generous support of MGM Resorts International, Delta, Delta Vacations, Silversea Cruises, Virtuoso, Belmond, Hyatt, Carey Limousine, AWG Ambassador and the Las Vegas Convention and Visitors Authority.
FOR HIGH RES PHOTOS: https://www.dropbox.com/sh/i60ci33ru194fwe/AAAcxU3JQbCf3WCk-ow7x7mla?dl=
About Travel Edge
Travel Edge is a $750 million privately-held company specializing in Leisure, Corporate & Events, and Tours travel. As North America's largest luxury-focused travel company, Travel Edge has earned its place as a category leader, outpacing the industry with world-class technology and impressive growth. The company's Leisure division has 9 offices in the US, Canada, and Bermuda, with over 750 expert advisors specializing in air, cruise, vacation, and VIP travel. The Corporate & Events division has four offices and 100 corporate travel and event planners specializing in tailored and full-service travel management solutions. The Tours division, Kensington Tours, has over 150 destination experts and offers custom and private-guided tours to over 90 countries worldwide.
For more information, visit www.traveledge.com and follow Travel Edge on Facebook, Twitter and Instagram.