Travel Experts Hosts First Luxury Summit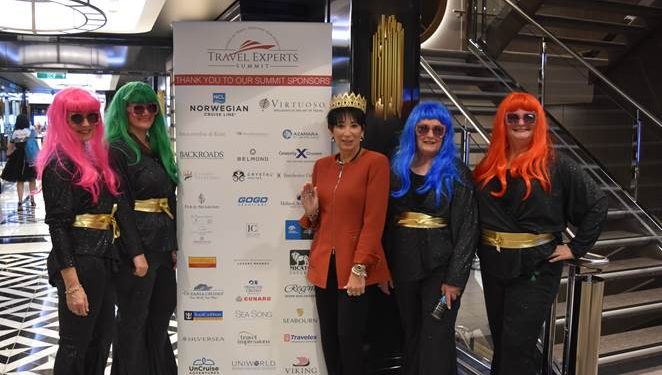 Independent Luxury Travel Advisors Experience Week of Bliss
October 25th, 2018 –  Travel Experts Inc.,the premier host agency for independent luxury travel advisors, presented its first Travel Experts Summit, "Voices in Travel Reaching New Heights" earlier this month. Host agency leaders welcomed one hundred independent travel advisors and thirty-two preferred partners aboard Norwegian Cruise Line's newest ship, Bliss.
Attendees arrived in Vancouver, one day before embarking the ship to participate in several hosted events throughout the day. The next day's port-of-call in Victoria allowed advisors to visit several partner hotels, while two groups enjoyed whale watching tours. The official kick-off was marked with an opening cocktail reception in the Observation Lounge aboard NCL Bliss.
Opening remarks for the Summit were delivered by Susan Ferrell, Travel Experts' president, and founder. Ferrell noted the group's overwhelming enthusiasm for the Summit and thanked supplier partners in attendance for their generosity and devotion to an entire week of meetings with Travel Experts on a one-to-one basis. Ferrell also addressed the significance of hosting the Summit, "It's hard for me to believe that exactly twenty-nine years ago this very week, Travel Experts opened its doors with no agents and no business.  But look how far we have come today, thanks to all of you."
Nothing about the Travel Experts Summit was uniform. One session featured each of the thirty-two preferred vendors decked-out and dressed up as the product they represent, and they did not disappoint. Advisors voted on the best costume and selected Steve Torres, Four Seasons Hotels and Resorts as the winner and Jeremy McClellan, Marriott International Luxury Brands as the runner-up.  Throughout the rest of the day, partners met with small groups of advisors to share their latest products and services.
Understanding how rare it is to have an opportunity to connect with fellow independent advisors, no official events were scheduled Wednesday, giving attendees the entire day free to explore San Francisco. One group hiked and biked through the city and surrounding areas, while others chose a more relaxing visit and attended wine tastings in Napa Valley.
The keynote address, "For The First Time," delivered by Helen Nodland, Director of Training and Professional Development at Virtuoso, was based on famed country singer Darius Rucker's hit song with the same title; a nod to Travel Experts' first Summit. Nodland talked about having a new mindset towards business growth. She challenged attendees to focus on getting results by starting with their true beliefs, followed by actions to achieve the desired results.  She ended her address with a very compelling quote from Mahatma Gandhi, "A man is but the product of his thoughts. What he thinks, he becomes."
Jennifer Campbell, Managing Director, Professional Development and Agency Service, Virtuoso, shared updates for advisors which included; the newly revised Travel Academy, its online training platform, MyMarketing, a new marketing platform, and Virtuoso Orchestrator, its new proprietary travel planning platform that advisors can work with alongside clients when making future travel arrangements. In addition, Travel Experts hosted panel discussions about strengthening relationships and collaboration between advisors and partners. The second panel was lead by Travel Experts' management team designed as an open forum for its network of luxury travel advisors to ask questions.
"Our management team and support staff worked so hard to bring our first Summit to fruition, and I couldn't be prouder," said Susan Ferrell. "The Summit provided all involved an opportunity to share ideas and learn about new and exciting ways to engage clients, and most importantly we enjoyed great camaraderie."