Travel Planners International Hosts Their Second Biennial Conference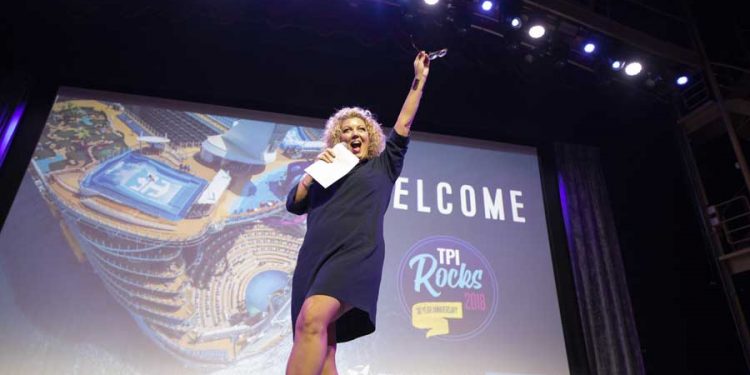 MAITLAND, FL – Travel Planners International [TPI] recently held their second biennial conference, TPI Rocks, aboard Royal Caribbean's Harmony of the Seas. The week-long cruise – which took place August 25th– September 1st– sailed the Eastern Caribbean, making stops in St. Maarten, Puerto Rico, and Labadee, Royal Caribbean's private island in Haiti. Over 200 TPI agents attended this year's conference.
"TPI Rocks is all about building relationships. Training and product updates are important but it's the networking and spending quality time with each other where relationships are built. This leads to long lasting partnerships between agents, preferred suppliers and TPI," said Ken Gagliano, TPI President. "This year, by far, has been our most successful, from both an agent and supplier standpoint."
While the cruise was a week-long, the actual conference was only three days, coinciding with the scheduled sea days. The first two sea days were dedicated training for many of the Preferred Suppliers in attendance and the third conference day was for TPI-facilitated breakout sessions. During the two General Sessions, known as The Warm Up, agents discovered useful lessons and skills from keynotes from best-selling author and motivational speaker, Simon T. Bailey, and Royal Caribbean's Senior Vice President Sales, Trade Support and Service, Vicki Freed (otherwise known as the best friend to the travel agent). On port days, agents, staff, and suppliers were left to their own devices (and with bad sunburns).
"Hosting TPI Rocks 2018 onboard Harmony of the Seas — well, it rocked! I was so thrilled to give our valued TPI travel partners the opportunity to experience Royal Caribbean firsthand and speak to them about new ways to grow their business, which is always my top priority," said Freed in a statement to TPI.
"The best way to describe TPI Rocks is awesome," said Susan Zellea, TPI Platinum agent and owner of Travel with Sue-Z. "I met wonderful people, learned you can teach an old dog new tricks and am signing up my first subagent as a result of the information I learned at a breakout session."
To commemorate TPI's 30thAnniversary and its' founders', Anthony and Marietta Gagliano, legacy, TPI created the Marietta and Tony Legacy Award for Entrepreneurial Excellence. The award was given to the founders at the second General Session by their son and TPI President, Ken Gagliano with a heartwarming speech that left no dry eye in the theater.
There were 30 Preferred Suppliers in attendance including Royal Caribbean, Princes Cruises, Carnival Cruise Line, Apple Vacations, and Celebrity Cruises. ASTA, CLIA, and Ensemble Travel also attended and provided trainings.
TPI will host TPI Rocks again in 2019 at the Loews Portofino Bay Hotel at Universal Orlando Resort as well as five regional events known as Rock Your Travel Biz.
About Travel Planners International
At Travel Planners International, their agents are more than just independent contractors, they're small business owners. For the last 30 years, TPI has believed in, guided, and championed for the small business travel agency owner – and there's no intention of stopping. So, along with competitive commission plans, profit-generating marketing programs, and access to cutting-edge technology, TPI gives emerging travel entrepreneurs the tools, guidance, and confidence to be successful and to harness their entrepreneurial spirit. But don't just take their word for it, visit travelplannersinternational.comfor more information.