Event: 2019 PATH Symposium Attended by FindaHostTravelAgency.com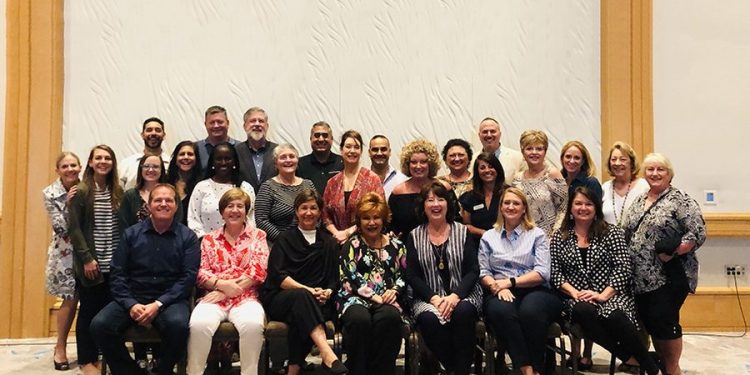 PATH Celebrates 10 Years of Support for Host Agencies
Written By: Joanie Ogg CTC, MCC, Co-Founder – FindaHostTravelAgency.com
With a very early morning departure from San Diego I made my way to Ft. Lauderdale for one of my favorite events of the year, the PATH Symposium. This year's event took place at the beautiful Diplomat Resort in Hollywood, Florida which is a stunning property right on the beach. I know the property well as I stay there frequently for other events, so I was excited to come back and enjoy the spectacular views it offers.
This year marks a very special celebration for PATH as the association celebrates 10 years as the industry association representing host agencies nationwide. Last year there were about 70 industry professionals in attendance and this year there were 91! The mix was pretty evenly divided with about half being host agency representatives and the other half being supplier representatives. There was no doubt in my mind that this was going to be a very thought provoking and information packed event.
The PATH Symposium Day 1 is a day for both host Agencies and supplier representatives to collaborate and share. Day 2 is a closed meeting for only the PATH member host agencies. The event began with a lovely continental breakfast enjoyed while saying hello to our friends and colleagues and meeting new friends. Each attendee was presented with a tent card with their name and company and we found seats to begin the much anticipated day of sharing.
The President of PATH and owner of A Ticket To Travel, Anita Pagliasso, welcomed everyone and gave us a brief idea of what the days schedule would be. She introduced the PATH Board Members who sat at the head of the room and acknowledged their continued support and dedication to the association. The current board are pictured below celebrating PATH's 10 year anniversary with a beautiful cake. Pictured left to right are Drew Daly, SVP/GM of Dream Vacation, CruiseOne and Cruises, Inc., Betsy Geiser, VP of UNIGLOBE Travel Center, Jackie Friedman, President of Nexion Travel Group, Anita Pagliasso, Owner of A Ticket To Travel, Kelly Bergin, President of OASIS Travel Network and Kirsten Little, VP of Andavo Travel.
Introductions were made as the microphone was passed throughout the room and we all shared information on our roles in the industry. This was followed by a presentation made by Betsy Geiser and Anita Pagliasso about the current situation with the pending AB 5 Legislation situation taking place in California. There has been an ongoing collaborative effort by host agencies, associations and independent travel professionals to have an exemption to the as it relates to classification of independent contractors versus employees. The concern is great as if passed as is currently proposed would endanger the livelihood of so many travel agents here in California.
As I write this piece I am thrilled to report that on August 30th, just two days after the PATH Symposium action was taken by Assembly Member Lorena Gonzalez and the California Labor Federation to add a provision to AB 5 to ensure that the determination of an individual's status as either an employee or an independent contractor will be determined in accordance with the long-standing "Borello" criteria rather then the 'Dynamex ABC test" for sellers of travel regulated by the Attorney General under the Seller of Travel Law. This is a huge step in the right direction and we applaud all of those who represented our industry to make this happen.
At last year's Symposium several suppliers in attendance went back to their respective companies and shared thoughts and ideas about ways to improve and build on the already great relationships enjoyed by the hosts and the suppliers. Alicia Steuart, Senior Director of Sales, Key Accounts with Carnival Cruise Lines said that as a result of some of those suggestions, Carnival has created a You Tube challenge to make educational easily accessible and available to IC's. She shared that Carnival was also working on creating new and innovative ways to share information with the host so that they in turn could share with their agents. Beth Kitzman, Business Development Manager with VAX VacationAccess told the group that VAX had been diligently working on their training programs and communication those programs to the travel professionals.
We enjoyed a quick break and then were back at it to begin the Breakout Session where we were all assigned a table to begin the days collaboration. There were four main discussion points which were broken down into challenges, opportunities and trends as they affect the host, independent agent and supplier communities. Following are some of those topics that were set for discussion.
1. CHALLENGES
Confirmation Emails
Agent Communication
Security
Supplier Presentation Relevancy
The Economy
Travel Documents
Webinars
New Agent Communication
Agent Training
Self Registration Issues
2. OPPORTUNITIES
Environmental Awareness Trends
Advisor Code of Ethics
Getting More Data on IC's
Increasing Advisor Professionalism
Handling OverTourism
Supplier Accepting Net Payments
Hotel Direct Contacts
Brochures and Landfills
3. TRENDS
Fraud
Crypto Currency
MLM's
Government Regulations
PCI Compliance
NDC
Secondary Phone Fields
Social Media Communication
Groups and Cancelations
4. WISH LIST
API & Managing Data
Supplier Training for New Agents
No Rebating
Supplier Investment in the Future of Travel
Better Trained Call Center Staff
Updated Supplier Technology for Agent Portals
Encouraging Younger Generations to enter the Travel Industry
Login Control
Needless to say we had lots to talk about and the discussions continued on for several hours. We broke for a quick lunch and regrouped to share our table's findings and suggestions on the aforementioned topics. Jackie Friedman and Drew Daly facilitated the afternoons discussions and made sure we all kept on track. The conversations were so stimulating and I truly believe we could have spent days on some of these topics.
We summed up the days discussions and ended the day ready to enjoy a wonderful evening together as a group at Opa, a Greek restaurant just down the road. It was such a fun night with music, dancing and oh…so much food! A few of us decided to take a nice long walk back to the Diplomat were a good number of us reconvened in the Lobby Bar for some more conversation and cheer.
I reached out to my friend Betsy Geiser, the Vice President of PATH and asked if she might share anything that took place on Day 2 that I might be able to share with our readers. Day 2 being of course a closed meeting for only PATH members. Here is what she had to share.
"In order to keep the conversations going we decided to create working groups for issues we talk about frequently.  Some involve suppliers and some are related to the PATH vision going forward. We discussed PATH and the plan to get more involved in sharing the vision via social media. We also discussed working closer with local supplier representation to get more support for IC's in their local markets. Additionally, we have created a new membership committee to help grow PATH membership. We want to see more host agencies come to the table for our next year's PATH Symposium."
What an amazing event it was and while I was rather exhausted from flying west to east and back again in less then 72 hours, I was so happy that I was able to attend and be a part of this terrific meeting of the minds. Thank you to Anita Pagliasso and the Board of PATH for allowing FindaHostTravelAgency.com the opportunity to attend and report on PATH's 10th Anniversary Symposium. We look forward to seeing all of you again next year!