3 Things to Look Out for when Choosing a Host Travel Agency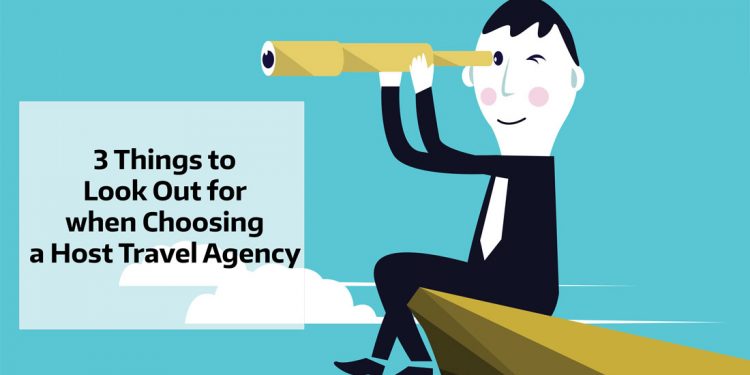 Finding the Right Host Travel Agency Partner for YOU
As you begin the search for your Host Travel Agency partner, you will want to do your homework and due diligence to ascertain that the company you choose to work with has a good track record of success hosting travel professionals. Following are 3 Things to Look Out for as you do your research.
A Track Record of Success working with Independent Travel Professionals
If the company you are looking at has just begun to host agents, perhaps you should move on and do some more searching. This is not to say that an agency has to have hundreds or thousands of agents at all. Just be sure you ask the right questions so you know they are proficient at working with successful independent agents. Operating a host agency requires a very specific skill set that is learned and perfected over time.
A strong Host Agency partner will have a focus on working with independent agents and will have an entire process in place to support their endeavors. Just saying they will let you work with them as an independent if they have not perfected the process, is not the choice you want to make. You want to find a Host Travel Agency that has a full suite of tools and systems in place to provide you with the guidance and support you need to build your travel business. FindaHostTravelAgency.com has the ability to help you with this search by using the filters such as "How Many Independent Agents" they might host and "How Long Have the been Hosting Independent Agents."
Look at the Numbers
If a Host Travel Agency you're considering share that they have 25,000 independent agents working with them, but they only have an internal support staff of 25, walk away. The ratio of independent to support staff is very important to the success of your business. While you will likely be managing your own sales, you will still need the internal support for accounting and other important operational needs.      
Another very important number to review in advance is the annual sales volume of the Host Agency in consideration. If they are doing $500K in annual sales and have 100,000 independent agents, that means that a cursory glance says that each agent is only doing $5K in sales annually.  Is this the kind of company you want to align with? Commissions and support from supplier partners is certainly going to be minimally based on those numbers and the growth of your own business is paramount.
Ask for References
Choosing your Host Agency partner is a very important business decision and one thing we recommend is that you ask for a list of references to other agents in their program and also from some of there supplier partners. If they are reluctant to allow you to do this, that in itself may be a very red flag.
Take a look at FindaHostTravelAgency,com for reviews from other agents to see how the potential Host Travel Agency you are looking into measures up. 
Additionally, it is always prudent to contact the Better Business Bureau as well to see if there are any unresolved complaints on file for the agency.