Cruise Planners Golden Era Continues with Travel Weekly's Magellan Awards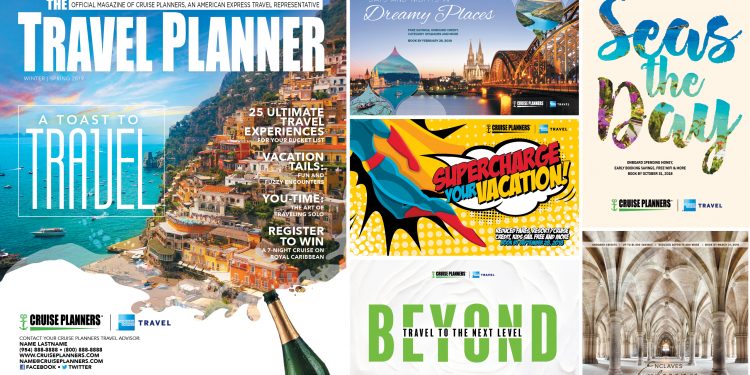 The travel industry leaders take home seven gold awards recognizing MarTech accomplishments
Coral Springs, Fla. – September 13, 2019 – Cruise Planners, an American Express Travel Representative, adds another seven gold and a silver Magellan to its growing list of awards and accolades. With continued focus on innovation and marketing to best serve the largest home-based travel agent franchise network, Cruise Planners remains the leader in pushing boundaries and charting the course within the travel industry.
"With inspiration rooting from our passionate travel advisors, the Home Office Team strives to forge new ground in innovation and marketing solutions helping travel advisors plan and sell memorable vacations," said Vicky Garcia, COO and co-owner of Cruise Planners. "These distinguished awards aim the spotlight on our internal Marketing and Technology teams who constantly put our travel advisors first."
 Cruise Planners MarTech Magellan Awards from Travel Weekly include:
Gold Awards:
Marketing
Direct Mail: "Enclaves of Elegance" direct mail featuring premium travel including immersive experiences and itineraries
Direct Mail: "Days & Nights in Dreamy Places," highlighting river cruise itineraries and experiences along the Danube, Rhine, Douro, Mekong, Mississippi and Christmas Markets
Direct Mail: "A Toast to Travel" Winter/Spring 2019 Travel Planner Magazine. Celebrating its 25th anniversary in 2019, this magazine acknowledged the experience, knowledge, savings and service that Cruise Planners travel advisors deliver every day, while also toasting to travel itself, with exclusive offers on cruises, resorts and tour companies, and exciting extras like bonus amenities, room upgrades and added perks
Advertising/Marketing Campaign: "Supercharge Your Family Vacation," print and digital campaign promoting family travel and eye-catching punch as it highlighted a variety of land and sea travel ideas, rich offers and family-friendly features
Advertising/Marketing Campaign: "Seas the Day," with direct mail, social media and website elements featuring inspiring travel imagery and itineraries in Australia/New Zealand, Caribbean, Alaska, Europe and Hawaii, plus a section for river cruising and new ships
Advertising/Marketing Campaign: "BEYOND – Travel to the Next Level,"- targeted the luxury and not-yet-luxury traveler with cruises and tours featuring experiences that went beyond the ordinary
Technology Innovation
CP Marketing Hub™: A new lead and goal management tool allowing Cruise Planners travel advisors to take a strategic approach to marketing, setting goals, better tracking their sales, ROI and identifying trends in an easy-to-use dashboard tool
Silver Award:
Advertising/Marketing
What's Your Travel Style? A new platform capturing consumer travel preferences in a fun way, and making it easy for Cruise Planners travel advisors to curate those preferences and market relevant travel products/ideas
What is MarTech?
MarTech – the fusion of marketing and technology business tools designed to grow Cruise Planners travel advisors' sales. MarTech makes marketing efforts more effective using timesaving, intuitive technology while attaining high levels of customer service and human connection. Recently, Cruise Planners debuted modernized customizable travel advisor websites featuring insightful client tools and highlighting a mix of trending and popular destinations and off-the-beaten path ideas.
How does MarTech benefit travel advisors?
Cruise Planners technology and marketing go hand-in-hand. The proprietary tools are aimed at making travel advisors' marketing efforts more targeted, automated and perceptive. The results are not only highly targeted and efficient marketing, but also highly effective. The awarded CP Marketing Hub™ is an online tool allowing travel advisors the ability to track marketing efforts all in one place. The tool also helps plan and forecast marketing for the upcoming year and empowers advisors to work closely with their Business Development coach to set several types of business goals.
"Cruise Planners' foundation lies in its marketing efforts," Garcia said. "When we combine turn-key marketing with modern, innovative technology, our travel advisors prosper. It's a key reason franchise seekers turn to us when searching for a travel franchise opportunity."
Cruise Planners travel advisors and Home Office Team will be gathering for its annual Convention in December 2019 in South Florida where advisors will receive updates on the latest MarTech advancements as well as hand-on training, industry speakers, and much more.
About Cruise Planners, an American Express Travel Representative
Cruise Planners, an American Express Travel Representative, is the nation's largest home-based travel agent franchise network in the travel industry. Cruise Planners operates a network of more than 2,500 franchise owners who independently book vacation and travel experiences for their clients. Headquartered in Coral Springs, Fla. since 1994, Cruise Planners supports its network of franchise owners with innovative marketing, booking and technology tools, professional development and training with the industry's top executives. Cruise Planners and has been named the No.1 travel franchise by Entrepreneur magazine for 16 consecutive years and was recently featured in Entrepreneur as one of the top 30 franchise innovators in technology. Consistently named as one of the Top Women-Owned Businesses by the South Florida Business Journal, Cruise Planners is on the Inc. 5000 list as one of the fastest-growing private companies in America, has been ranked as the #1 travel franchise by Franchise Business Review for 6 years and is recognized as one of the Top Workplaces by the Sun Sentinel.
Cruise Planners has achieved top producer status with every major cruise line including Royal Caribbean International, Norwegian Cruise Line, Princess Cruises, Carnival Cruise Line, Celebrity Cruises, Holland America Line, MSC Cruises, Viking Cruises, Uniworld Boutique River Cruise Collection and Regent Seven Seas Cruises, as well as many land vendors such as Travel Impressions and Sandals and Beaches Resorts. As an American Express Travel Representative, Cruise Planners maintains a reputation for quality and offers exclusive American Express Travel benefits such as Pay with Points. Cruise Planners has earned the American Express Travel Representative Excellence Award since 2004, as well as numerous marketing, technology, franchise and philanthropy awards including an International Franchise Association FranTech award for innovation, Magellan Awards from Travel Weekly and Travvy Awards from travAlliance media. Cruise Planners celebrates diversity and supports our troops as one of the Top 50 franchises for Veterans according to GI magazine, the Top Franchise Brand for Veterans according to Franchise Business Review, one of the Top 25 franchises for African-Americans by Black Enterprisemagazine and a member of the International Gay & Lesbian Travel Association. Visit our website, www.cruiseplanners.com, for more information or to view the complete list of awards and honors.
Stay in Touch: Media can stay up-to-date with Cruise Planners by visiting our media room or Socially Yours page for social media updates and handles. For additional information or to make reservations, vacationers should locate a travel advisor near them. For those interested in becoming a franchise owner, please visit the Cruise Planners franchise website.