The Host Agency Basics – What Are Leads Offered by a Host Travel Agency?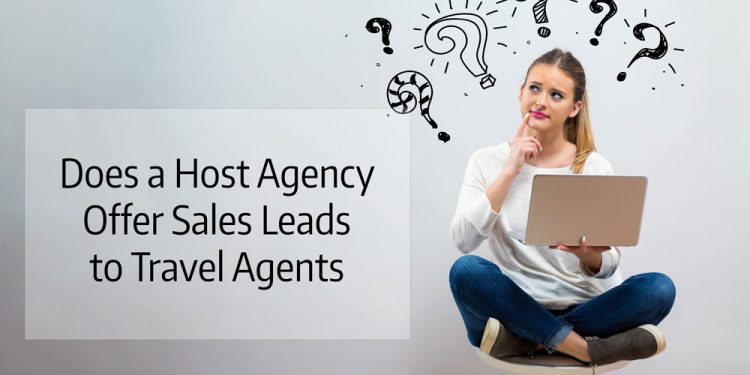 Does a Host Travel Agency Offer Sales Leads to Travel Agents?
FindaHostTravelAgency.com offers an amazing tool to not only find your perfect Host Travel Agency partner but to narrow the time spent searching from hours to mere minutes. 
What Does Leads Offered Mean?
As a Travel Agent, sales is the name of the game and one of the most important parts of sales, is sales leads. Now, many established Travel Agents have their own book of clients, meaning that they have build their own lead list and have converted those leads into clients. Even with a successful book of travel, leads are always a necessity to continue growing your Travel Agency.
Let's define: "A sales lead is a person or business who may eventually become a client or customer. Sales lead also refers to the data that identifies an entity as a potential buyer of a product or service. Businesses gain access to sales leads through advertising, trade shows, direct mailings, third parties, and other marketing efforts." Source: Investopedia
Having Leads Offered by a Host Travel Agency can mean many things, whether it's a referral to an interested customer, a hot lead that is ready to book their trip or leads sent directly to you based on your area of expertise, leads are a good thing in most cases. As in all sales, new leads means new potential clients and as a Travel Agent who gets paid from commissions, you always want to be finding or accessing new contacts to keep your business moving forward.
Why Does Having Leads Offered Matter?
New Leads offered by a Host Travel Agency means that you are not only growing your network of connections, but ultimately growing your ability to be a successful Travel Agent. When a Host Travel Agency offers leads to Independent Agents in their network, Travel Agents can expect the ability to grow their business with that new potential client. 
Some questions that you should ask your possible Host Travel Agency partner are:
Where does the lead come from?
Is the lead 'my" client or does the lead belong to the Host Travel Agency?
What kind of information is delivered with a new lead?
If the lead turns cold, is there any financial loss to you?
If the lead turns into a client, what kind of commission is paid?
Receiving leads from a Host Travel Agency can be a very lucrative opportunity to a Travel Agent, especially for a Travel Agent who is just getting started. Not only do you have new clients that have shown interest to call and work on your sales process and experience, but it's an opportunity to also begin generating your income as a Travel Agent. 
What's Right for YOU in a Host Travel Agency?
Having Leads Offered by a Host Travel Agency is a benefit for most Travel Agents, but not a necessity. Many Travel Agents are able to build their book of travel through connections, community and marketing, however, it could take more time to get your first sale under your belt. If you are an established Travel Agent, looking at the plans and aspirations for your Travel Business is key in deciding if having leads offered by a Host Travel Agency partner is of high importance to you and your business.