How Does a Travel Agent Make Money in 2019?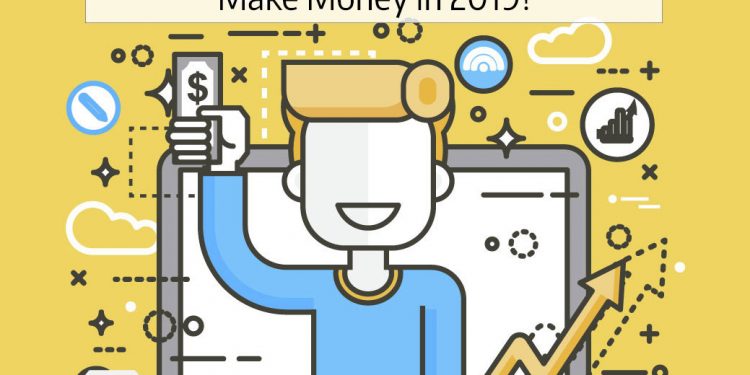 Understanding How Travel Agents Make an Income as a Travel Professional Made Easy
This is a question that always comes up when new agents are first considering entering the travel industry. There are several different business models that can apply to the way travel agents make money in 2019 and we can go into them in detail. But, first let's explore the past to see just how the travel agency business evolved.
While Cox and Drummond is credited with being the first travel agency way back in the mid-1700s it wasn't until Thomas Cook started back in 1841 and packaged tours which were sold to consumers that liked the convenience of having everything preplanned when they traveled. Thomas Cook Travel Agency made money by buying the tour ingredients at a net rate and packaging the tours including a mark up which became Thomas Cook's income from the tour.
During the 1920s and 30s commercial aviation became reality and the number of travel agents grew at a tremendous rate. World War II displaced the growth of commercial air travel, which rebounded during the 1850s, 60s and 70s. This was the the period of explosive growth for travel agencies who made money by issuing airline tickets for a handsome 10% commission.Since the airlines needed someone to collect money from consumers and also create travel documents, travel agents were the primary beneficiary. During this period travel agents made money by having airline appointments and using airline tickets and other accountable documents on behalf of the airlines. Tour packaging also exploded during this period and travel agents made great money selling tour, cruise and leisure travel, as well as corporate travel.
It was late in the 1970s when then President Jimmy Carter decided to deregulate the airline industry and as a byproduct, the travel agency industry, as well. Up until the full effect of the Airline Deregulation Act of 1978 took place in 1981 all travel agents had to comply with the Agency Sales Agreement in order to be in business. The Deregulation Act of 1978 changed the way that travel agencies made money almost overnight.
Over the next two decades (1980s and 90s) the travel agency business was completely redefined as agencies went from a storefront to a home base and from selling airline tickets to selling more leisure travel. The airlines moved in concert to eliminate travel agents entirely from their distribution channels and embraced e-transactions and direct settlement. Travel agents became specialists in niche marketing. The move from having Airline Ticketing Appointments to working with a host agency instead exploded and travel professionals were making more money than ever.
So, How Does a Travel Agent Make Money in 2019?
During the last 20-years digital marketing has enabled travel professionals to operate world wide in narrow niches and make an excellent income.
The Host Agency Model
Host agencies sprang into existence during the 1990s as a solution to the elimination of airline commissions and governmental regulation. Host agencies replaced consortia and other agency aggregation models and quickly became the distribution model that the travel agency segment embraced. Agents who abandoned their ARC mandated storefronts with dramatically reduced overhead flocked to host agencies that offered everything they had in their storefronts, as well as their consortium and niche association. Effective host agencies were generating hundreds of millions in sales almost overnight and their affiliated agents were the beneficiary.
Host agencies act as aggregators of revenue so that they can use the combined productivity of the affiliate network to negotiate overrides and other promotional support from suppliers. Host agencies offer support, a knowledge base, technology, accounting and everything an independent travel business needs to be able to operate at a retail level. Commissions are paid by the host agency to the independent agency based on their sales. Each host agency has their own commission split formulas but here is a chart that will help you understand how it works.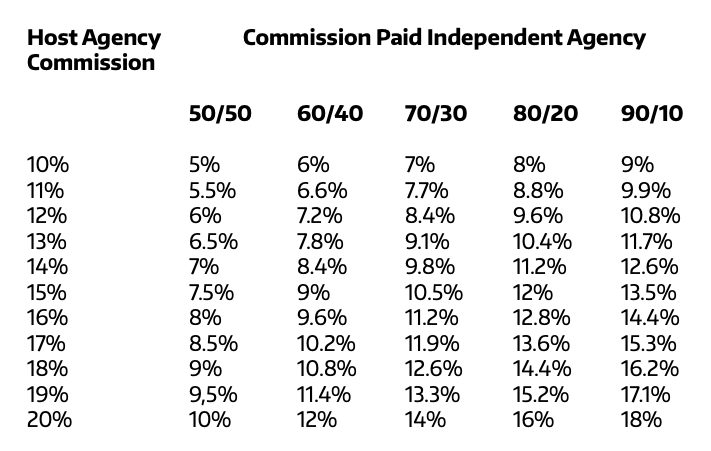 As you can see a lot depends on your host agencies various commission programs and override structure as to the average commission you will make. As a rule, agents working at the 5% – 6% commission levels are newer agents that need complete support from the host agency which might include agent assistance with sales, complete quality control and so on. A 7% – 8% commission level is somewhat standard with host agencies working with self sufficient agencies. Independent travel agents earning 90% – 100% of the commission are usually high volume seasoned agents that require little to no support from the host agency.
How Does a Travel Agent Make on Various Products Sold?
Domestic Airlines
Most domestic carriers do not pay commissions per se to travel agents. In some instances carriers will offer up to 5% for sales of "disproportionate market share". This means that the agency must put their clients on the carrier at a rate substantially higher than the other travel agencies within their specific market area. This is a mixed bag. On the one hand, you make a commission from the sale, but, on the other, you risk losing your client by continually favoring one carrier over another. However, overrides on domestic carriers may be the only way to turn a non-profitable business into a profitable one, providing the lack of current yields on domestic tickets. Most travel agencies have introduced service fees for processing airline tickets of an amount consistent with their business plans. Transaction fees from $15 to $50 per transaction seem consistent with what most agents charge and may, in fact return the agency to profitability when introduced. While consumer resistance to these fees for commodity type transactions exists, clients are more than willing to pay where value is added by the travel professional.
Given that your business concept will probably not include selling a lot of domestic airline tickets, it is safe to assume that you may contract with a host travel agency to perform this service on your behalf. Establishing your service fee level for handling domestic airline tickets is a major consideration during your planning stage. By enhancing an embedded commission in domestic airline tickets, you may gain excellent profitability by establishing service fees.
Many agents are foregoing the traditional CRS automation (and contracts) but are specializing in making reservations for their clients on the various airline web sites found on the Internet instead. This accomplishes several things. First, they are likely to obtain the best possible fares for their clients at sites, such as www.Expedia.com, www. Kayak.com and www.Travelocity.com (which are owned and operated by the airlines) and offer airfares below those traditionally found in the CRS/GDS. Secondly, the travel agent cannot be held responsible for the actions of the consumer with the ticket because, while the agent booked it, the transaction is between the airline and the consumer. The agent is without liability in the transaction. Finally, while the airlines' web sites offer great fares, one needs to know how to find them and also understand the tricks of the trade (hidden city fares, split city ticketing, back to backs, etc.) in order to maximize the client's savings opportunities.
While airlines have eliminated commissions, many tour operators, cruise lines and other leisure-oriented suppliers still offer full commissions on the air portion of their overall package, making selling airline tickets still viable in these markets. Ticketing done in countries other than the U.S. and Canada also carry full commissions, opening up many new and exciting opportunities for cross-border ticketing with a host agency located in another country.
International Airline Tickets
Selling International airline tickets can be a completely different story than selling domestic airline tickets. Huge commissions can be realized by shopping various tour operators and consolidators. You can gross commissions anywhere from 5% to 30% (or more) on international airline tickets. Most international airlines have cut (and some capped) their commissions as the domestic airlines have which makes selling tickets obtained through operators and consolidators a much more viable proposition.
Tour Companies
Tour companies will pay a minimum of 8% to 10% commission with override programs up to 18% (and sometimes more). Depending on the destination, commissions and overrides of 12% are readily obtainable as a result of your own productivity. Even higher commissions are available from a good number of host travel agencies and/or travel agency consortia. Many times, commissions in excess of 10% on domestic airline tickets are available directly from the tour operators so they may meet their contractual numbers with the airline.
Cruise Lines
Here is the opportunity of the 21st Century in the travel industry. Be sure to read "Selling Cruises, Don't Miss the Boat" by Tom and Joanie Ogg to fully understand the nature of the opportunity. Cruise lines pay a minimum of 10% and above on all cruises to travel agents. Based on reaching certain productivity levels, overrides up to an additional 5% to 8% are generally available from the cruise lines. Other substantial overrides may be available from a good number of host agencies specializing in cruises and cruise consortia that can increase the total commission to 18% and above. When you consider the large sales price of cruises, the ease of sale, plus the high percentage of commission, cruises are an excellent way to make a substantial amount of money in the travel industry.
Niche cruise products such as river cruises, SCUBA diving cruises, exploration, sailing and other niche cruises are also extremely excellent choices. Plus there are niches within the cruise market that are even more profitable. Luxury cruises, river cruises, small ship cruises and adventure cruises all pay at least 10% on an all-inclusive price.
Hotels, Resorts and All-Inclusives
Most hotels and resorts pay 10%. Some will pay more for off-season business. A good number of smaller hotels do not pay commission at all, so be sure to check before you book your clients. Many travel professionals have focused on the All-Inclusive resorts, as they pay full commissions on everything that is included with the sale. This makes selling All-Inclusives a very attractive business proposition, especially when they are booked through a tour operator that may offer generous overrides based on productivity.
Car Rental Companies
Commissions vary widely between car rental companies. Some offer a meager $2 per reservation (regardless of value), while others based on incentives and productivity will pay commissions as high as 20%. Across the board the average commissions are 3% for Internet bookings, 3-5% on promotional rental rates and 10% on leisure rates booked through GDS distribution channels. Again, there is not much money in domestic rental cars, which goes hand in hand with domestic airline tickets.
Amtrak
Amtrak pays 5% commission on all sales, but only to agencies with an ARC number.
Travel Insurance
Travel insurance pays from 10% to 35% and more. In many cases, independent insurance policies are better than the tour operator's or cruise line's and will pay substantially more commission.
Charters
Most airline charters pay at least 5% with the normal being 10%. If you are contracting a substantial number of seats, the commission becomes more negotiable. Motorcoach, cruise line and other charters are usually based on a net price which the agent marks up to their selling price.
Sightseeing Tours, Limousine Services, Greeting Services and Other Miscellaneous Travel Services and Products
These services and products generally garner 10% to 20% and sometimes more for measured productivity.
Group Travel
Generally, group travel is priced from the ground up and most group rates are quoted net of commission. For a group to be successful, it is customary to build a 25% to 35% commission into the final selling price. This is to allow for the extraordinary costs associated with the formation and marketing of the group movement. In most cases, the supplier's net rates are commonly discounted this much to allow for the agent to accrue this internal yield.
Travel Agency Service Fees
Since the caps, cuts and elimination of commissions from domestic airline tickets, many travel agencies have introduced fees for certain services. Usually, travel agents charge a $10 to $25 fee for issuing airline tickets in amounts lower than $300. While, at first blush, this sounds harsh, clients do not balk at paying fees for service. Travel agents provide a level of service that clients simply cannot get directly from an airline or an airline's web site. Service fees are common for services, such as performing a low fare search, ticket reissues, cancellations, deliveries, consultation, Plan to go Agreements, Plan to Cruise Agreements, Retainer Agreements and other areas where agents serve the client's best interest.
Once one knows what they will be selling and in what volume they anticipate selling it is an easy matter to simply multiply the sales volume by the percentage of commission the host agency pays to determine your gross income.