How to Guide: Choosing Your Travel Agency Name in 2019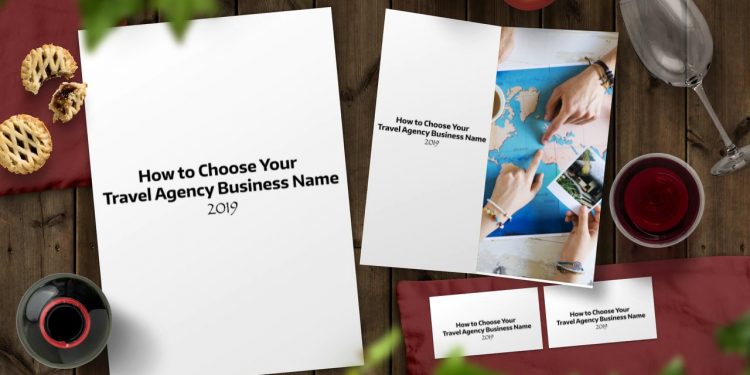 Choose a Travel Agency Name that Fits for Success!
Choosing the business name for your travel agency has never been more challenging than it is today. Before the advent of technology, agents would select a business name that made them sound bigger than they actually may have been to show their expertise as a travel business. It wasn't uncommon to see a travel business name that may have been used hundreds of times in the various communities throughout the United States. Names like Atlas Travel, Global Travel, World Wide Travel, Wide World Travel and so on were established with the local right to use. Other common names used the last names of the travel agent like Jones Travel, Smith Travel and so on.  
However, now it is quite likely that your travel agency will be involved online and in social media and will have a global reach. This requires a completely different approach to finding and using the perfect business name for your travel agency.  
What is Your Travel Agency Niche Going to Be?
Before we begin to consider finding the perfect name for your travel agency, you must first define what your business will consist of. What will you be focused on? What specific niche will your business evolve into? Most travel agencies today have narrow niches that make up the vast majority of their revenue and growth. Being a generalist is now a very difficult task financially as the operational efficiency gains one develops by specializing are lost. If you are a generalist imagine having a client ask for a 21-day FIT throughout SE Asia, the next a European train trip throughout western Europe and another client seeking a FIT to Southern Africa. You can see that you would spend an inordinate amount of time researching these itineraries. 
However, if you specialized in travel to SE Asia, European rail travel or Southern Africa, you could probably put itineraries together very profitably. So in order to start working on a business name for your travel agency, you first need to define your niche. Here is a video tutorial on exactly how to find your travel business niche.  
So, How Do I Choose a Travel Agency Business Name in 2019?
Step 1
 – Choosing Your Travel Agency Business Name
Now that you have a strong and well defined niche, let's start by defining the characteristics of a successful business name. 
Easy to Say:Your business name should be easy to say so that anyone can articulate it without being challenged by its pronunciation.  
Easy to Spell: Making your business name so that anyone can spell it is equally important as its pronunciation. This is especially true as we get into online considerations for your travel agency name. Avoid unusual spellings that may be difficult for the average consumer to figure out.  
Memorable:Your travel agency name should be easy to remember and act upon. Think of "Category Keywords" as an example of memorable travel agency names. As an example if your business plan is to operate escorted tours to Hawaii, why not start with "Hawaii Escorted Tours" as your business name? 
UVP Oriented:Your travel agency name should shout your UVP (Unique Value Proposition) In the case mentioned above the tagline for the business' logo would further define the agency's UVP and might be "Luxury, 4-Island Escorted Hawaii Adventures" 
If you are unfamiliar with how to define your UVP, here is a video that shares that information. 
Think Globally:Your business name should allow for you to market locally, regionally, nationally and globally. Never restrict your business name to a certain location. If you are successful and grow your business further than your initial market scope, you do not want your business name to create a barrier.  
Keeping these elements in mind, try to think of at least 10 different travel agency names that meet this criteria. As an example if we use the name "Hawaii Escorted Tours" maybe "Escorted Tours in Hawaii" or any other variation of the name might work.   

Step 2
 – Choosing Your Travel Agency Business Name
Now that you have a list of potential names you will need to make sure that you can use them and that someone else does not have the right to use them. Here is how you go about it. 
Check For Websites:The first thing you should do is to take your proposed name and stick a .com on it and then look to see if there is a website at that location. If there is a site, check it out as this will undoubtedly be one of your major competitors. If the name is taken but there is only a placeholder at the site, there is a good chance that the name is being held by an investor and may be for sale. 
Search the U.S. Patent and Trademark Office Database: To make sure that no one has a registered right for the use of the name on a national basis, search the various databases located at  https://www.uspto.gov/trademarks-application-process/search-trademark-database#heading-1. Obviously if the name is registered you may not use it. However, if is not being used, after 5 continuing years of business activity, you may then register your travel agency name nationally and block anyone from using it from that point forward. 
Search Your State's Corporate Name Availability Database:Each State has its own database in terms of business names being used for corporations in that state. You can search the database online just enter (Your State) "Corporate Name Availability". Depending on the way you structure your business (Sole Proprietor, Partnership, C or S Corp, LLC or LLP) you can reserve your business name pending the incorporation of your business. 
Search Your County's Business Name Database:While each State is different, the County Recorder's office in your county maintains a database of all active business names being used in the county. If the name is available and you are not going to incorporate your business you can file a "Fictitious Business Name Statement" that will allow you to open a bank account and operate under that business as a D.B.A.. Most states require that the use of a name be advertised to put the public on notice that you are going to be using it to do business. 
Step 3
 – Choosing Your Travel Agency Business Name
Now that  you have eliminated the names that are not legally available, it is time to search to make sure if the name is available online. Here is how to do it.  
Search The Domain Name Availability:Getting the .com url for your business name is critical to your success. If the .com domain name is not available, then do not settle for .net or any of the other TLD extensions, try the next name on your list instead. Having the .com domain name of your business name is a mandatory element of your success. All Domain Name Registrars have active search engines to let you know if your name is available for registration, or not. Many will offer you keyword alternatives of the keywords located in your business name so you may well come up with an alternative name that is available during your search.   
Search Domain Names For Sale:With over a billion websites currently on the web you can bet that the best domain names are probably already being used. But, the domain name market for investors is also huge. Visit sedo.comfor the largest domain name broker and auction site on the Internet and search using keywords that you want in a business name. All of the domain names that are for sale using those keywords will pop up as will the asking price (if it is a "Buy Now" listing) or you may bid on an auction for the domain name (much the same as ebay.com). Even if a domain name is not for sale, you may engage a domain name broker to see if they can successfully negotiate a price for the domain name. Never be afraid to pay for a quality domain name, as it is so important to the success of your business and branding. 
Search Social Media User Names:now that you have found a domain name it is time to check to see if the username is available in social media. Know that this is actually a very simple task. Visit CheckUserNames.comand simply enter the user name you want to use and it will immediately check availability on over 160 social media sites and give you an immediate response. Their new site at knowem.comtakes social media name and registration a step further. You can check over 500 social media platforms and then have them register your user name and build your profile on up to 300 social media platforms. Another easy to use tool to check both URL availability and social media user names is namechk.com. 
Check the Competition:Once you have narrowed your list of potential travel agency names down to only those that are available, it is time to check out the competition for each name. Google the keywords that make up your business name to see what sites come up in the search results. If you are seeing huge agencies on the first page of the results, you may want to scrap that name as it will be very difficult to get on the first page of Google using those keywords. This is very important as you want your agency website to respond favorably to the keywords consumer will use to search for information within your niche. 
Step 4
 – Choosing Your Travel Agency Business Name
Now we have an excellent idea of which business name(s) are viable to use for our travel agency and it is time to take action. 
Register Your Business Name
Register the Business Name

 

Register or Acquire the Business Domain Name

 

Register Your Name on the Social Media Channels You Want to Use.



Create Your Business Name Tag Line
 Your business name tagline is your opportunity to really define your exact business UVP and a good amount of time should go into its development. Here is a video that tells you exactly how to do it.  
Branding
Your Business
Now that you have your business name and tagline it is time to start branding your business. Of course, the first element to consider is your travel agency logo. Your logo should be completely consistent with your business name and tag line and visually display your UVP in a way that reconfirms its complete profile. Here is a video tutorial on branding your business.