Top 10 Reasons to Work with a Host Travel Agency in 2019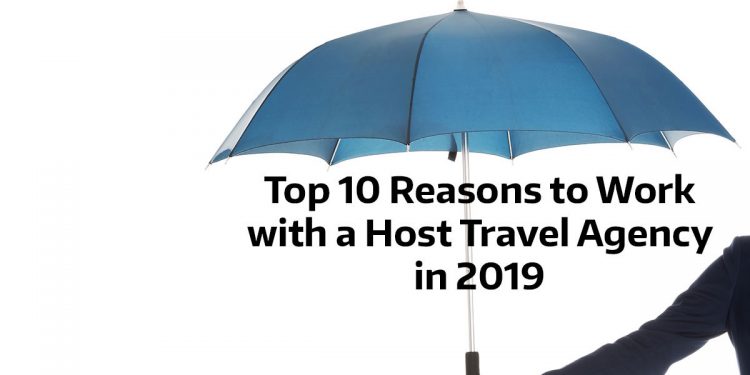 Considering a Host Agency for your Travel Business? 
Many newer agents do not understand the full benefits they might receive by selecting a quality host travel agency to partner with while launching his or her travel business. The host agency business model came into existence shortly after the Airline Deregulations Act of 1981 changed the retail travel distribution channels in a way that made a ton of sense for agents to forego their airline ticketing appointments and move into a home-base and then work through a host travel agency for ARC accountable document transactions. It was much more cost effective than maintaining a brick and mortar storefront location and their own ARC appointments. The evolution of technology only served to accelerate the establishment of the host agency distribution model.
The first host agencies surfaced in the late 1980s and by 2000 had become a major distribution channel for travel suppliers. Today's host agency is a large organization focused on serving their independent travel agents from a central operation. Many host travel agencies have thousands of independent agents working through their network and are highly sophisticated organizations.
Understanding the nature of the operational and marketing advantages of using a host travel agency will accelerate one's decision of finding just the right host for their business. Matching the host agency's benefit profile with your agency's unique needs and wants is essential in finding an excellent working relationship.
Here Are the Top 10 Reasons to Work with a Host Travel Agency
Ease and Cost of Entry
Starting a travel agency can be a daunting task, especially if you have never started a business before. There are many considerations that require a good amount of thought, planning and investment. Starting your agency by working with a host travel agency not only makes the task very efficient but also dramatically lowers the cost of starting your business. Once you have located the perfect host agency for you, it is simply a matter of signing their agreement and start selling.
Training and Mentoring
Many host travel agencies offer mentoring for new agents and this makes that challenge of completing your start-up process even easier. Since the mentor undoubtedly has helped hundreds of other agents start their business, they will make your task simple. Most hosts also offer substantial training on their operations, marketing and suppliers. These may be in webinars on demand or other training opportunities. Many agents feel that these are the two most important elements of starting a new travel business and elect hosts that offer both.
Marketing Support
Host agencies offer many different marketing opportunities from sophisticated CRMs to print and digital media support. Look for the kinds of marketing platforms that your business will need to prosper as a signal that a host travel agency may be right for you. Most host travel agencies also offer privately branded websites for their independent agents to use in their online marketing efforts.
Operational Support
Everything from back office accounting to commission tracking to detailed record keeping on behalf of the independent agents are just a few types of the operational support offered by most host travel agencies. Depending on your needs and wants, you can measure potential host travel agency partners by how consistent their operational support is compared to your needs.
Technology
Most host agencies have evolved proprietary and sophisticated technologies that make the process of selling travel so much easier. While the technology may include a myriad of functions, when integrated into your operation will expedite and streamline your overall performance.
Preferred Suppliers
Host agencies all have long relationships with preferred suppliers that will definitely benefit you in your business. Depending on your niche and choice of suppliers for the market you will be serving, selecting your host agency based on their preferred suppliers will give you the fast track to success.
Commission and Overrides
In addition to gaining access to your host's preferred suppliers, you will also enjoy higher commissions, overrides and promotional support that is offered by the preferred supplier. This alone makes working with the right host agency a very motivating value proposition.
Competitive Pricing
An extension to appealing commissions and overrides, most host agencies have also negotiated favorable pricing on products that you can offer your clients. The combination of high commissions, great pricing and the potential for additional overrides make selecting the right host agency for your business one of the most important decisions that you will make regarding your agency's success.
Sales Leads
Some host agencies operate very productive lead generation programs that may involve millions of dollars in advertising to drive clients to your business. Participating in a robust leads program can propel your business to prosperity quickly.
Perks
Host agencies are extremely important national accounts with their preferred suppliers and as such, tend to be the first in line when a supplier offers travel perks such as discount rates, fam tours or other motivating benefits to their agents.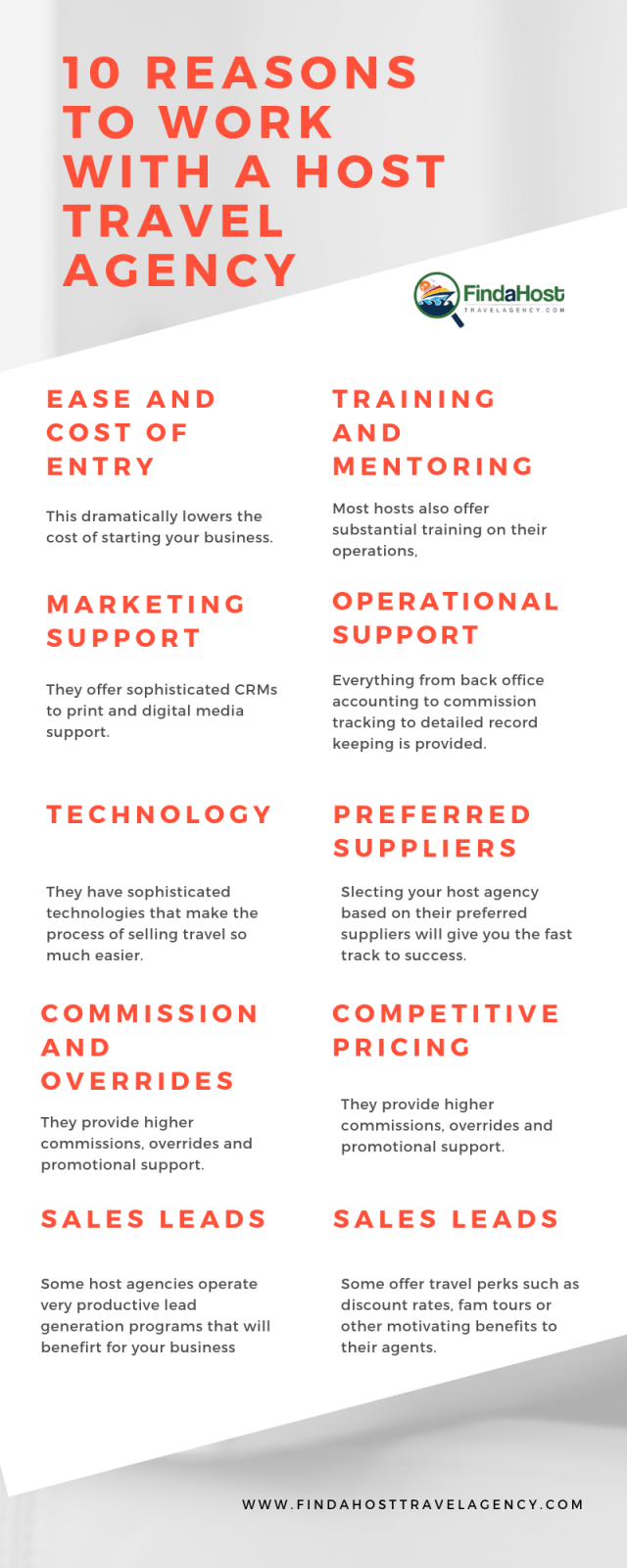 As you can see working with a host agency can really enable you to establish and operate a successful travel business and should be top-of-mind. Especially if you are just starting out. You can bypass years of development by locking into your host agency's overall offerings.