Travel Agent Email Success Strategies in 2019 – Video Series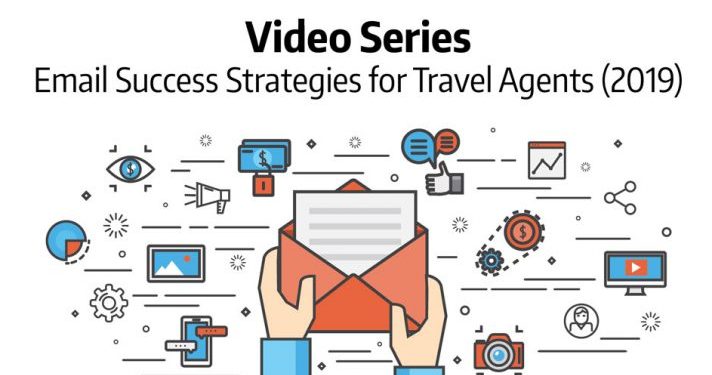 Master Email Marketing as a Travel Agent in this Complimentary Video Series
It has always been our goal to provide complimentary tools and information to Travel Professionals to help them continue to thrive and grow their agencies with new ideas and strategies.  To that end, we created our most recent webinar series entitled "Email Success Campaign Strategies for Travel Professionals." The series was a tremendous success with more than 400 agents logging into the events over a period of 4 weeks. Want to see upcoming Live Webinars?
Each of the 30-minute videos focused on different strategies are all set to help uncover simple and easy ways to engage more customers with your email campaigns. There was ample time for questions and answers at the end of the presentations. Following is a brief overview of each session's focus and key points.f
Email Landing Pages Best Practices – Part 1 – How to Create Email Campaign Strategies
This session covers the importance of Email Marketing to build and maintain your client base. We all know how important it is, but how does one maximize the effectiveness of the campaign.
Digital marketing channels can be defined as website(s), social media platforms, digital publications such as White Papers and eBooks and of course email campaigns. A travel professional's digital footprint should consistently deliver a strong and unique value proposition focused on sustaining the primary goal(s) of the campaign.
Important points covered in this first video include:
Email lists & Email Marketing Companies
The Campaign's Value Proposition
The Target Audience
The Campaign's Anticipated Results
The Importance of the "From" Email Address
Email Landing Pages Best Practices – Part 2 – How to Create an Effective Subject Line
During this webinar we focus on the Subject Line and what is probably the most important element in an effective email marketing campaign. A robust and engaging subject line is critical to your email open rate. In today's digital world, information is so quickly absorbed that digital marketers no longer have the luxury of an expansive palate on which to pain their message. Instead, messaging has to be engaging and succinct.
Information shared in this second webinar includes:
Creating Compelling Subject Lines
The Various Devices and Character Length
Email Effectiveness on Smart Phones
The Subject Line Hook
Email Landing Pages Best Practices – Part 3 – How to Create Effective Call to Action (CTA)
Secrets for the highest (Click Through Rates) CTR's will be revealed in this webinar. Having a strong (Call to Action) CTA will produce higher CTR's and will result in more leads to convert to sales.
Secrets revealed in this third webinar include:
The Importance of Benefit Oriented CTA's vs Activity Oriented
Why to Avoid Buttons
Phrases to Motivate Clicks and Leads
Using Clickable Contact Links
Above the Fold Guidelines
Email Landing Pages Best Practices – Part 4 – How to Create an Effective Landing Page
In the final of this four-part webinar series learn techniques to get the highest click-through rates from your landing pages. Presenting the most compelling landing page to prospects is the key to converting a click into a lead. The sole purpose of a landing page is to do just that. When potential clients click on an email to take further action, the landing page should speed them to take the action that you want and nothing else.
Some of the key points shared in this webinar are:
5 Things to Avoid
10 Things to Do
Say More with Less
Focus on Converting Clicks into Sales