The Top Host Agencies for 2019 – FindaHostTravelAgency.com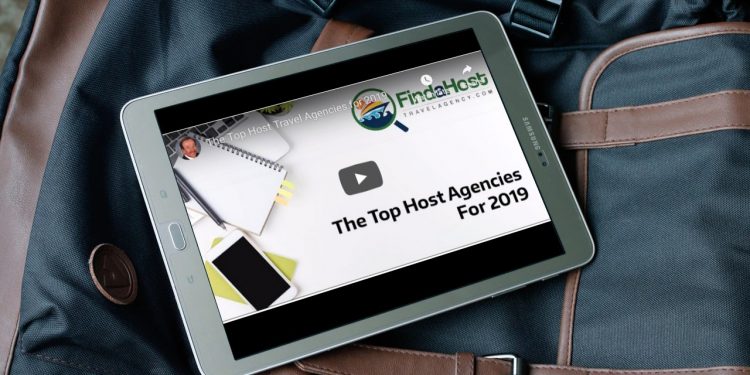 The Top Host Travel Agencies for 2019
March 18th, 2019 – FindaHostTravelAgency.com has released their Top  Host Travel Agencies of 2019. The 2019 Top Host Travel Agency video (below) highlights Recommended Host Agencies on FindaHostTravelAgency.com.
Each Recommended Host Agency in the 2019 Top  Host Travel Agency video represent credible options for Travel Professionals searching for a Host Agency. All are extremely reputable and show a strong focus on providing the support and services to enable their networks of Independent Agents to build and grow their travel businesses. 
"With so many options in the Host Agency market, we are excited to share this video produced by FindaHostTravelAgency.com to assist in connecting agents with the right Host for their unique business." shared Joanie Ogg, CTC, MCC.
FindaHostTravelAgency.com offers a complete listing of available Host Agencies on the site, as well as nearly 2,000 Host Agency Reviews from credible Travel Agents who have  or are currently working with a specific Host Agency. "We manually vet every single one of our review submissions ensuring that they are not only credible but relevant and timely to further assist Travel Professionals when researching their possible Host Agency partners," said Andy Ogg, Sales and Marketing Director of FindaHostTravelAgency.com.
In late 2018, FindaHostTravelAgency.com announced it's new Host Agency Filter Function which contains over 16 filters to narrow the search for a Host Travel Agency Partner. With Filters available for things such as if leads are offered, consortia memberships, association memberships, years in business, annual sales volume, education programs, website tools and much more, Travel Professionals looking for a Host Agency can easily refine their search in minutes, not hours.
On top of the useful Host Agency Filter Function, there are useful and informative articles published weekly on FindaHostTravelAgency.com to further educate and empower Travel Professionals to find the perfect fit with a Host Travel Agency.
FindaHostTravelAgency.com is one of many industry tools available through Ogg Marketing Group to advocate travel professionals and help them become more successful.
Host Agencies that would like to update or add their profile to the FindaHostTravelAgency.com site can visit www.FindaHostTravelAgency.com to do so. If a Host Agency Profile already exists for your business, please contact Andy Ogg for details on how to successfully access the Host Agency Portal to update your information.
About FindaHostTravelAgency.com
FindaHostTravelAgency.com
The premier platform to connect Travel Professionals to the Host Travel Agency that fits their needs. On top of 16 filters to narrow the search, FindaHostTravelAgency.com holds over 1,900 reviews from vetted Travel Professionals regarding listed Host Travel Agencies.
TravelProfessionalNEWS.com
A monthly Digital Magazine delivered right to a Travel Professional's inbox. With informative and helpful articles each month, this publication is a tool to assist in growing a Travel Professional's business. On top of the Digital Magazine, TravelProfessionalNEWS.com offers the latest news and happenings in the Travel Industry in an easy to navigate and enjoyable experience.
HomeBasedTravelAgent.com
Since 1988 this has been an invaluable resource with extensive information for new agents wanting to enter the industry. The Ogg's latest books are considered "must reads" for many home based travel agents. They are used by many colleges and universities as texts and are included in the Travel Institute's "Trip Kit" for new agents.
TravelProfessionalCommunity.com
A Social engagement community for established Travel Professionals only. With over 15,000 vetted Travel Professional members, this Social Community is the "Go To" site for support, networking, and information. It's FUN and FREE for Travel Professionals to join and begin engaging with colleagues from around the globe.
The Top Travel Host Agency Video for 2019 features the below Host Agencies:Avoya Travel