How to Narrow Your Search for a Host Travel Agency (2020)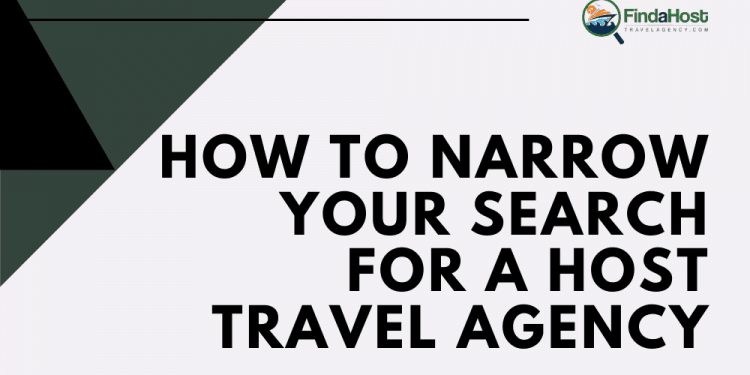 How to Narrow Your Search for a Host Travel Agency
Searching for and finding the right host agency to suit your business and personal needs is such an important journey. There are a myriad of different types of host agencies and their programs and offerings can be quite diverse. How do you make your way through the maze can seem a bit overwhelming without having all the information possible to help you along the way? In this piece we will share how to navigate your way to successfully finding the right host agency partner for you.
First off be sure to read this brief article entitled "How to Pick a Host Travel Agency". Once you have a good idea what direction your business will take it will be much easier for your to begin narrowing down the choices out there and honing in on the right choice for you. Using the following information to filter your search will be invaluable. 
Large, Medium or Small Host Agency
There are fantastic choices out there in all shapes and sizes. You need to  make the decision if you want to work with a large host that may have many independent agents working with them or if you prefer a medium to smaller option. No matter what size you do decide upon, knowing what the host agency's average yearly sales volume is very important information to have in your search criteria folder.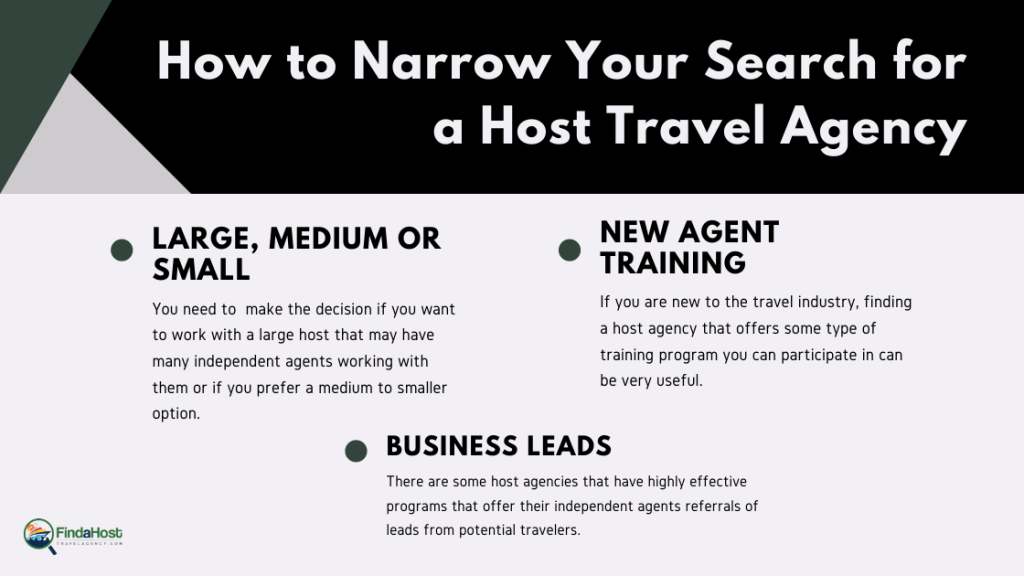 New Agent Training
If you are new to the travel industry, finding a host agency that offers some type of training program you can participate in can be very useful. Reading How to Start A Home Based Travel Agency will certainly help you on your educational journey, but once you have decided to go the host agency route their individual processes and programs are important to know and utilize. Many host agencies offer fantastic training opportunities to get you up and running your travel business in no time at all. 
Business Leads
There are some host agencies that have highly effective programs that offer their independent agents referrals of leads from potential travelers. If you are new to the business and have not yet developed your own following of clientele, this can be a very good way to build up your book of business and give you sales experience. These host agencies that offer a leads program have found this to be a huge benefit to their agents. If you think that leads might be helpful to you as you grow your business, be sure to use this filter to find out if the host you are looking at has such a tool.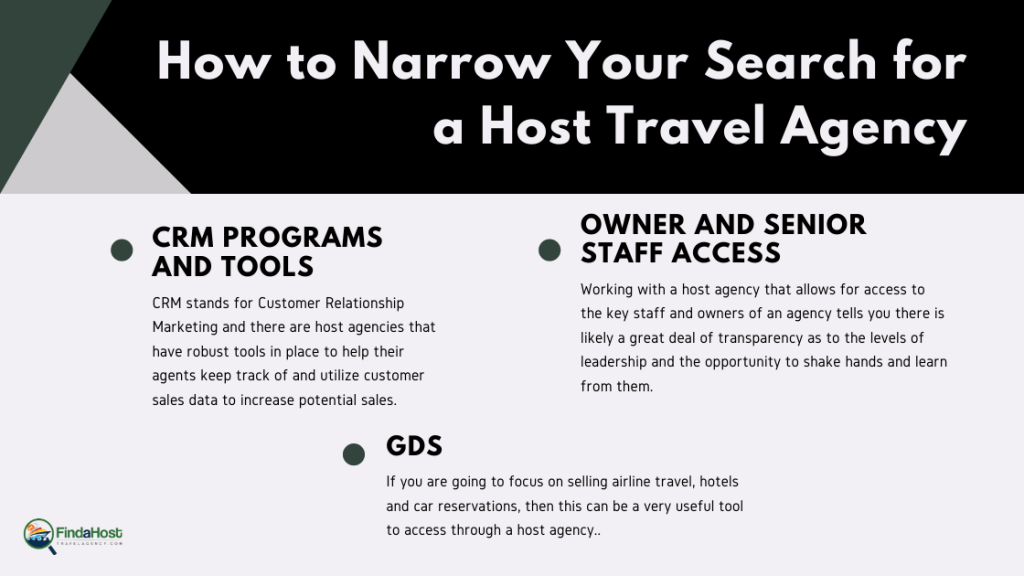 CRM Programs and Tools
CRM stands for Customer Relationship Marketing and there are host agencies that have robust tools in place to help their agents keep track of and utilize customer sales data to increase potential sales. There are some programs that you can buy off the shelf such as Goldmine, however if a host has one in place, this can be very helpful to your business success.
GDS?
GDS stands for Global Distribution System and is a network that enables travel agencies and their clients to access travel data, shop for and compare reservations options, and book travel. If you are going to focus on selling airline travel, hotels and car reservations, then this can be a very useful tool to access through a host agency. However, if you are focused on leisure travel such as cruises and tours, it is unlikely you will need or want to access a GDS. Again, you just need to find the tools that you will need to build your specific travel sales portfolio.
Owner and Senior Staff Access
Working with a host agency that allows for access to the key staff and owners of an agency is not only a huge benefit to you but it also tells you there is likely a great deal of transparency as to the levels of leadership and the opportunity to shake hands and learn from them. Not all host agencies will be able to offer this sort of access yet it might be something that is important to you on a more personal level.
Travel Booking Technology
Many host agencies off booking tools to enable their agents to search and book cruises, tours and other attractions. This is typically proprietary software only available through the host and it can be a very useful and valuable tool to your agency. If you think this  might be of value to you, be sure to look for this benefit.
Consortia Membership
While there are many different consortia in the travel industry they also vary in their offerings.  A good way to describe a consortia is that it is a company that creates relationships and offerings between the travel industry suppliers and its travel agent members. The consortia uses its many member power to negotiate benefits for their membership. When you are looking for a host agency partner to align with, consortia membership can be a very valuable benefit. Most host agencies will be members of one or maybe two consortia.
A consortia such as Virtuoso will be valuable to someone focused on selling luxury travel. A consortia such as Westa, which is a regional consortia will over benefits to a more localized list of suppliers. There are several great resources at www.FindaHostTravelAgency.com to learn more about the various consortia in the travel industry.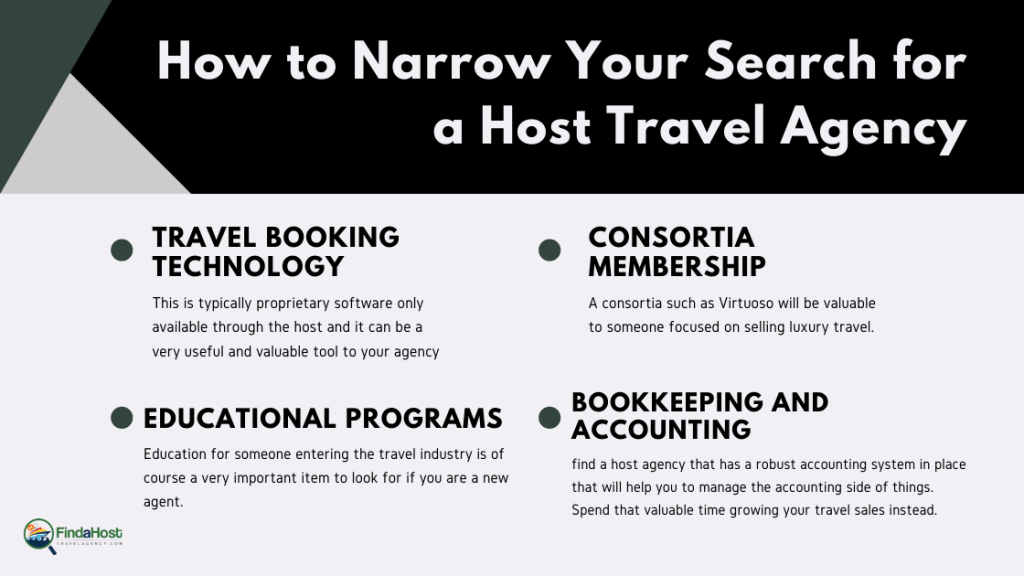 Educational Programs
Education for someone entering the travel industry is of course a very important item to look for if you are a new agent. Just as important is the availability of continuing educational offerings that a host agency might make available to their agents. Some host agencies work with other educational companies to offer programs, while others have developed very intensive and valuable learning opportunities just for their agent affiliates. 
The Travel Institute offers tremendous educational programs and we highly recommend that you research and avail yourself of their offerings to add to other training you might be able to access through your host agency partner. 
Bookkeeping and Accounting
Keeping track of your sales and commissions can be an arduous task as your business grows and prospers. Some folks really excel at doing their own bookkeeping and of course it can keep down costs. However, I am of the school of thought that says if you want to grow your travel business, you should be out there selling travel and not crunching numbers. 
There are some great off the shelf accounting software programs out there and of course Quickbooks is another great option to consider. Better yet, find a host agency that has a robust accounting system in place that will help you to manage the accounting side of things. Spend that valuable time growing your travel sales instead.
Airline Ticketing
If you plan on focusing on air sales then you should attempt to find a host that offers that service to their agents. In days past most full-service agencies and host agencies did offer that option, but there are several great hosts that do not offer air sales at all. They have made the choice to focus on leisure sales for their agents instead of dealing with the lower airline commission situation. Just be sure you know what you want to sell and find the best host option to suit your needs.
Website Tool
You may have a website or feel totally confident building and maintaining your own site. This of course takes a unique skill set to stay on top of the search engines, etc. There are many host agencies who offer very personalized and robust website options for their agents as well. Make sure to thoroughly look at the options out there while you are looking for your host partner.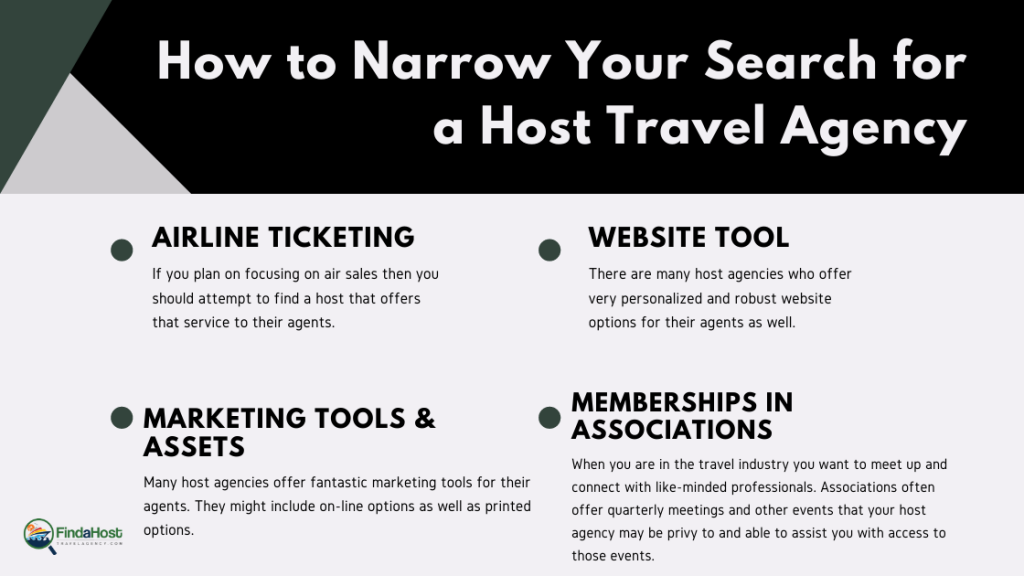 Marketing Tools & Assets
Many host agencies offer fantastic marketing tools for their agents. They might include on-line options as well as printed options. Many hosts are able to tie into the consortia that they are members of and make those marketing tools available to their agents as well. The larger hosts have full on marketing departments staffed with experts in the field of B to C. The value of these types of marketing assets are something you really need to consider in your search for a host.
Memberships in Associations
One key benefit of working with a host agency is the opportunity to connect with and participate in some of the travel industry groups and associations. When you are in the travel industry you want to meet up and connect with like-minded professionals. Associations often offer quarterly meetings and other events that your host agency may be privy to and able to assist you with access to those events. 
Another important thing to consider when you are looking for your host partner is what associations and groups they belong to and if those mesh with your interest and speciality. If you are going to sell cruises, you will probably want a host that is a member of CLIA (Cruise Lines International Association). If you are going to specialize in alternative lifestyle travel then membership in IGLTA (International Gay and Lesbian Travel Association) would be of value to you. Research the various industry associations and look for a host that belongs to those ones you feel are important.
Some host agencies are huge companies with sales in hundreds of millions in dollars. They are well capitalized and offer highly sophisticated services to their independent agents. On the other side of the coin are those agencies that are smaller in size and perhaps offer more of a regionalized prospect for you. Just know that each host agency is unique and has a different value proposition than all of the others, just as each independent agent is also different and has unique needs from a host agency. 
These and many other factors are important to take into account when you are narrowing your search for a host travel agency. We also recommend that you take a look at our book "The Host Agency Book" and be sure to use the filter functions at www.FindAHostTravelAgency.com to help you find your host agency partner. We are here to support and enable independent travel agents to find their perfect host agency connection.